Graycliff Chocolatier, Nassau, Bahamas
This is a guided chocolate factory tour where you will learn about chocolate making and then make one yourself. Graycliff Chocolates are premium chocolates available in select retail outlets throughout Bahamas. The factory is housed in the famous Graycliff Hotel which is a 18th century historic property and located in Downtown Nassau. The hotel has been visited by imminent personalities such as Sir Winston Churchill, Aristotle Onassis, The Beatles group etc. 
In 'The Art of Chocolate & Factory Tour' which is ideal for families with kids, you will first learn about the historical property, then a master chocolatier shows how cocoa bins are roasted, grounded and made into liquid chocolate and then poured into sculpted moulds to create different shapes and sizes of chocolate products.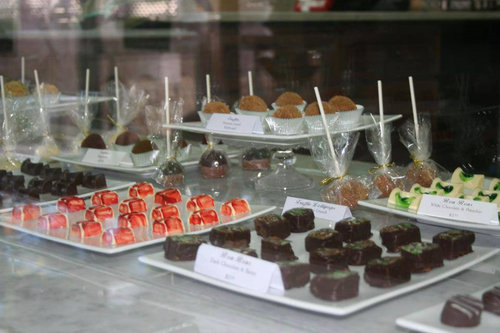 Photo by Graycliff Chocolatier 
You will be then taken to a classroom where you will create your own chocolate bar following a similar process. Instead of taking the tour, you can choose only to savor various chocolate products at the factory. In another tour (for adults only), you will be shown how spirits like rum, whiskey or port wine are mixed with chocolates to bring about unique flavors. You can of course taste several different types of such chocolates and appreciate the role of spirits in making some special types of chocolates. 
Road Map Location of Graycliff Chocolatier 
The 'The Art of Chocolate & Factory Tour' is for one hour and offered Monday to Saturday at 9:00am or Monday, Wednesday, Thursday and Friday at 3:00pm. 
There is also a shorter 15-minute 'Factory Tour' where you watch the process of making chocolates but do not participate in making one. This one is available Monday to Saturday at 9:00am to 4:30pm. 
There is another popular tour which pairs chocolate tasting along with spirit tasting at Graycliff. You can check details, rates and book the tour through this
Viator Website Page
Graycliff Hotel & Restaurant, West Hill Street, Nassau. 
Contact for tour booking: 

By Raj Bhattacharya 
Raj, a seasoned travel writer and Bermuda destination expert, has extensive global travel experience. This website reflects his profound insights, garnered over nearly two decades of dedicated findings and research on the island. Raj has assisted countless Bermuda-bound visitors by providing direct, personalized responses to their queries and imparting his wealth of knowledge through this platform. This site serves as an indispensable guide for those seeking informed and reliable insights into Bermuda's treasures. 
Related Articles
Visitors' Reviews and Comments