Primeval Forest National Park, Bahamas
This is a 7.5 acre nature reserve managed by Bahamas National Trust (BNT) and established as a national park in 2002. With wide range of flora and fauna, and hardwood evergreen tropical forest, this is a haven for the nature lovers. There are also sinkholes here (limestone caverns) some of which are 50ft long and 30ft wide and reaching a depth of up to 30ft. 
There are varieties of birds here. The national park has installed steps, bridges and boardwalk to reach out to most of the important features of the forest. There is a Visitors Center in the park where you can get information about the national park. There are also toilet facilities inside the park. 
Primeval Forest National Park, Nassau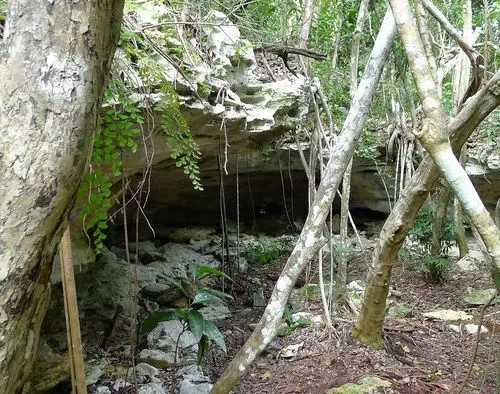 Photo: LandArch.at.UMass, flickr, cc by-sa 2.0 
During the days of the Lucayans, many islands of Bahamas were covered by the canopy of giant trees there grew as tall as 50-feet. Primeval Forest National Park is one of those rare places where you can still see those tall mighty trees - Blackland Coppice. With such forests, sinkholes and karst features, the park represents a unique geology which is rarely found anywhere else in the Bahamas. 
Boardwalk at Primeval Forest National Park, Nassau 
Photo: LandArch.at.UMass, flickr, cc by-sa 2.0 
Primeval Forest National Park is open on Saturdays from 9am to 4pm.  
Admission: $10 per adult, kids under 12 free. BNT members enjoy free entry. 
A guided tour is available on Saturdays (only by arrangement). Call 242-393-1317 or 242-362-6794 for detailed information about the tour and making reservation.  
Primeval Forest National Park is located on Coral Harbor Road in south western New Providence. You need a taxi, rental car or a scooter to get to the National Park. There is no bus service here. 
Road Map Location 

By Raj Bhattacharya 
Raj, a seasoned travel writer and Bermuda destination expert, has extensive global travel experience. This website reflects his profound insights, garnered over nearly two decades of dedicated findings and research on the island. Raj has assisted countless Bermuda-bound visitors by providing direct, personalized responses to their queries and imparting his wealth of knowledge through this platform. This site serves as an indispensable guide for those seeking informed and reliable insights into Bermuda's treasures. 
Related Articles
Visitors' Reviews and Comments