Marina Village, Paradise Island, Bahamas
This is an excellent Caribbean style open air shopping center with cottage style pastel buildings having slanted limestone roofs and housing boutique retails stores, restaurants, carts etc. The shopping complex is so named because it's located right by the Atlantis marina in Paradise Island. 
The market place was set up in 2005 and spreads across 65,000 square ft area. While Marina Village is very convenient for the Atlantis resort guests who can even walk down from their hotel building, the shopping complex is also visited by numerous tourists and locals from Nassau. 
Marina Village, Paradise Island 
Photo: User: (WT-shared) Jpatokal at wts wikivoyage, cc by-sa 4.0 
There are 34 retail stores selling unique and varied items including dress materials, jewelry, watches, perfume, locally handmade straw products like bags and hats, art and craft and lot more. This is also an excellent place to pick up some really nice souvenirs and gifts. 
And there are several restaurants, candy store for children, ice cream and shakes store, burger shack, deli, Starbucks for coffee and snacks etc and even retail carts selling gifts and souvenirs. 
Just take a stroll along the marina and you can see many yachts moored and get lovely views of the marina. At night with lights on the marina the sight is simply wonderful. The shopping village is also lit up with street lamps further enhancing the aura. 
Atlantis Marina and the Marina Village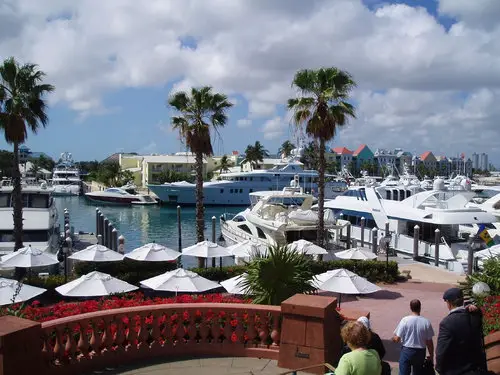 Photo: Nugget04, flickr, cc by 2.0 
On Wednesday night (9pm) and Saturday night (9:30pm) the Junkanoo troupes perform their music and dance, and pass through the village. Families and kids are often seen participating in the dance as they take about 25 minutes to get through the village. 
While the whole village looks quaint yet colorful, the atmosphere is further enhanced with entertainers and even comedians on stilts which you may encounter at times. Overall a great place to spend an evening or an afternoon, to roam around and feel the quaint vibe and do some quality shopping.  
Although this is a commercial center run by the Atlantis resorts, it is open to all and is not a tourist trap. Unlike in Straw Market or even Bay Street, you won't come across vendors trying to push sell products. Also with a spread out area, Marina Village does not look as crowded as other shopping areas. 
Stores to Explore
The Plait Lady is excellent for buying Bahamian hand-plaited straw bags and hats. Other than that you can also get lovely items made out of conch shells like spoons and bowels. Tortuga Rum Cakes is a family run business offering authentic Caribbean rum cakes, chocolates, Caribbean sauces, flavored coffee, and Tortuga rum. La Parfumerie offers a range of fine perfumes. 
For gifts and souvenirs, Visit Atlantis Signatures which offer wide range of items... art and crafts from local artisans, beach wares, towels, mugs, T-shirts, hats and more. 
Visit Pandora or Park Lane Jewelers for nice jewelry items including charms, bracelets, necklace, rings, earrings etc and also various gift items. The duty free store John Bull (the flagship store being at 284 Bay Street in Nassau) is popular for quality items such as leather, perfume, cosmetics, tobacco, jewelry, watches, cameras etc. They are also the only official Rolex retailer in Bahamas. Carlo Milano specializes in luxury jewelry, fashion dress materials, exquisite watches and sunglasses. 
For beach wares and accessories, visit Paradise Blue Surf Shop. And there are several brand stores as well such as United Colors of Benetton. Among children the most popular is Oh Sugar Candy Store selling different varieties of candy, but seems to be a little over priced. Also check out the retail carts such as Junkanoo N Tings, Hey Mon Graphics, Crystalix, Palm Treasures for value buys. 
You can explore the ART WALK at Marina Village on every second Saturday between 12pm to 7pm... many local Bahamian artists and artisans showcase their art & craft and homemade produces which you can sample. You can also enjoy the Bahamian music. 
Restaurants, Food and Beverages Outlets
For Italian cuisine and wine selections in a family friendly dining ambience, visit Caramine's (some of the great dishes include chicken scarpariello, shrimp scampi, fried calamari etc). Bimini Road offers typical Caribbean fare. It has a casual atmosphere with an ocean inspired colorful decor (see boats hanging from the ceiling). There is both inside and outside patio dining with live music. 
Murray's Deli is a New York style restaurant with lovely view of the marina. Try out the smoked fish and the super tall deli sandwich. If you are looking for great burgers... then head for The Village Burger Shack. For fine dining, head for Café Martinique or Seafire Steakhouse.  
If you like to try out fresh Conch Salad  prepared in authentic Bahamian way, then visit McKenzie's. This is an outlet of the original one which is located at Potter's Cay (under the bridge), but makes the same delicious conch salad right in front of you. You can often see long queues at the Ben & Jerry's as families and children queue up for ice creams and shakes. For some chilled beer, visit the only craft brewery of Bahamas Pirate Republic Brewery located at Marina Village. 
If you do not want to walk all the way to Arawak Cay to try out the classic Bahamian fish fry, then visit Frankie Gone Bananas (they have their original outlet at Arawak Cay but has also opened an outlet at Marina Village). Some of the favorites here are the Mahi Mahi, cracked conch and fresh Bahamian lobster tail that you can accompany with peas 'n' rice, mac n' cheese, etc. And if some great pizzas is something you are craving for, walk down to the dockside outlet Marina Pizzeria. 
Open Hours
Monday to Thursday: 9am to 9pm 
Friday, Saturday: 9am to 10pm 
Sunday: 10am to 9pm 
NOTE: Some stores and restaurants may follow seasonal or different timings. 
How to reach Marina Village
From Nassau the easiest is to take a ferry (from downtown ferry dock located next to Prince George Wharf) to Paradise Island (takes 10 minutes one way) and then walk down to Marina Village (another 10 minutes). Once you get off the ferry, walk up to Paradise Beach Drive and turn right. When you reach the traffic circle, take the first exit and keep walking straight, Marina Village will be on your left. 
From Nassau Downtown or Prince George Cruise Port, it is possible to walk all the way to Marina Village... you will need to use the sidewalk on Sir Sydney Poitier Bridge over Nassau Harbor... it will take about 35 minutes (the distance is about 1.6 miles), but on a hot sunny day, the walk over the bridge with a fairly steep incline can be quite exhausting. 
You can also take a taxi ride. There is no bus service available from Nassau. Although the Atlantis guests can walk from their hotel, there is also a shuttle services provided by Atlantis for their guests between Marina Village and various Atlantis hotels. 
Road Map (Marina Village) 
Related Articles
Visitors' Reviews and Comments