Atlantis Harborside Resort
Paradise Island, Bahamas
Category: Mid-Range 
The Harbor side Atlantis is right there on the Resort Marina and it's modelled after a colorful marina village. There are a number of private villas in a burst of fresh colors all within easy distance of each other yet set in a way that the guests have ample privacy. 
The décor and atmosphere is markedly casual and there is none of the formality that distinguishes the more expensive accommodation options of Atlantis. Every villa in the Harbor side has a kitchenette and is basically meant for families and large groups (of up to 9 people). Staying here will feel like owning your own island home for a brief period of time. 
The villas are clustered around pools or look down on the marina and the crystal blue water, floating boats and lush groves add to the atmospheric feel of Harbor side. There are plenty of paths and walkaways to stroll around and you will mostly see couples with kids, groups of friends and families strolling around and enjoying the fresh balmy air. 
On the whole, the Harbor side Atlantis presents a distinctly family like, wholesome and relaxed atmosphere for the tourist looking for a good clean family vacation. 
Harborside Atlantis Resort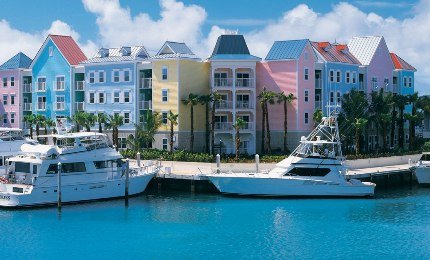 Rooms
One Bedroom Villas at the Harbor side are bordered by the Nassau Harbor and the Atlantis Marina. There is a fully functional and well stocked kitchen that has a refrigerator, coffee maker and blender, dishwasher, 2 burner stove top, microwave convection oven etc. 
Suites have luxurious bedrooms that have king sized beds and designer furniture. Flat screen TV's and digital safe are other room staples. There is a separate 4 seater dining area and a crib/ high chair is also provided on request. A washer/ dryer is also a part of the set up. 
A room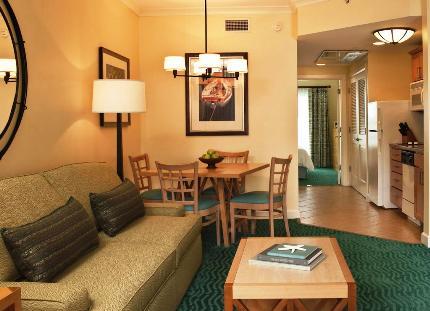 There is a deluxe version of the Villa which has a French Balcony and a smaller sleeper in the living room while the premium one bedroom villa has a private patio and a queen sized sleeper in the living room. 
The two bedroom Villas have typical Caribbean décor and look more like vacation homes. The villas are very close to the recreated lost world of Atlantis and the beach too is nearer. The two bedroom villas have a deluxe version which has living room with queen sized sleeper sofa while the premium villa has sleeper sofas both in living room and bedrooms. 
The three bedroom villa is a combination of a two bedroom villa and a one bedroom villa that can also be used as a separate unit. There are 3 double beds and two sleeper sofas along with luxuriously designed furniture and 3 designer bathrooms all with jetted whirlpool tubs. 
Dining
One good thing about Harbor side Resort is that there is no need of buying a compulsory meal plan. You have the option of buying a meal plan or of dining in the umpteen restaurants around within Atlantis complex plus preparing some of your own meals in the kitchen. The latter option is much more affordable. 
There is only one In house restaurant… The Point. This place is right there on the edge of water and the views are pretty especially after sunset. The prices are affordable in comparison to general Atlantis standards and the portions are plentiful.  There is a lot of crowd and folks from the adjoining pool drop in all the time for drinks. The menu is very basic with salads, burgers, sandwiches and wraps. There are options of having conch as fritters, salad or soup (the fritters aren't deep fried). The chicken wings are really good and the drinks menu is extensive. Breakfast is also available at the Point from 8 a.m. onwards. There is a separate menu for kids. The staff is friendly though the service is slow and at times… too casual!! The 15% gratuity is very annoying and there is a separate tax as well. 
There are 20 other restaurants at Atlantis complex where you can dine. Carmines, Bimini road, Virgil's Real BBQ Food, Chop Stix (at Coral), Poseidon, Nobu and Olive are good options nearby. In case your kids have food allergies… you can visit Shark Bites in Atlantis… they have food that's allergen free. 
A great tip would be to ask the restaurant where you are dining to pack any leftovers that you might want to consume later. Every villa has a kitchen containing a microwave… so you can easily heat up food to have later. Most restaurants in the Atlantis serve big portions and there would be leftovers. Considering the expensive food… you can end up saving a lot of money if you actually utilize all that you have ordered. 
Other Facilities
There is a digital safe inside each room and each bathroom has a combined shower jet bathtub which is rather fun for kids. Some 2 and 3 bedroom villas have separate microwave, refrigerator etc for kids. 
You need to pay a fee for using Internet and but you can connect only 4 devices at a time. The reliability and high speed of the Internet makes the charge worth it. 
Harbor side has a moderately sized fitness room which you can use for free. The big fitness center on Atlantis has a daily fee if you are a Harbor side Guest. 
Housekeeping visits are only once a week. However people at the reception are generally cooperative and supplies like shampoo, towels are available. There are bellhops and desk staff around who will cater to your requests. 
There is a lagoon before the beach and it's pleasant though the water is not as blue as it is in Nassau. There is a mini water park which has limited number of rides aimed at families and kids which is an okay option if you don't want to go the main Atlantis Water Park every day. 
You can use the Atlantis Casino freely once you wear the access wristbands. Take your credit card and room key along. Once you get to the casino… you will find drinks are quite cheap (some are free) as long as you keep playing at one of the machines 
All guests of the Harbor side Atlantis have full access to Aquaventure… Atlantis's iconic water park. Enjoy the 18 sensational water slides, 11 different pools and 2 separate river rides complete with thrilling raids. 
Atlantis owns 3 beaches that are fully accessible to guests of Harbor side. There are 14 exceptional lagoons hosting over 5,000 marine life. 
The swim with the dolphins experience at Dolphins cay is very popular with Harbor side guests. There is a deep water experience that's more expensive and a shallow water experience that's moderately priced. You will have around 40 minutes of actual swimming with the dolphins and close to an hour of orientation by the staff. Photography charges are separate. 
Note: folks staying at the Harbor side are mostly families and they usually want to cook one or more meals in the nice attached kitchen. The best place to buy supplies for the kitchen is the Nassau Grocery Store that is pretty far from the Atlantis. So what you can do is to stop the cab on your way to the Harbor side from the airport and pick up groceries, water cases, coolers etc. on the way. If you miss doing this then inquire at the Harbor side reception… there is a daily shuttle service that leaves each morning for the grocery store. If you plan to walk then reaching the grocery store that's across the bridge from harbor side will take you minimum 25 minutes and sometimes you won't find sidewalks on the roads. 
To reach the main water park in Atlantis you can opt to take a shuttle or opt to walk it down. The shuttle will take you around 7 minutes while the walk will be a pleasant 20 minutes through the Marina village. 
Overall Opinion
The villas have nicely stocked kitchens and you can cook pretty good meals there. However there aren't any BBQ Grills on the property and this is a little limiting if you love BBQ ued meals. 
Unlike some other hotels at Atlantis, the Harborside doesn't offer free skincare or suncare products. Bring your own supply of sunscreen and lotion. Little things like waterproof phone covers cost a lot at Harborside so carry all that you might need. As said before, stocking up on groceries, ready to eat meals, drinks and fizz is a good way to save money. If you want to stay close to the lobby (the shuttles leave from here) then choose building number 7. Some of the buildings are renovated and some are in need of repair… it's important to check the room beforehand before you actually check in. 
The restaurant in the Harborside is not gourmet quality and that's disappointing if you are fond of fine dining. You would have to go to the other nice restaurants in the Atlantis complex for a great meal. 
The Wi Fi charges are the biggest downside… they are steep. Buy a phone data plan instead… that's cheaper. They will charge you for every little extra thing like extra towels, extra bed linen etc. so do make sure that you read the fine print carefully. 
All being said, the Harborside is really the best option in Atlantis for families. There is a washer and dryer in the room and any guest with a family and kids knows how important these are. Microwave, fridge, coffee maker and loads of amenities in the rooms does give you a homely and comfortable feel. The property is not as fancy as the Cove but is far cheaper to stay and more kid friendly. Lots of space, nice views and a kids friendly atmosphere makes up for the rough bits. 
Rates provided by booking.com 
How to reach
Harborside Resort is just 30 minutes away from Nassau International Airport. You will have to book a shuttle service or a cab (the resort doesn't offer free pick up and drop). There is a basic charge for two people and then the rates get increased for extra people and extra luggage. The cab will stop at liquor stores, grocery stores etc for a small fee and you can stock up. Harborside Resort is in Paradise Island that's connected to Nassau by bridges. 
Road Map
Contact Info
Harbor side Atlantis 
1 Casino Drive, Paradise Island, Bahamas 
Phone: +1 242 363 2000; ext. 67740 
Related Articles
Visitors' Reviews and Comments