The Island House Hotel
Nassau, Bahamas
Category: Mid Range / Luxury 
The Island House is a 30 room boutique hotel in Nassau that draws deep inspiration from the beautiful ecology of the Bahamas. Environmental empathy is one of the cornerstones of the Island House project and it has 6 rental apartments other than rooms and suites, well designed squash courts, pools, art house Movie Theater, padel court, two restaurants and cafes and a Spa named Bamford. 
The Island house is close to the Nirvana beach… set in the Lyford Cay area (very close is an exclusive gated community where the likes of Sean Connery stay) , guests find the wide open terrace space of the hotel very attractive. The Island House is a new property and it lacks the wear and tear that the older properties display. You will find the Island House in a quieter side of the island on the west end which is far from all the touristy places and downtown. 
Rooms
There are different kinds of rooms and the common categorization is Guest rooms, Apartments and Suites. All rooms in each kind of accommodation option have common features like energy conserving lights, ecofriendly décor, indigenous displays of local art and big flat screen TV's. There is a private bathroom with bath/ rain shower and a hamper of Bamford toiletries. There is also a stocked mini bar but no refrigeration facilities though the ice bucket is replenished twice every day. 
The Island House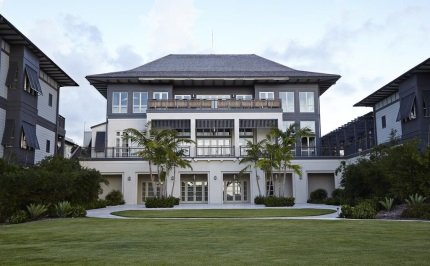 The Guest rooms have either garden views or ocean views and are located in the East and the West wings of the Island House property. You can choose between Queen Rooms and King Rooms. While the 480 sq. feet queen rooms (with 2 queen beds) have an attached 120 sq. ft. terrace and a rain shower, the King rooms have similar dimensions and amenities with one large King bed. 
There are two huge and sophisticated Cottage accommodations in the resort and they have private outdoor showers with screens. The cottages are 240 sq. feet large with a 580 sq. feet porch, aesthetically refined hanging day bed and dining set. Up to 6 guests can stay in each cottage. 
Island House Room 
The suites are 920 sq. feet large and have a 430 sq. feet porch along with hanging day bed and dining set. Up to 4 guests can stay in each suite. The junior suites are 510 sq. feet each with a 150 sq. feet porch and hanging chairs overlooking the pool and garden. Only two people can stay in each junior suite. 
The Island House Apartments are large and private with ocean views and they look on to the beautiful southern side of the island. There are 4 two bedroom apartments and each have 1500 sq. feet of interior space and 200 sq. feet of exterior porch with 2 parking spaces. Each 2 bedroom apartment has 2 bedrooms and 2 large bathroom along with one small bathroom. 
There are only two 3 bedroom apartments and these are huge with 1900 sq. feet interior space and 200 sq. feet porch area along with 2 parking spaces. 
All apartments have storage closets, free gym membership and 24 hours dedicated security team. 
Tip: most rooms are spacious and beautifully decorated and you won't probably find signs of wear and tear. However room service is pretty slow so order well in advance. There are no coffee machines in rooms…you have to go to the coffee shop or order room service. There are snacks in the mini bar…if you want nibbles with your drinks at the pool carry them with you. 
Dining
One good thing about staying at the Island House is that there is no compulsory all inclusive package. However lack of noteworthy nearby restaurants and those awesome small eateries that are found in more touristy parts of Nassau automatically force guests to dine in house unless they are going downtown or towards Paradise Island. 
Shima is the in-house Southeast Asian restaurant that's perched on the top floor of the Island House. The décor is understated minimal with the focus being on the colorful and vibrant dishes. There is an open air dining feature with nice views which you would probably enjoy. David Rogers is the chief chef here and he has rustled up an inventive ecologically friendly menu on which the Australis Barramundi (a native sea fish) makes many appearances. One innovative dish you should try at the Shima is caramelized pork belly, green apple and Australis Barramundi salad. 
Mahogany House is a Mediterranean dining place with an impressive wine list. The menu is seasonal and sees a lot of changes frequently. Fresh fish preparations and duck preparations like the Manicotti are the highlights and so are the curated pizzas. Occasionally live music performances are arranged…mostly local artists are invited. Timings: Sun and Sat: 6pm - 10pm, Mon to Fri: 12pm - 3pm 
The coffee bar is literally a coffee place plus bar plus bakery plus dining place and it's easily the most affordable place to dine in the Island House. On offer are delicious pastries, a selection of fresh breads and a good range of coffee beans. Lunch and breakfast are served daily and the bar is well stocked. 
Some restaurants nearby are the Captains Table, Golden House Restaurant and the Aqua Fire. 
If you want to save some money bring your own cooler stocked with drinks and beverages and a carton of snacks. You can also order in from Foodstore2Go for groceries. 
Other facilities
There is free Wi Fi throughout the resort including in rooms, lobby, shared spaces etc. 
There is a 48 seat cinema hall that screens blockbusters and art films along with speaking events, lit meets, live music and cultural seminars. Coffee and tan décor, plush upholstered seats with cushions, footrest and a snacks table coupled with 24 feet screen and a good Meyer sound system along with a 2k Barco projector makes the Cinema a good experience. Private screenings can also be arranged if booked in advance. 
The in-house Spa has its own product line… the Bamford products and these are present in each room of the resort. Claimed as 100% organic and pure these products are used in a range of rejuvenating massages, facials, body wraps and beauty treatments offered at the spa. The spa is open every day from 9.00 a.m. to 5.00 p.m. You need to call 242-698-6300 to make a booking. 
There is a gym stocking a decent range of weights, cardio equipment and cross training machines. There is also a movement studio exclusively for guests that has trained instructors who provide antigravity, Pilates and yoga programs. These are quite large facilities distributed over two separate buildings; one with the gym and squash courts and another with the movement studio. 
There is a 25 meter lap pool free for the use of guests. There are facilities for Padel and 2 Squash courts for the guests. There is an in house moderately sized library free with honor bar, TV screen and Games Table for use of guests. 
Pool terraces, 5000 sq. feet lawns at the hotel can be used for outdoor events. 
The mahogany house has options for accommodating 100 people in banquet style dining. 
Food lovers can avail the True Bahamian Food tours that are 3 hour long and are conducted by professional guides in downtown. Local Bahamian dishes are offered along with social, historical and cultural insights. There is even an option of learning to cook a Bahamian 3 course meal under the guidance of a professional chef at Gray Cliff Restaurant. The reception staff will organize the food tour for you if you book in advance. 
There is free parking in the hotel. 
There is a 120 seat meeting room with projectors, drop down screens and business conferencing facilities. 
The hotel makes a conscious effort to expose guests to the local community and their talents. As a guest you can learn cooking from local chefs, life drawing from Bahamian artist J E Fox and other arts. 
The Primeval National Park that's nearby is a good opportunity for nature lovers to see how New Providence Island looked many centuries ago. You will find hundreds of limestone caverns, sub fossilized remains and Bahamian artefacts. You need to pay for a guided tour or else opt for a self-paced exploratory walk. 
The popular Stuart Cove is within 6kms distance and it offers a range of diving and snorkeling tours …all at added costs of course. The reefs and underwater formations here are really exotic and there are many options like underwater photography, swim with the sharks, bubble supping etc. Best to have a guide educate you about marine life before you start exploring. You can take the help of the reception staff at the resort…they will arrange the expedition for you. 
The Exuma cays (well known Private Island that's 35 miles to the south east of New Providence) is a part of the Island House properties and it has 8 beaches and many restaurants. Guests staying at the resort can opt to take a speedboat to the Exuma Cay for a different experience. 
Bahamas Archery is very near and archery lessons are provided to general public at quite modest charges. 
The St Paul Apostle Church is a beautiful church that's nearby. 
The hotel doesn't have its own bunch of kid's activities though the front desk will give you a list of nearby kid friendly places.  Some achievable activities you could plan are trips to Graycliff chocolate factory (21 km away), pirate's museum (21 km away) and checking out the march of flamingos at ardastra gardens (20 km away). It's best that you book a cab and see all three attractions on the same day. 
For going downtown it's best to take a cab…downtown is nearly 23 km away. Paradise Island is 26 km away, cable beach is 13 km away. So mostly all major attractions are far away. Nirvana beach is about 5 km away and so is the Jaws beach. However the airport is only 7 km away and you can reach here pretty quickly…  
Overall Opinion
The best thing about The Island House is its distinctly eclectic appeal. There is nothing conventional or stereotyped about the resort and it offers the exact opposite experience of Atlantis. If you like exploring local art, culture, food and are passionate about ecological conservation then Island House will fascinate you. 
The cinema is an exceptional experience and possibly this is the most luxurious movie experience in Bahamas. The Bamford Spa has a team of good masseuses and therapists. However both facilities are open to outside tourists too so that may be a disadvantage for you. Both restaurants and the coffee shop serve great food and liquor. 
For a resort that charges this much there are very less freebies and the service is lax. You won't get quick poolside service, there are no free snacks in the bar and the checkout time is stringently followed even if there are no guests around. The super-rich community of the nearby Lyford Cay homeowners use the Island House as their entertainment junction…they head out here and then go back to their pretty beach in Lyford Cay (unfortunately regular tourists won't have access to that beach). 
The service standards do not match the tariff standards and you will often find the staff clueless and slow to respond though they are unfailingly polite and armed with a smile. 
If you have kids travelling with you …this resort might not be ideal there are virtually no kids' activities and the beach is not that close. This resort is ideal for couples and groups who are looking for quiet relaxation and have a taste for eclecticism. 
The location isn't an advantage in this case…there are not jitneys and shared cabs around…you will have to hire a full car. After evening falls…the surrounding area is pretty much deserted with not many interesting options. Noteworthy restaurants around are few which forces guests to have all their meals at the in house restaurants. 
While all dining options inside the resort are great, sophisticated and serve good quality cuisine…they are not budget friendly (with the exception of the coffee shop). If you want to have a quiet time away from the vibrancy and bustle that Nassau is known for then this resort will work out well for you. If you are a party lover and are looking for excitement then this isn't an ideal option. 
Rates provided by booking.com 
How to reach
The Nassau International Airport is just 15 minutes of cab ride and you can book a cab from the airport to reach the hotel (you can get a Jitney too though no Jitneys are available while coming to the airport to the hotel).  
Road Map
Contact Info
The Island House 
Mahogany Hill Western Road, Nassau 
Phone: +1-242-698-6300 
Check in: 3 p.m., check out: 11 a.m. 
Related Articles
Visitors' Reviews and Comments