Best bars, pubs, nightclubs & casinos in Grand Bahama
Grand Bahama is teeming all over with pubs, bars etc, but not all of these are suitable for tourists because in some places the local crowd can get a little rowdy. And there are several well equipped casinos as well in the island offering a good nighttime entertainment with gaming and drinks.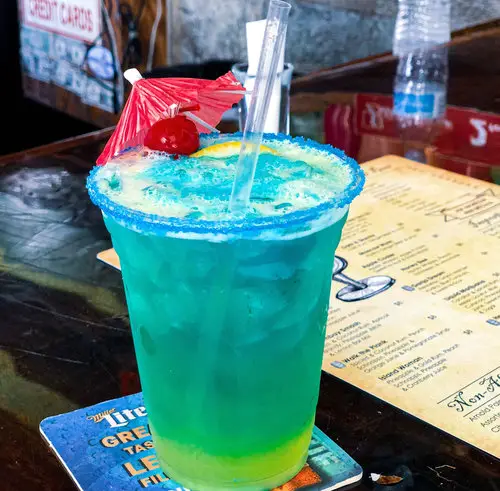 Photo: Rum Runners, Grand Bahama 
Though the casinos in Grand Bahama are all relatively smaller than their counterparts in Nassau... people looking for a spot of gambling on the island won't be disappointed. Here are a few places you can check out if you are in a casino mood. Make sure that you check the current status of any of these before you walk in or make plans... hurricanes hit the islands frequently and there is damage to the properties, though most of them are quick to restore their facilities. 
Below are the selection of pubs, bars, lounges, nightclubs and casinos in Grand Bahama which are safe, well known and tourist friendly. 
Rum Runners
Located at the Port Lucaya Marketplace, this is one of the most favorite bars to both locals and tourists. Very friendly and casual vibe and you get to meet and chat up with lots of locals here. It's almost always crowded, but it's fun to be there. The bartenders and servers are especially very friendly, fun to talk to and they will guide you the drinks you would like.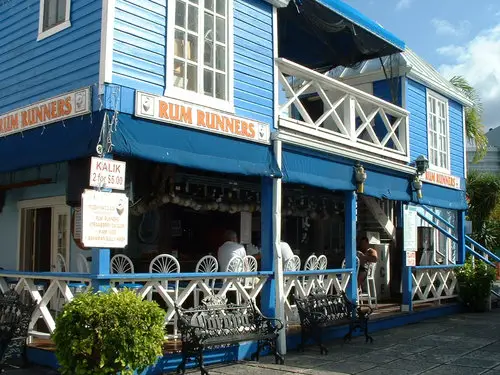 Photo: Liz Jamieson, flickr, cc by 2.0 
The bartenders here make excellent cocktails. Try out the Pina Colada or the excellent Strawberry Daiquiris. There is no better way to drink in Bahamian style than having a drink in a coconut shell. If you are a beer lover, go for the chilled Kalik. The drinks are reasonably priced. They have happy hour as well. 
Although food menu is essentially bar fares, they are fresh and well prepared. Try out the conch salad, or the cracked conch and fries... they are excellent. You get other bar food such fish and chips, conch fritters, chicken wings, jerk chicken etc. 
Address: 
Port Lucaya Marketplace, Grand Bahama 
Phone: +1 242-373-7233 
Hours: 12:30pm to 1am 
Senor Frogs
Easily one of the most popular pubs in the Grand Bahama and located within the cruise port area… the Senor Frogs is an established brand name… they have more than 13 branches in different parts of USA and Bahamas. Some of the servers especially Gigi and Rumah are very jolly and cheerful and go out of their way to make guests feel special. This is a good place for celebrations… birthdays and anniversary celebrations are handled here with great warmth. 
This is an all age group kind of place… great for bringing your kids and your grand mom!! Cuisine is Mexican but they also have American and Caribbean items in the menu along with a good beverage and liquor selection. The yard glass margheritas, fries, tacos and conch dishes are a must have. 
There are friendly indoor games happening all the time… like darts and music competitions and winners get free food and drink. Too bad the place offers late nights only on Saturdays. Keep checking their official website for latest offers and changes in timings. 
Address: 
Senor Frogs, Freeport Harbor (Cruise Port area), Freeport, Grand Bahama 
Phone: 1-242-351-3764 
Open from 10.00 a, m to 5 p.m. (Monday to Friday), 6.00 p.m. to 12.00 a.m. on Saturday 
Sunday closed 
Seaman's Rest Sports Pub
The ship docking spot at Freeport is not that glamorous and mostly tourists are at a loss finding out a decent place to have a drink in those areas. The Seaman's Rest is one of the best options here to sip a drink and take some rest before sailing off or moving to your travel destinations. The Pub is rather rustic looking though it has multiple TV screens broadcasting sports shows and live matches. 
Some brands of US beers are available through the rest of the stuff is local. This is not a party place…it's the kind of pub that you go to for smoking Cuban cigars lazily and relishing local food while the owner engages you in friendly banter. Sometimes if the owner is in a good mood… he will indulge guests with free shots. The free Wi Fi provided here is one of the main advantages… this is basically one of the few places around this area where you can sit sipping your drink in peace while you check your e-mails. 
Location: Opposite the Senor Frogs Bar, Lucayan Harbor, Freeport Grand Bahama 
Phone: +1 242 351 405 
Roosters Sports Bar
One of the newer and more sophisticated sports lounge bars in Grand Bahama…this one has free WI fi, a nice sound stage and a mist area where you can hang out to have your drinks. There are giant screens all around for you to watch your favorite games. The food is also good…the only disadvantage is that it takes a long time to be prepared and then get served. 
Beverage and liquor selection is okay and this place is open till the wee hours of the morning making it a favorite amongst locals as well as tourists. Try visiting on the weekends…the local as well as international bands come here to play music in the evenings. 
Timings: open from 4 p.m. to 3 a.m. everyday 
Address: Fishing Hole Road, Freeport Grand Bahama       
Phone: +1 24 808 3465 
Bahama Mama Lounge Bar
This is a lounge bar with a relaxed vibe in Freeport and it's operated by a really sweet couple. The Bahama Mama cocktail here is quite famous and the crowd is typically young and hip. The music plays on whole night and you can enjoy the lively yet laid back ambience. Beverages and liquors are mostly local with a few international brands thrown in. predictably, the most popular drink here is the Bahama Mama!! 
Free Bahama Mama Cocktails on Thursdays 
Open till 3 a.m. in the morning 
Address: shop 6, building 12, Port Lucaya Marketplace, Freeport, Grand Bahama Island 
Phone: 242 373 8514 
Neptune
The Neptune is an aesthetically distinctive nightclub with onyx black pillars and golden huge mirrors punctuated with neon lights… the Neptune gives off an otherworldly vibe. The atmosphere adds to the party vibe and an impressive alcoholic beverage list is one of the main attractions. However the staff there sometimes need a lesson or two in mixing drinks. The atmosphere is energetic and lively but has a strong local flavor… basically don't compare it to an American club and you will like it. 
Happy hours are 6.00 p.m. to 8.00 p.m. Monday to Friday. 
Timings: Open from 8 p.m. to 2 a.m. on Mondays to Saturdays, Sunday closed 
Address: Port Lucaya marketplace, Freeport, Grand Bahama Island 
Phone: (242) 374 1221 
Island Luck
Island Luck is the leading games, sports book lounge and casino operator on the islands. It operates all over Bahamas and inter island money transfers are allowed. 7 of its centers are open in Freeport and you can go and try your hand at any of these depending upon your location preferences. They offer betting on football, basketball, baseball, hockey, golf, soccer, tennis etc. and the wagers can be straight, teasers, parlay, reverse, money line, if belts and open wagers. 
The casino has provisions for blackjack variations, craps, baccarat, Gow Poker, Roulette, stud poker, 3 card poker, serpents treasure, pirates revenge etc. you can also sign up for Island Luck membership scheme…they have a nice rewards program where you can redeem your gaming points for cool stuff. 
Most centers have free parking…don't expect grand and glittering casinos…these are just small gaming houses. You can get a list of all centers from main center at downtown Freeport. 
Island Luck Main Center 
Address: Downtown Freeport 
Savoy Plaza Pioneers Way 
Phone: 242 352 3034 
All the centers are open every day from 8 a.m. to 9 p.m. 
Treasure Bay Casino
Just a few meters away from the Grand Lucayan Hotel, the treasure Bay Casino is one of the popular gaming and betting spots on the island. Only adults are allowed inside the 23,375 sq. feet gaming space that has 400 slots and video poker machines along with 30 tables that serve craps, roulette, baccarat, blackjack etc. you can combine the casino visit with dining at the Grand Lucayan and a beach session nearby. The good thing about this casino is that you can play for real small amounts but don't expect glittery Las Vegas style gaming. 
The drinks and service is pocket friendly. As it happens with most properties on the island… the casino closes intermittently due to hurricane ravages. You need to check on the given phone number to confirm whether the casino is open on your travel dates. 
Address: Sea Horse Rd, Freeport, the Bahamas 
Phone: +1 242-373-1333 
Timings: 12 p.m. to 1 a.m. 
Isle of Capri
X Closed Operation 
This casino opens at 10 a.m. but don't walk in till noon if you are planning to go on a weekend… the table games are functional only post 6 p.m. They have blackjack, roulette, craps etc. and you can start playing with really small amounts. The space is only about 6000 sq. feet but it's well maintained. 
Photo: Christopher Connell, flickr, cc by-nd 2.0 
There isn't a separate poker room. You can get a players card if you want a longish visit and have extensive gaming plans…they have about 400 slot machines. The casino is a part of the Sheraton property in Lucaya so there are restaurants, pools and a nice spa around… location wise it's great. 
Address: Isle of Capri, The Sheraton Our Lucaya, Lucaya 
Timings: 10 a.m. to 12 a.m. 
Related Articles
Visitors' Reviews and Comments