Grand Bahama Shopping & The Top Stores
Most vacations are incomplete without a spot of shopping and luckily Grand Bahama has a lot of shopping opportunities. In the year 1992, the Bahamian Government made a momentous decision… the import duties on 11 categories of luxury goods were removed. So here in the island, fine perfumes, jewelry, crystal, watches, fine linen, photography equipment, binoculars, fine china and telescopes are all completely duty free. 
Besides these items…tourists in Bahama generally shop for indigenous locally made goods of straw, wood and shells. The craft of making straw goods is one of Bahamas oldest trades and you can find beautiful decorative pieces made of straw along with hats, baskets, mats and other gift items. Look out for items that bear the label "authentically Bahamian"…these are all evaluated by the Ministry of Tourism Bahamas and they are guaranteed to have been made on the island using eco-friendly means. 
Another category which tourists mostly look for when on the islands is groceries… Bahamian cuisine may not suit your palette for long and then it makes sense to rustle up some meals on your own especially if your hotel offers a kitchenette. 
The biggest grocery and superstore on the island is Solomon's …they have branches both in Port Lucaya and Freeport. There is Grand Bahama Food Company on Grand Bahama highway (Freeport) that has decent selection of groceries and fish. Butlers of Port Lucaya is also a good grocery store selling European cheese, sandwiches and deli items, coffee, tea, soups, chocolates and lot more. 
Port Lucaya Marketplace
This is touted as the biggest shopping and live entertainment facility in the island. The best thing about this market is its setting… its roughly 9.5 acre in size and sits right next to the Lucayan waterside. The Treasure Bay Casino and the Grand Lucayan Resort flank the marketplace and there are lovely white beaches within close walking distance….The transport connectivity is also great as the Taxi stand is nearby. The Port Lucaya Marina is just behind the marketplace and it's a wonderful place to enjoy the views and watch many yachts and boats moored on the water. 
Entrance to Port Lucaya Marketplace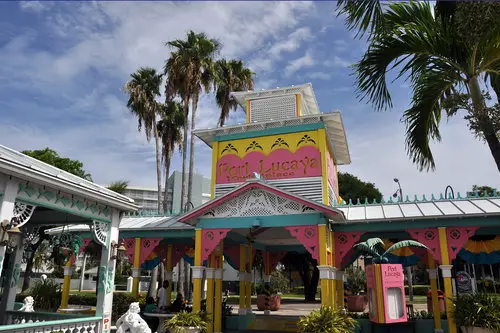 Photo: Christopher ConnellFollow, flickr, cc by-nd 
There are more than 40 specialty stores here along with boutiques and these sell premium quality jewelry, perfumes, cameras, leather goods, watches and designer bags. The market claims a large range of duty free stores along with full-fledged straw markets and two craft zones. 
Photo: qwesy qwesy, cc by 3.0 
You will also see lots of hair braiders in the Port Lucaya marketplace. Hair braiding business in Grand Bahama Island became a roaring business after the motion picture "10" released in 1979. Some of the hair styling options offered by artists here are French braids, hair extensions, solid bead and wood bead designs, hair wraps and silver/ metallic bead decorations. Make sure that you avail services only from a licensed braider. 
There are numerous restaurants and lounge bars around that promise to wipe off the exhaustion of shoppers while providing them an array of cuisines. Along with all this you will also find large push carts circulating through the market and these are filled with unique and indigenous Bahama craft and souvenirs. 
Photo: Danielle Walquist Lynch, flickr, cc by 2.0 
Right at the center of the Port Lucaya market stands the Count Basie Square that's also fondly referred to as marketplace square… this plays Bahamian and International numbers all day long and there are frequent musical shows, fashion shows, movie screenings and other cultural programs happening. During tourist season time… Junkanoo, scrape, rake and other Bahamian music is played all day and there is a carnival like atmosphere with people dancing the whole day. 
Night performance at Count Basie Square 
Photo: Geoff Livingston, flickr, cc by-sa 2.0 
A visit to Port Lucaya marketplace is not just a shopping episode... it's a complete culinary, cultural and retail package that will appeal to any tourist. 
Address: 
Port Lucaya Marketplace, Sea Horse Rd., Lucaya, Grand Bahama Island, Bahamas 
Most shops are open from Monday to Saturday from 9.00 a.m. to 6.00 p.m. 
Straw Market at Port Lucaya
The bargaining is mostly restricted to the straw markets and there are 100 or more shops here so you will be spoilt for choice. Make sure that you tour the whole market to get an idea of the kind of items sold here before you actually purchase anything. 
Put in all your bargaining skills to use here and you can come away with some very attractive deals. These places take only cash so make sure that you carry some… anyway there are lots of ATMS in the Port Lucaya Marketplace, so getting cash won't be a problem.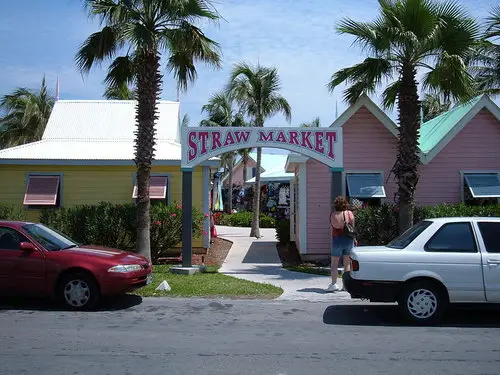 If you want a really good discount then try bargaining with the sellers in the inner rows of the market as opposed to the vendors who are in the outer rows… the inner vendors probably pay less for their space and so are willing to reduce prices... look out for genuine straw made items like bags, dolls, showpieces and mats.  
Interestingly the straw industry in the islands was conceptualized in the later part of 1720's by the wife of the Governor George Phenney. 
In case you are interested in checking out straw vendors in other locations then check out Goombay Park area, Taino Beach, Garden of Groves and Country Club of Bahama and Freeport Harbor side. 
Steer clear of all the china made cosmetics, cutlery and photo frames that are unfortunately clogging up most shops. Other things to buy here are rum cake and banana bread both of which are island specialties. In summers the straw market gets stuffy and uncomfortable so choose your timing for the market visit carefully. 
Del sol
They have this proprietary color change technology that makes their clothes and accessories special. Browse through their large newly opened store in Freeport ….their items are all marked by the Spectachrome technology that consists of color changing inks based on the exposure to sunlight. 
You can find a nice range color changing jewelry shirts, T-shirts, nail polish and hair accessories here. They have about 100 or more stores in 28 countries…the Freeport store is a new addition and yet it has been drawing a lot of tourist attention. 
Address 
Freeport Harbor Shop 3 
Phone: (242) 352-7003 
Store Hours: Monday - Sunday: 9:00 a.m. - 5:00 p.m (when cruise ships are in port) 
Leo's art Gallery
One of the more famous art galleries in the Bahamas…Leo the owner the owner had been painting from a tender age. His paintings are exported all over the world and he is one of the few Bahamian natives who has received formal art school training from one of the best art institutes in the world. His paintings are fascinating to look at and mostly center on wildlife and religious themes. 
Leo's gallery also sells prints and paintings at an affordable range besides curated expensive artworks. You will like seeing how the paintings and prints are so locally inspired… like the coral beach, Junkanoo festival and the markets and people are vividly represented. 
Another distinguishing feature about Leo is that he takes time out to talk to visitors about his inspirations, ideas and themes behind his paintings…that makes it a complete experience. This is a good place to go to if you are genuinely interested in good paintings… however if low price is the only factor that you are looking for then you will find cheaper items elsewhere. 
Port Lucaya Marketplace, Sea Horse Road, Lucaya 
Grand Bahama Island, Bahamas 
Leo Brown 
Phone: (242) 373-1758 
The Arts and Craft Market
The Arts and Craft Market across the Lucaya resort in Port Lucaya is a good place to go to if you are genuinely interested in Bahamian crafts. There are vendors here who sell items made from the islands produce like straw, beads, coconut shells, sea shells and woods. Indigenous paintings made with natural dyes and organically made fabrics are also available along with crocheted and quilted items. 
The arts and craft market is open to bargaining especially if you visit during off season. Sometimes you might feel that vendors are being pushy and interrupting you frequently to draw your attention to their goods but it all falls into perspective that these are people trying to make a living in a place with limited trade opportunities. 
The International Bazaar
Interestingly, the design of international Bazaar was dreamt up by a motion picture guy from California. The 10 acre bazaar complex opened in 1967 and it has more than 90 shops, 13 restaurants and 6 ice cream stores. The bazaar…true to its name has been built to be an international shopping center that represents different sections of the world like Orient, French, South America and India. Imported items from the mother countries are offered in the relevantly named zones. Access to the International Bazaar is from the Bazaar Road in Freeport, which in turn is connected to the Eastern Mall Road.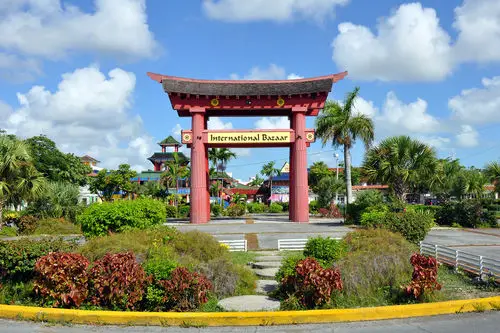 Photo: Christopher Connell, cc by-nd 2.0 
Sometimes nice deal can be found on luxury items like French perfumes, high quality cigars, Rolex watches, premium leather etc. The entrance of the bazaar has a graceful Torii gate (symbolizes 'welcome' in Japanese). This bazaar also has a Straw Market section and a perfume factory where visitors can make and name their own perfumes. There are around 100 shops and restaurants here. 
Photo: Pietro, cc by-sa 3.0 
UPDATE: The International Bazaar is run down and many stores are abandoned since 2015. This is mainly due to the newly developed Port Lucaya Marketplace becoming the main shopping hub. 
Freeport Harbor at Cruise Terminal
This is the cruise terminal area which has a number of stores and is a popular shopping area for the cruise passengers. There are souvenir stores, art & craft, jewelry shop featuring gold and silver designs, clothing stores like Delsol, Cariloha, duty free liquor store, etc. 
Freeport Harbor, Grand Bahama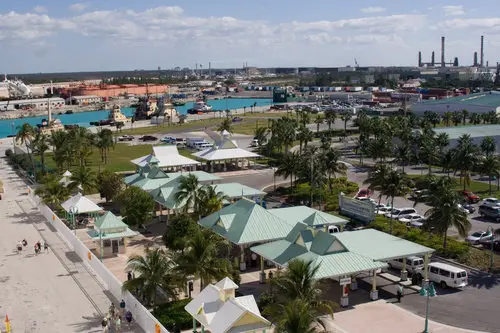 Photo: Jon Worth, cc by-sa 2.0 
The Perfume Factory
The perfume factory deserves special mention as it is one of a kind in Bahamas. They have a standard array of men's and women's perfumes but visitors are encouraged to create their own signature scents. Once a special customized perfume is created… they will register its name and the creators have an option of ordering it online later. 
The perfume factory is not a large establishment…it looks more like a small house and yet it's a notable stop as they demonstrate the art of perfume making to visitors. Some of the popular fragrances on sale here are Island Promise, Sand, Pink Pearl (the bottle has an actual pearl in it) and Goombay. The people running the factory are very sweet and the prices are very reasonable. 
The Perfume Factory 
Behind International Bazaar | Access Road, Freeport, Grand Bahama Island  
Phone: +1 242-352-9391 
Solomon's Super Center Lucaya
This is a grocery store selling grocery items, farm produces, electronic items, clothes, hair care items, pet supplies, garden care accessories, wine and alcohol etc. There is also an in-house food store selling deli type food (sandwiches, wraps etc). 
Sea Horse Road, Seahorse Plaza, Lucaya 
Phone: 242-688-8200 (Queen's highway, Freeport), 242-688-8280 (Lucaya) 
Open daily from 7:30am to 8pm (Sunday until 5pm) 
Note: The other outet of Solomon's is on Queen's Highway, Freeport (as you go west from the Grand Bahama International Airport). Phone: 242-352-9681 
Sawyers Fresh Market
Grocery store offering grocery items, fresh farm produces and general merchandise. 
2A Oak Street, Freeport 
Phone: 242-352-8374, 242 353 1765 
Open daily from 8am to 8pm (Sunday until 2pm) 
Related Articles
Visitors' Reviews and Comments