The Top Scuba Diving & Snorkeling
Sites & Tours in Grand Bahama
The Grand Bahama offers the most fascinating seascape to swimmers, adventurers and divers. The sea around the island hides mysterious wrecks, intricate patterns of coral reefs, fascinating holes and caves and has an array of diving sites that are loved by marine enthusiasts, tourists and snorkelers. Depending upon what kind of marine environment you want to explore and your level of expertise, tour operators will help you find the perfect underwater environment. 
Most of the snorkeling sites around Grand Bahama are a little off shore so collaborating with a local snorkel/ dive operator is recommended. The accommodation option you choose during your stay on the island will most likely have its own favorite snorkeling/ diving tour operator and you will get a discounted snorkeling plus staying package in all probability.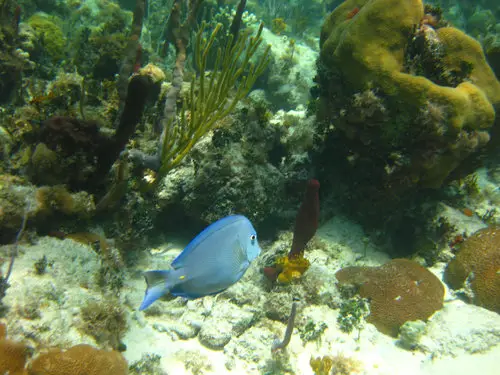 Photo: Paulo O, flickr, cc by 2.0 
Most resorts and hotels will offer their own snorkeling gear too or you can rent gears from the operator you choose (in case you haven't brought your own stuff).  
Choose an operator based on your requirement… for example do you require a certified course in diving or just a casual enjoyable underwater encounter will suffice? Are you looking for a 5 day integrated course or a half a day snorkel tour? What's your budget and swimming competency level? The answers to these questions will help you choose both the snorkeling and diving site as well as the kind of operator you should be ideally collaborating with. 
The section on tour operators below has been divided according to the kind of experience they provide. As far as snorkeling and diving sites are concerned... the seas around the island hides hundreds of them. These are just the well-known ones… sites can be classified into wrecks, underwater reefs, blue holes, shark diving sites and a mixture of these. 
Those of you who have traveled to the Bahamas before have undoubtedly heard about its spicy history of pirates. Anyone who has ever seen the famous movie franchisee Pirates of the Caribbean has also visualized the fierce pirates who went about plundering and looting ships in the middle of the ocean. Well, all this is undoubtedly true to some extent as the ocean stretches on the outskirts of the islands are dotted with wrecks. 
These are sunk treasures and remnants of ships that had either been plundered by pirates (that's what most tourist guides will tell you anyway) or simply sunk due to some unforeseen problems. 
These wrecks are highly popular now as diving spots and most snorkelers and divers are keen in swimming to the depths of the ocean to witness the wrecks. Grand Bahama has its fair share of wrecks and they are all popular in the diving circuit. The wrecks can be categorized as shallow, moderate and deep and this basically signals varying levels of diving expertise that one must possess in order to get to see them. 
Photo: neverzola, Pixabay 
Shallow Wrecks 
Shallow wrecks are nice for amateur snorkelers…you won't need very strong dive lights, won't have to go to great depths of the ocean and there will still be a fair amount of sunlight most of these wrecks will have coral growing on them and there are schools of pretty fish around adding to the aesthetic value. 
The Sugar Wreck is located around the West End of Grand Bahama near Tiger beach and contains the remnants of an ancient sailing ship that sunk many years ago while carrying sugar from Caribbean. Its depth is only 15-20 feet and fish variety there is immense… there are lots of parrotfish, snappers, gobbles grunts, angelfish, wrasse etc. around. This is probably one of the most preferred snorkeling spots around the island. 
The Hesperus wreck is situated at some distance from the Grand Bahama Banks and is only 15 feet deep. The specialty here are the large schools of loggerhead turtles that seem to prefer the plates and planks of the large ship that had sunk there… you can also watch a good variety of fish here. 
Moderate Depth Wrecks 
These are meant for seasoned divers as most of them exceed 30 feet in diving depths. The ocean encircling the southern part of the Grand Bahama has exciting moderate depth wrecks. 
The Jose wreck is at the southern end and it's at a staggering 65 feet depth…there is 45 feet long tugboat was sunk here in 1986… most of the boat features are still un-spoilt so divers have a lot to explore. 
Etheridge wrecked in 1992 when a car ferry operating in Carolinas sunk to about 60 feet deep (this was featured in the movie Halloween). There are many scattered coral heads that's developed around the wreck and schoolmaster snappers, groupers, silversides and shad run around here. 
Badger wreck also known as Burma Oil wreck happened in 1997 and sits at a depth of 50 feet. There is another wreck quite near the Badger wreck and that's the Laura Wreck (this happened in 1997 too) and this was a 40 feet high steel boat. The Pretender Wreck is further off on the southern end and is a ship that had sunk to 45 feet below the ocean surface. 
Deep Wrecks 
Deep Wrecks are for experienced divers (preferably in groups) and they require good ocean navigating skills. Wrecks that are deep inside Bahamian waters are very well protected against surface turbulence and hence are relatively intact. Deep wrecks are invariably huge, mysterious looking and can give you an otherworldly exciting experience. 
Theo's wreck is a 238 foot huge freighter that had sunk in 1982. As soon as divers plunge into the waters at this spot they can make out the outline of the ship (the ocean water is remarkably clear) and as they get nearer the wheelhouse, open holds and the bow are visible. The actual ship sits at a depth of 100 feet and the gigantic cargo hold is filled with glossy black coral and sponges along with other exotic marine life. 
Experienced divers can even swim under the hull of the 40 feet tugboat Jose's Wreck. Lobsters and giant crabs hide in the crevices in the sunk boat whose lowest point is at a 100 feet depth. You can even see schools of tiger groupers in winter. 
SPID City is a popular acronym for self-contained, inflatable, portable dwelling that was popularly used for marine habitation experiments. A twin engine Aztec aircraft that was used in the TV series Sea Hunt had sunk to the sandy ocean floor. If you don't want to dive in that deep then you can swim to the southern direction where solid coral with surge channels have developed… this is rather close to the shark dive site so sighting Caribbean reef sharks is also a possibility. 
As mentioned before, Grand Bahama is sheltered from all sides by intricate offshore reef system that adds great value to marine life and the capacity for observation of marine life by snorkelers and divers. Most amateur snorkelers prefer to take small boat rides to explore all the offshore reefs as these are just 10 to 15 feet below the water surface. 
The Treasure reef has lots of elk horn coral and multicolored schools of fish. Incidentally it got its name in the 60's when lots of Spanish Treasure was found here. Nowadays lots of Lionfish are found here…this is a good place to try out underwater photography. 
Rainbow reef is famous for its well-developed pillars of coral and big schools of yellow tailed goatfish along with sergeant majors. There are huge starfish here and you can literally hold them up, take pictures and again release them… the experience here is almost like swimming inside an aquarium. Silverslide schools can be seen in the cave that's formed under the coral. Rainbow reef is located on the north of the mooring. 
Angelfish Reef is famous for its abundant angelfish population and it's a single large reef system that's on the eastern shore of the island. This one is only 20 feet deep so it's popular amongst amateur snorkelers.  
Buddha Heads is named after the big coral heads shaped like cross legged Buddha statues. Beautiful feathered corals, reef fish, sea fans and the occasional shark are found here. 
Deadman's Reef is a hot favorite amongst most tour operators. It's not very far from the shore of Paradise Cove on the south western coast of Grand Bahama and yet requires strong swimming skills. Lots of sea turtles and other exotic fish including rays populate this reef. 
Pillar Castle is named after its gigantic coral towers that stand as reef fingers to the north of the mooring and cavern to the south if the mooring. Large green eels, hachetfish and glassy eye sweepers inhabit this place. 
The Sea Hunt is to the west of the mooring and you will find huge isolated start corals here along with blue headed wrasse, grey cromus and sergeant majors that keep swimming right across the coral head. If you are lucky enough you can also see the sergeant majors roosting… they guard brightly colored purple patches of eggs. In case you have seen the popular TV Series Sea Hunt then you will love checking out this place. Sometimes tiger sharks are seen around here. 
The Gold Rock reef snorkeling spot is in central Grand Bahama. You need to swim quite some distance off shore (in low tide) and then you can see lots of star fish, sting rays, sea dollars etc. 
There are blue holes (huge underwater marine caverns or sinkholes that have reef or limestone bedrocks) near the island like battery hole where seasoned snorkelers can plunge in to swim with turtles, crabs and baby sharks. 
The Blackbeard's springs is on the eastern end of huge coral stretch. The hole here is about 1 ft in diameter and snappers, grunts and Bermuda Chub are found here in abundance. 
The Ben's Blue Hole is a famous diving spot that's to the east of the mooring line. There is a horseshoe shaped formation here with two blue holes. You will find creole, jacks, dog snappers and schoolmasters here. Navigating a blue hole requires a decent level of diving skill and is best done under the supervision of a trained diver or tour operator. 
There are places like Arrow Point which are a mixture of eel gardens, blue hole and a sandy bottom. There are coral heads here which form a triangle and the western side contains more solid reef. There are lots and lots of stingrays here besides colorful fish. 
Picasso's Gallery consists of a lovely string of coral heads on a plateau that are as pretty as individual pieces of art. Here you can find star corals in 3 different colors. As you swim to the south of Picasso's gallery…the scattered heads of coral unite to form a fringe reef. Arrow crabs and red banded shrimp corals run across the area. 
Edge of the Ledge is typically a ledge that suffers a dramatic drop and hits a sandy bottom at 100 feet. This site is for adventurous divers who wish to explore hammerhead sharks, manta rays and eagle heads. 
Gale's Grotto consists of pristine white coral chunks that slope away to 90 feet depths. This is again very close to the shark feeding area so shark sightings are pretty common. 
Littlehale's Liar is named after famous national geographic photographer Bates Littlehale. There are coral reefs that grew over surge channels here creating two mini caves which can be swum through by seasoned divers and explorers, French white and striped grunts are plentiful here. 
There are many other little known diving and snorkeling spots around the Island and good tour operators can help you discover most of them. Marine scientists have likened Bahamian underwater seascapes to icebergs…only the tip has yet been seen!! 
If you are an adventure diver and like to experience an adrenaline rush rather than calmly gliding over a reef or a wreck, then plan to experience a Tiger Shark encounter at Tiger Beach located at West End of Grand Bahama. West End is about 15 miles to the west of Freeport. The dive boat needs to go about 20 miles offshore from West End where the sharks are found. 
Tiger Sharks are known to be one of the most dangerous predators out of all types of sharks and also make unprovoked attacks on human beings. But here there is a resident population of Tiger Sharks which seem to be calm and curious but not quite aggressive unless you provoke them. 
Over the years, Tiger Beach diving has become one of the most popular dive sites with the divers around the world, because it provides one in a lifetime experience of diving... there are large number of sharks here including Tiger sharks, Lemon sharks, Great Hammerhead sharks, Bull sharks, Nurse sharks etc, and you can watch them at a hand shaking distance and photograph them as you squat on powdery sands of the sea floor... an amazing experience. 
Tiger Sharks at Tiger Beach, Grand Bahama 
You can book a dive at the Tiger beach throughout the year, however October to January is the best time when you can see large number of Tiger sharks swimming around you... this is the breeding season of Tiger sharks. Lemon Sharks and Caribbean Reef Sharks can also bee seen throughout the year. The Hammerhead sharks are mostly seen between November and March. 
Other than sharks, you can see variety of other marine life including moray eels, different types of colorful fish, large groupers, snappers and lot more. 
Diving at Tiger Beach is done at a water depth ranging from 20-feet to 50-60 feet. The water temperature usually ranges between 76 - 82 °F. So, check with the operator on the kind of preferred certification required for this dive. Open Water Dive Certification is highly recommended. 
There are several operators in Grand Bahama who offer Tiger Beach diving. One of the best dive operators is Epic Diving. See details under 'Tour Operators'. 
For some great snorkeling experience, go through this
Viator Website Page
where you can check out the tour offerings, user reviews, rates and directly book the tours of your choice. 
In the list of tour operators below, the ones like UNEXSO, Sun Odyssey Divers, and Grand Bahama Scuba are the best options if you want to avail a certified scuba diving/ snorkeling course. 
For simpler entertainment oriented experiences Pat and Diane Fantasia Tours, Reef Tours and Exotic Adventures are good choices. 
UNEXSO 
Founded in 1965 as a club specializing in scuba diving, UNEXSO steadily gained popularity and right now explorers and adventure lovers across the globe know the Underwater Explorer Society. The shark dives and dolphin dives in Bahamas were first started by UNEXSO. Right now introductory courses to diving, certification courses and advanced diving courses are offered by them. There are different structure of courses for individual learners and groups and transport is usually included in their packages. 
One tank dives introduce divers to some popular wrecks and holes…Picasso's gallery and Papa Doc wreck are popular choices... One tank dive duration is usually for 2.5 hours and the rate starts from 60 dollars. 
Two Tank dives start off early… around 9 .00 a.m. and the first dive is near a deep reef or a blue hole while the second dive is in the Chamber (an ancient sunk compression chamber that now offers exciting varieties of fish and marine life). Two tank dive duration is usually for 4 hours and the rate starts from 100 dollars. 
Diving ability and skill level of the divers are analyzed by the PADI trained dive supervisor and dives are customized. 
Shark dives are organized at the UNEXSO's shark junction and happen in presence of certified and experienced shark behavior specialists. There is an interesting briefing session that familiarizes visitors and guests to the behavior, dos and don'ts and little known facts of these creatures. These dives are 2.5 hours long and the price starts from 109 dollars.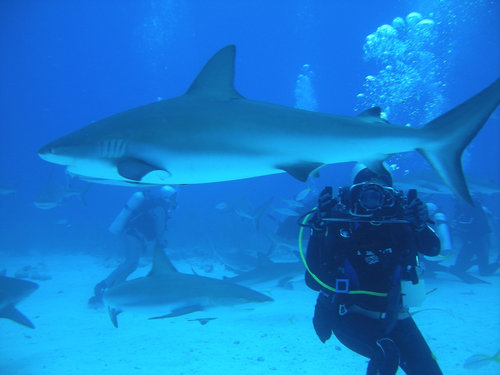 Photo: neverzola, Pixabay 
PADI specialty diving courses like re-activation courses, open water courses, rescue diver courses, specialties, master scuba diving course, dive master courses and instructor development courses are also offered. These are dependent on instructor availability, group availability etc. and the price varies according to duration and categorization of skill. 
All dive encounter package costs include masks, snorkeling gear, BCD, Fins Regulator, weights, wetsuit use. 
A number of Dolphin encounter programs are offered by them and they own a 17 'deep training pool with observatory windows. A number of dolphin encounter programs like close dolphin encounter, swim with dolphin and dolphin dive are offered by them, they are the only operators on the islands to offer Open ocean Dolphin Swim encounter. 
Swim with the dolphin consists of a 20 minute boat ride through the island's canals and then arrival at sanctuary bay (14 Atlantic dolphins are kept here) along with a supervised swim and performed behaviors. Hugging and kissing the dolphins along with photography is allowed. This is a 2.5 hour program costing around 179 dollars per person. 
The open ocean dolphin encounter is a more intense and personal experience with a longer swim time with the dolphins. This is a 2.5 hour program costing around 219 dollars per person. 
Dolphin close encounters are meant for non-swimmers who are content with observing and interacting with dolphins who cavort around then in a 3 ft. submerged platform this is a 2.5 hour program costing around 85 dollars per person. 
Dolphin dives happen in the open ocean and not in sanctuary bay so these will be completely wild dolphin. No touching and photography is encouraged and the defining feature is to observe the natural behavior of these animals. This is a 2.5 hour program costing around 219 dollars per person. 
The dolphin and snorkel combo consists of a snorkeling trip on the reefs and a dolphin experience in Sanctuary bay with the Atlantic dolphins. This is a 2.5 hour program costing around 65 dollars per person. 
Assistant dolphin trainer experiences are more intense and consists of tutorials on how to care for and interact with these beautiful creatures. A completion certificate and a t-shirt is offered to each participant. These are 4.5 hour sessions and the charges are 389$ per person. 
All kinds of safety gear, safety instructions etc. are provided in the begging of each dive. Professional photographers click photos in all dives except the wild dolphin encounters and participants can later purchase these photos. 
Address: The UNEXSO Building, Royal Palm Way, Port Lucama Marina Freeport, Grand Bahama 
Phone: 1-800-992-3483 
Grand Bahama Scuba 
When it comes to exclusively Scuba diving activities, Grand Bahama Scuba (managed by Fred Riger) is a well-known name. Most scuba dives are done in small instructor led groups and there is a high level of personalized service and diver safety care. 
There are separate packages for divers and non-divers who are actually given an introduction to scuba. A typical Scuba introductory package comes at 35$ per session and the float, snorkel and mast rentals are included in the price. 
For certified divers, a two dive trip costs around 110$ per round with both morning and afternoon sessions. A night dive will have an extra $25 surcharge while a single dive trip will be in the range of 58$. Similarly there are multiple dive packages ranging up to a ten dive package for 399$. 
Equipment rental like wet suits, underwear lights, regulators and computers are extra and all dive packages are charged with 7.5% vat. 
Cavern dives to places like Ben's cavern and Owl's Hole are also organized and these are all extra. 
The dive sites are all along the southern shore of the island and the sites are categorized according to shallow, medium and deep ranges 
The distinguishing feature of Grand Bahama Scuba is their range of accredited programs on fish spotting and identification, invertebrate identification, ecology of reef, DAN Oxygen provider's certification courses that are meant for knowledge enhancement rather than as normal tourist dives. For those who are interested in the unique fascinating ecology of the islands… eco tours can be scheduled on prior notice. On Sunday mornings, Fred organizes diving talk that's free of charge and for anyone to attend. 
For beginners... the level of attention and personal care provided here will work out as an advantage. On the flipside…their location is quite far away from the cruise port…you would need to take a taxi and that will hike up the entire tour cost. 
Address:  
Ocean Reef Yacht Club 
Bahama Reef Boulevard, Freeport 
Phone: 242 373 6775 (from 9.00 a.m. to 2.00 p.m.) 
Sun Odyssey Divers 
They call themselves the master of luxury dives which means that their dives are all priced at the higher range. They claim to have the most flawless safety record and the most sophisticated diving equipment along with creating relaxed and luxurious experiences for divers/ participants. The dive groups are always small with a maximum of ten people per two tank dive. The group is owned and managed by Nick Rolle (who is something of a minor celebrity on the island) and Karen. 
They have this basic dive in a day program that is conducted in a pool …participants are encouraged to build their skills and knowledge with help of PADI Instructor before they are taken to the open water. Lectures, equipment introduction and classroom sessions are all included. The only downside to this course is that this is a non-certified one. 
There is a special package for cruise ship divers and the schedule is adjustable according to ship arrival timings. 
Some of their commonly preferred dive sites for mid skill divers are silver point, Theo's wreck, pygmy caves, Eden banks while sites like ben's cavern and little hale's lair is for experienced divers. New divers are usually taken to Moray Manor and Fish Farms.  
They have supervised shark encounters for experienced divers near the Recompression chamber ringed with coral reefs. Divers get to swim with reef sharks in their natural environment. 
Some of their popular certification courses are: 
4 day PADI Open Water Diver Certification that's charged around 415$. Instructions, 2 double tank dives, weight and tank usage ad equipment usage along with certification card is part of the deal. However the books cost extra though participants can buy these online from other sources. 
1 Day Scuba Review Refresher Course costs 135$ per person. This includes certification, class instructions, equipment refreshing session and pool session. A two tank dive will cost extra. 
2 day PADI Open Water Referral dives are meant for divers who have done their classroom and pool sessions beforehand and have a referral letter from PADI Instructor who has formerly supervised them. The Couse costing 299$ will include 2 double tank dives and instruction sessions and the certification card. Gear rent is an extra 40 dollars. 
There are a range of other courses starting from PADI online learner courses, scuba diving course, PADI Rescue Diver course, emergency first response course and the Dive master course. 
The morning two tank dives leave their dock at 8.30 a.m. everyday apart from Sunday while the afternoon 2 tank dives leave at 2.00 p.m. everyday. 
They have special arrangements with the Royal Islander and the Island Seas resort and if you are staying at any of these hotels…you will be offered special discounts and free transport. The dives here are all expensive but come with the best safety gear and detailed personalized instructor sessions…it's a good deal for divers who are not considering low budget as a determining factor. 
Address: 30 Beach Way Drive, Freeport, Grand Bahama Island, the Bahamas 
Phone: (242) 373-4014, Toll free (866) OK2-DIVE 
Epic Diving 
Run by the experienced couple Vincent and Debra Canabal, they offer Tiger Beach diving at Grand Bahama. Their package includes accommodation (nicely maintained 30 units in a gated condo located at West End), shark diving, lunch, snacks, drinks, tanks, weights, belts, all related fees and taxes. 
They operate from West End of Grand Bahama. They operate the dives from October to May. You will see sharks such as tiger, hammerhead, bull, nurse, lemon etc. 
Go to their website epicdiving.com for further details and contacts. 
Pat and Diane Fantasia Tours 
This 30 year old snorkeling and sailing Tour Company is managed by Pat and Diane…a super friendly duo who are well known in the tourist circuit. Offering a combination of snorkeling and diving tours along with sailing, city and beach exploration etc. 
Their packages will appeal to amateur snorkelers and divers. They have their own catamaran called sunshine (this has a secret slider which allows passengers to jump off into the ocean). 
The 3 hour Sea Safari Snorkeling Tour consists of a 15 minute boat ride to snorkeling spot where participants get to snorkel in an easy environment amidst schools of fishes and a fish feeding and photography experience. This tour has free cocktails, free snacks and free eater along with transport to and fro from ship harbor. Tour assistance can be found at your hotel or from the carnival pier at Freeport Harbor. Tours takeplace in groups of 20 and price per person is 40$. 
Snorkel and Beach Adventure 5 hour tour is a combination of offshore snorkeling at an open water coral reef and deserted beach exploration. Participants are taken on a Catamaran Boat ride to the spot followed by 1 hour of snorkeling and 2.5 hours of beach exploration and lunch along with interactive session with native crew. Cost per person (this is a group tour) is around 75$. 
Blue Hole Adventure will take participants to one of the listed shallow blue holes (underwater cave) and snorkelers/ divers can explore the underwater life. An hour and a half snorkeling session along with informative sessions on ecology and history of the island plus lunch are on the agenda. The tour charges are 150$ per person (advance booking of 1 month is required to avail this rate). 
Address: Port Lucaya Hotel & Yacht Club, Port Lucaya, Grand Bahama Island 
Phone: (242) 373-8681 
Reef Tours 
Reef Tours is more of an adventure tour company who specialize in snorkeling and diving trips to though they don't offer any PADI certified courses. These trips are for tourists who are not really serious snorkelers or divers but would want a flavor of these sports. They provide instruction sessions and safety manuals along with equipment as a part of their tours. 
Glass Bottom Reef tours offers marine sightseeing ride along south coast of Grand Bahama, trip to Coopers castle and a visit to the treasure reef with fish feeding and probable shark sighting sessions. These tours happen twice a day in 1.5 hour long sessions. 
Sail and Snorkel tours happen along the Lucayan shore and participants are taught about basics of fish and coral identification besides light snorkeling experiences. The 2 hour sessions are a mixture of snorkeling and sailing and are conducted in the mornings. 
The Snorkel Adventure Tour is focused on snorkeling but can be customized according to skill level. The site is usually Treasure Reef and the session is 2 hour long. 
This is an affordable operator whose tours are mostly under 150$ per person… they accept major credit cards and offer tours for small as well as large groups. Mostly, transport from the hotel is included in the package. 
Address: 
Port Lucaya Marketplace, Port Lucaya, Grand Bahama Island 
Phone: (242) 373-5880 
Exotic Adventures 
Exotic Adventures offers half a day and full day snorkeling/ diving and sailing experiences which include catching fresh fish for lunch and making your own meal on a secluded beach. This is more of an all-in-one experience than a pure snorkeling or diving course. Jut for reference half day trip costs around 95$ per person while full day trips are around 139$ per person. The entire operation is hemmed by a popular guy named captain A.J who takes good care of participants 
Exotic Adventures, Al Saunders, P.O.Box F-43784, Freeport, Grand Bahama 
Pone •242-374-2278 
Lucaya Watersports, Seahorse Road 
Though they don't specialize purely in snorkeling…they do offer popular snorkeling trips to well-known sites. Lucaya Watersports is one of the premier tour operators on the island and they have special commercial arrangements with Flamingo Bay Hotel. There are 3 trips per day that leave from Flamingo hotel marina ...each of 90 minutes costing 40 USD per person. 
Address: Seahorse Road, Port Lucaya, Grand Bahama Island 
Phone: (242) 373-6375 
Lucaya watersports also has another edition at the Taino Beach Resort with similar kinds of offerings. 
Ocean Motor Watersports 
In case you are an experienced snorkeler/ diver who hasn't brought any equipment along and would like a self-supervised diving experience then hiring good quality snorkeling/ diving gear is the best option. Ocean motor watersports has been running since 1990 and right now they are one of the top watersports equipment provider on the island. Snorkeling gear and diving gear is provided by them on rent and they also have an unlimited day snorkeling pass for adults that's priced at 50$. 
Address: Eastern Address: Port Lucaya, Grand Bahama Island 
Phone: (242) 373-9603 
NOTE: All rates and tour timings are subject to change…always check with individual operator to confirm these. 
Related Articles
Visitors' Reviews and Comments