Top things to do at
Elbow Cay & Hope Town
The Elbow Cay is an 8-mile long cay in the Abaco Islands (flanked by Man O War Cay on the north and Tilloo Cay to the South)….traditionally it sustained itself on boat building, fishing and during the piracy era, looting ships. The principal village of Elbow Cay is Hope Town that has a harbor and a historic lighthouse. The Elbow Cay is situated 6.4 km east of Marsh Harbor. Usually tourists fly into the Marsh Harbor and then take a ferry to Hope Town.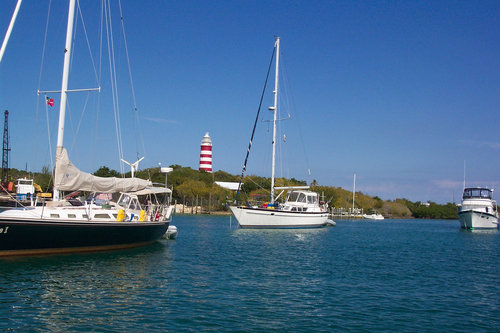 Hope Town Harbor & Lighthouse. Photo: Killian77, flickr, cc by 2.0 
Hope Town has a community of about 300 locals and almost as many visitors or persons with their second homes here. Hope Town and Elbow Cay as a whole are in the border between the Atlantic ocean on one side and the Sea of Abaco on the other. 
The Hope Town settlement has a cute toy land kind of look with its little pastel shaded gingerbread houses. Golf Carts and bicycles are the main modes of transports in Elbow Cay. However, in Hope Town the carts are not permitted because the streets are very narrow and will cause traffic blocks.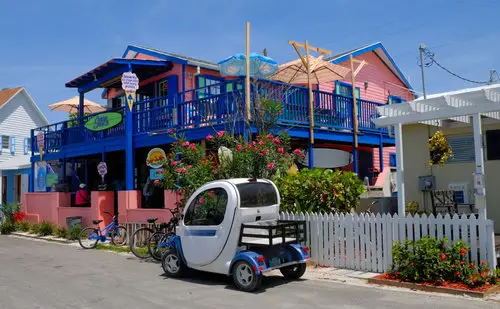 Houses in Hope Town. Photo: Jill, flickr, cc by 2.0 
The ferry is the main transport between Marsh Harbor and Hope Town (in Elbow Cay). The ferry terminal (The Crossing Dock) in Marsh Harbor is about 15 minute taxi ride from the Marsh Harbor airport. There is parking at the ferry terminal. Taxis are also available at the ferry terminal during the ferry hours. One way ferry ride takes about 20 minutes. 
Earlier a popular ferry service used to be run by Albury's Ferry Service for over 60 years, however due to hurricane Dorian causing sever damages to the ferries in September 2019, the service has been taken over by a new company called The Ferry at The Crossing. One way adult ferry fare between Marsh Harbor and Hope Town is $13 while a round trip adult fare is $20. You can also buy a book of 10 one-way tickets for $90 (no expiration date). Ferry contact: 242-577-1784. 
There is another ferry service between Marsh Harbor and Hope Town operated by G&L Transportation. Fares are similar as above. Phone: +1 242-359-6208. Both companies offer chartered ferry as well. 
Location & Road Map of Elbow Cay 
Visit the Hope Town Lighthouse
The famous 27 meter (89-ft) tall Hope Town Lighthouse was made by the Imperial Lighthouse service of the British to mark the Elbow Cay Reef. It was constructed in 1864. You can get to the Hope Town Lighthouse only by a boat. So, either you need to rent a boat or go down to the town dock and ask for a ride... ferries or someone heading out will usually give you a free ride... it's only a 5-minute boat ride away from the dock. You need to arrange for a similar ride on your way back.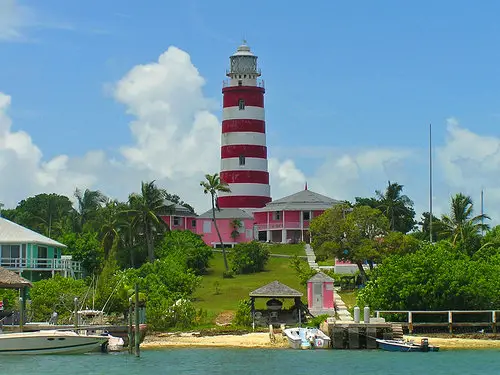 Hope Town Lighthouse. Photo: Killian77, flickr, cc by 2.0 
Incidentally this is one lighthouse beacon that's not automated because residents had opposed it. In fact this is one of the very few kerosene fuelled lighthouses left in the world. It runs on a weight mechanism that needs to be hand cranked every few hours to sustain the sequence of 5 white flashes every 15 seconds. The Hope Town Lighthouse looks striking and has dramatic candy stripes. 
The Hope Town Lighthouse is a noteworthy attraction of Abaco now but once upon a time it was vehemently hated by the residents of Abaco who used to run a highly profitable shipwreck business where ships were misled by false signals and then looted. 
The view from the top is stunning and entry to the lighthouse is free. One needs to climb up 6 to 7 flights of stairs to reach the top. The last flight is a ladder and then there is a 3ft by 3ft opening through which you need to fit through. The lighthouse remains open from 9am to 5pm everyday apart from Sunday when it remains closed. The lighthouse operators and support staff will give you access to guides who will conduct guided tours of the lighthouse and nearby areas. 
View from top of lighthouse. Photo: cgallent, flickr, cc by 2.0 
There is a gift shop associated with the lighthouse…you can purchase something from there… the proceeds will go towards the maintenance of the lighthouse. They have good stuff… shirts, jackets, hats and many kinds of showpieces…. there is also a jar inside where you can make some donations. 
Visit the lovely beaches
The south-end of Elbow Cay hosts Tahiti Beach which is a principal attraction of Elbow Cay and located about 4 miles away from Hope Town. The sandbars here are beautiful. The Tahiti Beach has a really nice restaurant and bar called the Thirsty Cuda... this one is very popular for their frozen/ blended drinks as well as local food like sesame conch fritters. It's a floating swim up restaurant and it's located just off the sand bar... so you can basically walk or boat or paddle your way up-to here.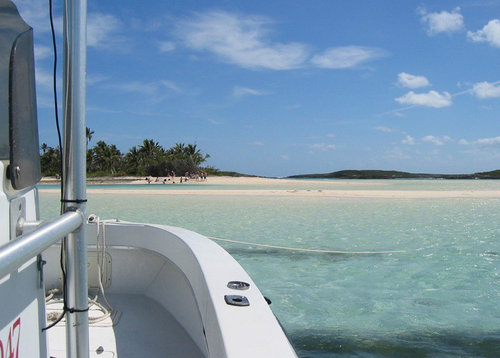 Tahiti Beach & Sand Bar, Photo: Geoffrey Bartlett, flickr, cc by-nd 2.0 
The beach itself is very pretty… dotted all over with palm trees and there are nice coral and limestone formations all around. There is plenty of marine life around including large sting rays and lobsters and even small sharks, so be a little cautious when you dip your feet into the water. It's advisable to come here during low tide when the waterline becomes accessible and the sandbar can be seen.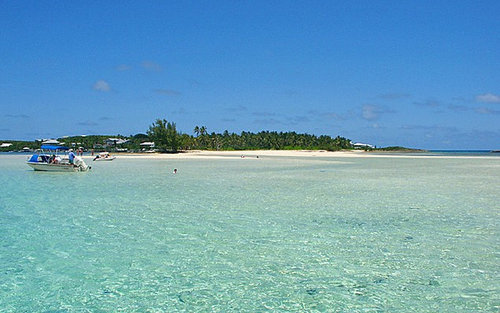 Tahiti Beach, Photo: Killian77, flickr, cc by 2.0 
One point to remember here is that the road leading to Tahiti Beach is private (once you pass the gate saying Dorros Cove) though tourists and locals are allowed to use this road for access. To reach Tahiti Beach you can rent a golf cart once you reach Hopetown… a bike ride will also be a good option. Incidentally the Tahiti beach is rated as one of the top 10 beaches in Bahamas. 
Elbow Cay Beach is located at the south-east coast of the island. There are hardly any tourist resorts here... it's mainly dotted with private houses and is excellent for long walks in perfect tranquility. 
Nathan's Bay Beach is a small beach located near the Hope Town Lighthouse. The crystal clear water here is great for swimming... other than that, there is not much of beach activities here. 
Hope Town Beach is located close to the center of Hope Town. It's a wonderful beach with clear water and white soft sands. There is an on site bar & grill which remains open until 7pm. This is a great location for tourists who want to enjoy a beach and all the town amenities. 
Photo: Steve Beger, flickr, cc by-sa 2.0 
Town Beach is the long beach between St. James Methodist's Church up to the top or the north end of Elbow Cay. This beautiful soft powdery beach with pinkish white sand gives easy access to the large fringing reefs a little offshore which is ideal for snorkeling and diving. 
Due to this large and one of the longest offshore barrier reefs in the world, the water here is calm and doesn't have any dangerous undercurrent. If you are renting a lodge in the outskirts of Hope Town, you should find an easy access to this beach through one the many dune passages. 
Visit Byrle Patterson Memorial Garden
Byrle Patterson Memorial Garden is right at the center of Hope Town, Elbow Cay and it stands on a small hill overlooking the Atlantic. The garden was built to glorify the memory of Byrle Patterson who was a 7th generation descendant of Wyannie Malone (she was the lady who founded the well-known historical Wyannie Malone Museum). The entire garden is dotted by shaded pagodas, palm trees and memorial stones. It's a good place to sit and relax. It's open year round. 
If you visit Hope Town then a visit to the memorial garden is sort of a must do activity. This is not a very wheelchair friendly place though... one will require an assistance in getting into the garden, however, once inside, moving around should not be a problem. 
Visit Wyannie Malone Museum
Wyannie Malone Museum is a great place to visit too... here you can learn about how the 19th century Hope town residents lived. Several stunning displays, fishing practices of ancient Abaco and a well-stocked gift shop are the main attractions. Like most public buildings in Hope town this remains closed on Sundays. Open hours are from 10 a.m. to 4 p.m. every other day. You will find the museum near the Post office dock. 
Visit St. James Methodist Church
Overlooking the sea, this church stands out in its simplicity, tranquility an spirituality... and that is the reason why many couples make this a very special venue in their lives and take wedding vows. The Sunday service is at 9am and family service takes place at 11am. Morning worships take place daily. 
Photo: Jill, flickr, cc by 2.0 
Take a sunset cruise
This is a must do if you do not have a boat in your possession while in Elbow cay. Froggies Out Island Adventures offers a sunset cruise on Friday evenings on their double-decker boat which has ample seating. The boat leaves from Hope Town harbor and moves along the coastline up to Tahiti Beach. 
The signing up fee is $20 per person. A cash bar is made available onboard so that you can buy your drink as you enjoy the ride. They also put on music. It's a wonderful cruise with lovely views of the sunset and the gorgeous villas and houses along the coastline. Phone: 242-366-0431. 
Go on a boat excursion
Captain Francis of Island Boy Excursions is a great guy and a fun person and full of knowledge about the islands. He will take you to No Name Cay to show you the swimming pigs, then to Manjack Cay where you can feed the stingrays and nurse sharks. He can also take you out for snorkeling and diving trips to several sea parks, if you so wish. Phone: +1 242-808-1789.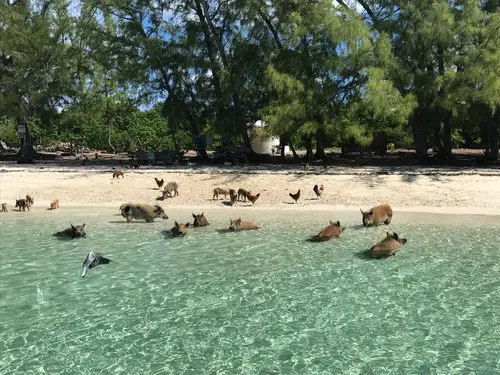 Swimming Pigs at No Name Cay. Photo: Island Boy Excursions 
Go for a Snorkel or Diving adventure
The company Froggies Out Island Adventures is one of the best in business offering great snorkeling and scuba diving trips on their boats. They will take you to Great Barrier Reef or some other snorkel/dive sites where you can see exotic marine life and colorful corals. Christopher is extremely knowledgeable and friendly, and would be happy to share his knowledge on ecology and marine habitat of the place. They operate out of Hope Town. Phone: +1 242-366-0431. 
Go for deep sea fishing
Captain Justin of Local Boy Charters is really a local boy of Hope Town and knows the offshore water areas out of Hope Town by his finger tips. He is one of the best in business here when it comes to deep sea fishing. He has been fishing the waters here for over 35 years. With his guidance, you can be almost sure to catch tuna, mahi or even big wahoos. 
Photo: Local Boy Charters 
He has a 34' Crusader and provides all fishing gears, lures and baits. You can book a half or a full day fishing charter for your group (maximum 8 persons). He offers pick up and drop off at Elbow Cay, Lubbers Quarters Cay, Tilloo Cay, Man-O-War Cay or Marsh Harbor (additional fee for other islands). 
Bike around Hope Town
This is one of the best ways of exploring Hope Town and the surrounding areas. You can be on your own and explore the island at your own pace and in an eco-friendly way. The Bike Shop locates in Hope Town is one of the best outfitters here offering bicycles of various types on rent. 
They have a large collection of bikes and therefore you do not need to book one in advance. You can simply walk in and rent a bike for a day or longer. They have daily as well as weekly rates. Daily rental rate for a single speed bike is $12, for a 7-speed bike is $18. They also have electric bikes (rents for $25 for 2 hours). The terrain in and around Hope Town is hilly at several places, so taking a bike with gears or an electric bike would be helpful. They have bikes for kids as well. 
Related Articles
Visitors' Reviews and Comments