Green Turtle Cay, Abaco - Bahamas
Getting There
If you are basing your stay at Green Turtle Cay, then the best option is to directly fly into the Treasure Cay Airport… Treasure Cay is a 5 minute ferry ride from the ferry dock of Green Turtle Cay. If you fly in to Marsh Harbor airport then you have to take a 45 minute ride to the Green Turtle Cay ferry dock. there is no functioning airport at Green Turtle Cay. 
You can also reach by private vessel and can clear your customs and immigration paperwork here at the customs office in Parliament Street. Ferries and mail boat to Green Turtle Cay is available easily from Treasure Cay. There is also mail boat service between Nassau and Green Turtle Cay. Incidentally the airport dock at Treasure Cay runs ferries to Green Turtle Cay. 
Waiting area at Treasure Cay for Green Turtle Ferry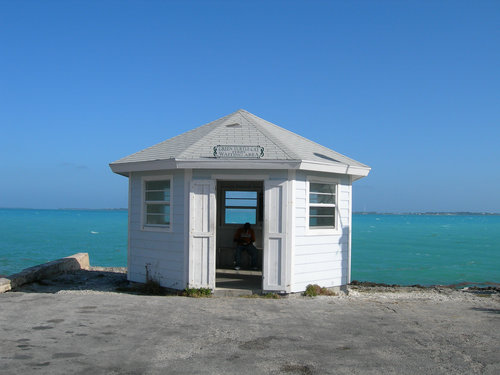 Photo: Tommy Miles, flickr, cc by 2.0 
Location & Road Map 
About Green Turtle Cay
One of the famous barrier islands of Great Abaco and one of its quieter family islands,  Green Turtle Cay is named after the profusion of green turtles that inhabited this area. This thin island has some really pretty beaches and houses with white picket fences and clapboard walls that will remind you of England. 
The entire islands population is less than a thousand people and the principal settlement is in New Plymouth village. It is a laid-back place. The colorful houses have steep gabled roofs. For a place this small... the amenities offered are commendable. You will find resorts, marinas, many restaurants, grocery stores, gift stores & galleries, liquor stores, post office, art gallery, museum, fishing and diving guides, bike rentals and dealers renting out snorkel and scuba gears.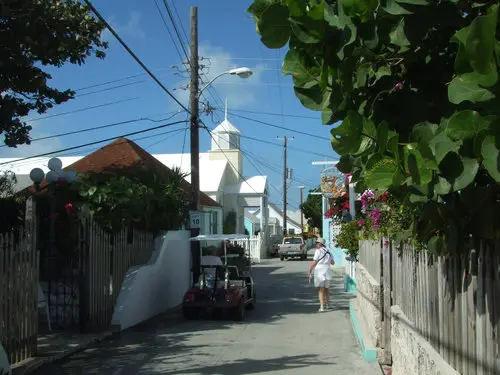 New Plymouth. Photo: Tommy Miles, flickr, cc by 2.0 
Incidentally Green Turtle Cay is a great Hurricane shelter. Black Sound has a traditional boatyard and 4 small marinas/ docks while White Sound has two large Marinas (these belong to Bluff House and Green Turtle Club). 
If you are interested in history then this place especially the village of New Plymouth will fascinate you. Most people who reside in New Plymouth can trace their ancestral line to the fierce loyalists who came to the Island right after the American Revolution. The entire village closes down on Sundays… only the church is open. It's interesting to note that Methodism in Bahamas originated in Green Turtle Cay… a man named Joseph Paul started the first Methodist church here.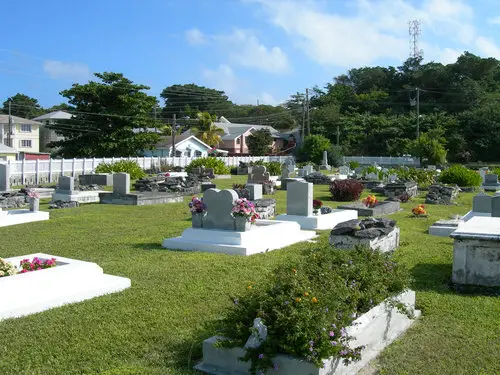 New Plymouth Cemetery. Photo: Tommy Miles, flickr, cc by 2.0 
Attractions
There are numerous unnamed beaches here and most of them offer a serene slice of Bahamian life. Gilliam Bay Beach is to the east of new Plymouth settlement... this beautiful horseshoe shaped beach is considered one of the most romantic beaches in the Bahamas. The beach with soft white sands is fringed with palms and tropical plantations. Nearby offshore is a reef teeming with colorful marine life and corals. This is a great family beach and a good place for shell picking. 
To the north of this beach, there is another one called Long Bay Beach…you can also walk down to this beach from the street leading to Abaco Yacht Services. This is a snorkeling and walking beach that's relatively popular amongst tourists. If you go further north there is yet another beach, Bita Bay... this has reefs near it that make it a good snorkeling spot. 
The north east coast of Green Turtle Cay is the Ocean Beach…this is beautiful but too rough to be used as a swimming spot. If you go North from the Green Turtle Club you will reach Coco Bay that's again an idyllic spot…there are tourist cottages here called Coco Bay Cottages. Similarly near Bluff House resort and Marina overlooking the White Sound is the Bluff House Beach. If you just want to chill in a swimming pool then you can use the ones at Lizard Bar and Grill, Pineapples Bar and Grill, Bluff House and Green Turtle Club (for a nominal fee)….these have pool service and swim up bars too!! 
Several great resorts and boat marinas exist in Green Turtle Cay….Bluff House and Green Turtle Club are two great ones. If you wish to rent cottages then check Roberts Cottages, Linton's Cottages and Coco Bay Cottages. You can also check out the boat repair yard in the island. 
For meals…one of the best options is McIntosh Restaurant & Bakery (it's open on all days and serves all 3 meals). It's on the right side of the beginning of the settlement as you come down the hillock preceding the village. Friday nights are lobster special nights... lime pie and cheesecake are quite famous here. Another Good place to dine is in New Plymouth…it's called MoMo Suga Shack. You will get sandwiches, fresh bread, ice cream, milkshakes etc. 
Sundowners Bar & Restaurant is to the west on the Crown Street. This place is open on weekends and offers nice Bahamian American dishes. There is also a pub here that's open every day. 
Miss Emily's Blue Bee Bar is something like a legend here... its original owner Miss Emily Cooper (late) has been credited with the invention of Goombay Smash Cocktail. Right now Emily's granddaughter Misty operates the bar and now they have a full-fledged restaurant as well. You will find this place opposite of the basketball court in the center of the town.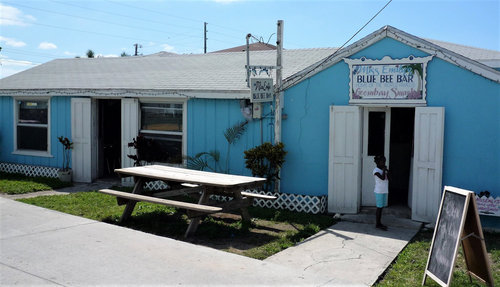 Photo: Miss Emily's Blue Bee Bar 
If you want to watch sunsets during your meals then Pineapples Bar and Grill offers great views, a nice pool and Friday night music. 
Great food is also available at Green Turtle Club (formal dining), Leeward Yacht Club owned Lizard Bar and Grill and the Bluff House owned restaurant…Jolly Rogers.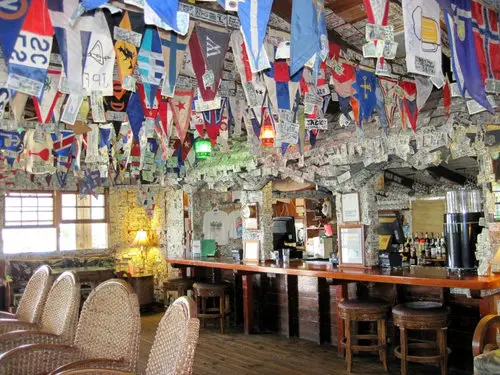 Green Turtle Club, Photo: sailn1, flickr, cc by 2.0 
Wrecking Tree near the ferry dock in Green Turtle Cay offers good takeout food options. In case you want to sit outside and savor your meal you will get nice settlement creek views as a bonus. 
The Loyalist Memorial Sculpture Garden is another interesting place to see... this contains 24 busts of famous Bahamians who are clustered around huge bronze statues… the statues are sculpted by James Mastin. While on Green Turtle Cay you will notice people travelling via bicycles and golf carts…. it's good to indulge in these zero pollution mode of transport. 
While on the island you cannot miss visiting the Albert Lowe Museum that's on the Parliament Street (phone: 365 4094). Mr. Albert Lowe is a prominent Bahamian painter and some of his work which is on exhibit here depicts the life of the early loyalists on the island. An important landmark in Green Turtle Cay, this is the first museum in Bahamas. 
Incidentally Lowe purchased a 150 year old home (it was one of the few 1932 hurricane survivors) in New Plymouth and painstakingly revived the structure before converting it into a museum. The museum contains paintings, statues, photographs, documents, antiques and artifacts... flanked by handwritten descriptions (these are nearly derelict) on the walls. 
For fishing and boating experiences on the island you can check out Sunset Marine and Boat Rentals (located on Black Sound…this closes down by 4PM). For diving excursions… Brendals Dive Center is a good bet (located on white sound …this shuts down by 5 p.m.). 
You can also visit the Black Sound Cay National Park for spending some quality time with nature. Snorkeling, Kayaking, Paddle boarding are other important activities here…use VHF 16 the cruisers net for arranging for anything from sports lessons to weather updates. 
If you happen to visit Green Turtle Cay in November then you can witness the Island Roots Festival….this celebrates the loyalist history of the island, concerts, comedies, plays and dance performances happen during this period. 
You should also know that Island Spice, Island Boyz and Gully Roosters are prominent bands that perform here. Christmas and New Year are both greatly celebrated events here…there are golf cart decoration competitions and Junkanoo parades during this time. 
Visit Manjack Cay
Go further north from the Green Turtle Cay and you will reach Manjack Cay (also known as Nunjack Cay). You will find stretches of pure white sand that one can only fantasize about. You will also notice two smaller cays at the south end of Manjack Cay... these are interestingly named as Fiddle and Crab. The north zone of Fiddle Cay has an awesome beach and it's fun to wade around and explore the area.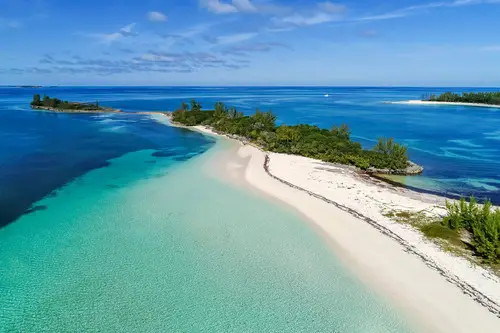 Manjack Cay and its pristine beach 
If you are a music lover then you would know that there is a traditional Regatta season in Abaco islands…the popular Stranded Naked Party which kicks off this season in July happens in Fiddle Cay. Manjack Cay is separated from Crab Cay by just a pass or a creek. Many small turtles and stingrays dwell here and for a small fee, rental boats will take you around this area. 
Visit Noname Cay
The island to the southern end of Green Turtle Cay is No Name Cay... it is completely deserted apart from some few pigs. The recent tourist trickle into this area has resulted in the pigs getting accustomed to humans to the point that they actually walk up to visitors and greet them. This also marks the furthest point till where you can go exploring. This is a preferred destination for a romantic escapade and intimate picnics.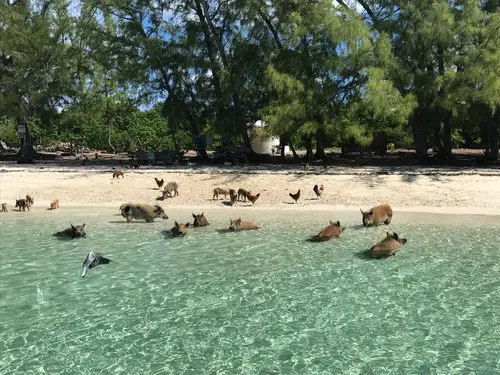 Swimming Pigs at No Name Cay. Photo: Island Boy Excursions 
It's not worth moving further south from Noname Cay unless you want to explore the Whale Cay passage that's an important area. This passage separates Green Turtle from all other Cays and Marsh Harbor. It's important to understand that larger water vessels don't move through this area…there is a lot of shoaling here…this is also respectfully referred to as Don't Rock Passage. Smaller vessels won't have this problem except if they are caught in the ferocious off shore winds known as Abaco Rage. 
No Name Cay has recently acquired the name 'Piggyville'. This is a true yet lesser known copy of swimming pigs in Exuma. You can see pigs swimming in the water here. You can take a short boat ride from Green Turtle Cay to reach Piggyville. A good water supply system has recently been established for distributing water to pigs here. These pigs even have their own Facebook page… just search.  
Tourists visiting this area can pitch in to keep the pigs well fed by donating pig food (Price Right in Marsh Harbor sells lots of it). These animals are protected by the Ministry of Tourism. 

By Raj Bhattacharya 
Raj, a seasoned travel writer and Bermuda destination expert, has extensive global travel experience. This website reflects his profound insights, garnered over nearly two decades of dedicated findings and research on the island. Raj has assisted countless Bermuda-bound visitors by providing direct, personalized responses to their queries and imparting his wealth of knowledge through this platform. This site serves as an indispensable guide for those seeking informed and reliable insights into Bermuda's treasures. 
Related Articles
Visitors' Reviews and Comments