Castaway Cay, Abaco - Bahamas
Castaway Cay is privately owned by Disney and is only approachable via a Disney Cruise. It is located near Great Abaco Island (off Sandy Point).  
Castaway cay is an 1000 acre private island that's a part of Abaco and is an exclusive port serving the Disney Cruise Line ships… this means that you can only arrive on this island via a Disney cruise. In fact the Walt Disney Company brought a 99 year land lease for the Castaway Cay from the Bahamian Government and now Disney creates nice guest experiences for tourists. Tourists mostly purchase Disney packages and the castaway experience is a part of it.  
Usually tour packages start from 983$ per person for a 3 day Bahama trip including castaway cay….packages are inclusive of food and drink. Usually Disney cruise line guests arrive around 11.30 a.m. in the morning and leave around 5 p.m. There are about 150 support staff who live on the island... unlike other part of Bahamas there are no vacation rentals and hotels here. 
The Disney ship docks at the island and the guests can avail a tram (there's an actual tram station with separate trams going to adult beach and family beach) to explore the island or rely on walking. 
Dysney Ship at Castaway Cay. Photo: Josh Hallett, flickr cc by-sa 2.0 
This place has been a part of movies like Splash and Pirates of the Caribbean. The island is developed like a castaway community and the buildings look dilapidated. 3 beaches are a part of castaway… there is a family beach, an adult beach (serenity bay) and another one for Cabana guests. 
Castaway Cay gives its guests the option of renting one of its 20 cabanas…each of which is 325 sq. foot in size… they can be pre-reserved at the Port Adventures desk. These are found in the family beach and adult beach and each of them can accommodate a maximum of 6 people. 
Photo: davitydave, flickr, cc by 2.0 
All cabanas have lounge chaises, cushioned arm chairs, side tables, proper dining tables, locker, fridge, shaded deck and fresh water shower. With the standard cabana fee you will get free sun tan lotion, non-alcoholic beverages and towels. The family beach cabana is for 549$ per day while the serenity beach cabana is for 399$ per day. 
Beaches have hammocks, beach umbrellas, lounge chairs, sand chairs, shades and plenty of palm trees. There are swimming areas with good lifeguard service.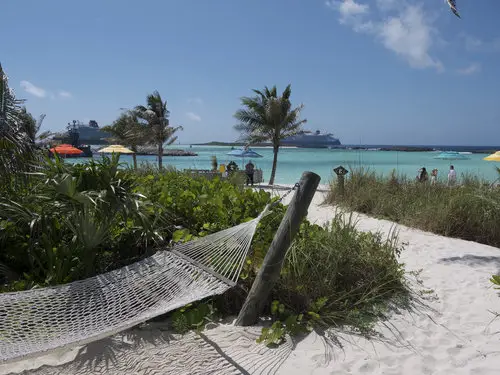 Photo: davitydave, flickr, cc by 2.0 
There are a number of activities which tourists can avail here like massage service, snorkeling, feeding stingrays, kayaking, renting watercrafts, sailing and participating in sports like volleyball and basketball. There are also excursions like guided Jet Ski tours, parasail tours, bike tours, banana boat tours etc. you can also schedule a hair braiding session or an open air spa session in case you need more diversions. 
In case you want to rent equipment you can go to Windsock Hut and Flippers and Floats which specialize in a wide variety of water sports and games equipment. Some equipment like tubes and floats are free while some others have to be paid for. For paying here and elsewhere you need to use your Key to the World Card issued by Disney.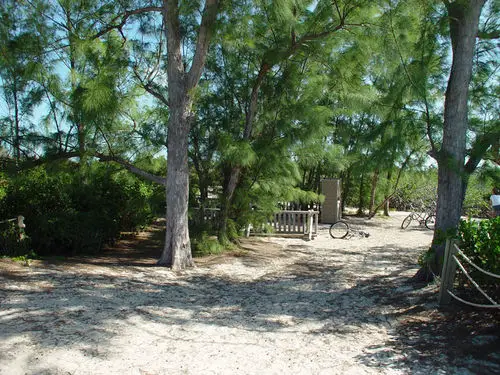 Biking at Castaway Cay. Photo: Pete Toscano, flickr, cc by-sa 2.0 
On your visit to the castaway cay… you will be overwhelmed by the number of available entertainment options… the wisest decision would be to take a package of activities (independent service providers provide these) that suit your interests and time limitations. 
If you are averse to spending a lot of time in the sun then Groupers Pavilion has a sheltered space where you can play foosball, basketball, ping pong, monster chess and Chinese checkers. Kids are thrilled to see their favorite Disney characters walk around …the ambience is much like Disneyland. 
Monkey bars and ropes along with giant water slides (the Pelican Plunge is the best) are provided for the entertainment of kids. This is actually a 2400 sq. feet floating platform with two water slides….an enclosed corkscrew slide and an 140 foot long open slide. There is also a gigantic bucket that splashes water on the guests apart from 4 water cannons. 
There is also a wet play area called Spring a Leak which is also 2400 sq. foot in size. This is made to look as if it was hit by a hurricane …it has broken plumbing and leaking pipes. There is a fantastic splash pad with lots of water jets. 
There is a supervised kids play area called Scuttles Cove where parents can drop off their kids before they go to the adults beach…. sandcastle building, water balloon fights and interactions with giant mickey and goofy are part of the experience. there are trained child counselors here. There is a sand zone here called Monstro Point which has a whale digging site with gigantic whale bones. Lots of structured activity for kids happen here but this area will close down by 3.30 p.m. 
There is also a zone called Hide Out which is a teen only area where only 14 to 17 year olds can hang out. Hide Out has a sand lot called Goofy's Sand Lot and it has sand volleyball and tetherball courts. Teens can also opt for a Wild Side excursion that comes with snorkeling, island exploration and kayaking… its completely customized for them…. all they have to do is to contact the Shore Excursion desk. 
Snorkeling around the Castaway Cay is a popular activity …submarines are displayed underwater in the snorkeling area and you can see a dazzling array of marine life. The Disney package includes arrival at the island in a ship and there are facilities for meals on the ship as well as on the island. As a rule food at the island is way tastier than food at the cruise ships. On the cay, there are plenty of bars and the waiters will bring up your drinks right up to your lounge. 
Do check out Cookies BBQ (open on Sunday, Wednesday and Friday between 11.30 a.m. to 2.30 p.m.) and Cookies Too BBQ (same timings as Cookies BBQ) once you are there… both of these places serve true blue American food…you will get burgers, pizzas, corn on the cob, BBQd ribs, ice cream and cookies and some cheese and berry concoctions. The French fries, pineapple upside down cake and chocolate chip cookies are highly recommended. Lunching here won't cost extra…its already included in your Disney Package. 
For a more sophisticated selection of food you can approach the Adult beach BBQ area….only 18+ people are allowed here. You can get Greek feta salad, Cole slaw with mayo, cous cous dishes and a selection of meats. Try the mahi fish fillets with Cajun, tender rib eye steak, made to order large hamburgers and pork ribs. 
Also don't miss out on the best bars i.e. Conched Out Bar, Sand Bar, Heads up Bar and Castaway Air Bar. You will have to pay via Key to the World Card (issued by Disney Cruises) for extra drinks here (the tropical Konk Cooler comes in a special souvenir glass and its made with coconut cream, dark rum, orange juice, passion fruit is a hot favorite). Don't plan for late lunches… the restaurants here close down by 2pm. 
Don't miss out on purchasing Disney Cruise Line stamps and mailing postcards with those stamps from the Castaway Cay Post office (it will take ages to reach its destination though). Incidentally the post office accepts USD unlike other places on Castaway Cay. 
Also do avail the tram service… in case you want to tour the entire island, it will take you around faster. 
In case you are interested in buying souvenirs here then head off to the island stores…there are a couple of them called Buy the Sea Shore, She Sells Sea Shells and Everything Else. You will find Bahamian handicrafts at a shop named Cultural Illusions (prices are higher here than in the rest of Bahamas), essential items like sunglass, hat, sunscreen etc. and special castaway cay gift items. 
Food is brought in by ships while drinking water is arranged by reverse osmosis. There is also an airport on the island (called castaway cay airport) though it's not very active. Free strollers and wagons are available on the island and that's rather a nice touch. 
Before you book your Disney package including the castaway cay experience, read the fine print properly. There are no refunds if you cancel after a week before the sail. Also there are almost no provisions for very young kids (not potty trained kids). 
Location & Road Map of Castaway Cay 
Related Articles
Visitors' Reviews and Comments