Top Budget & Upscale Restaurants in Abaco
There are many kinds of restaurants in Abaco and while most of them serve Bahamian cuisine (conch salad and conch fritters are almost like a staple), you will find Asian, American, Italian, Mexican and fusion food too. Don't miss out sampling the local cocktails… they have interesting blends. There are mostly budget and mid-priced restaurants and bars in Abaco and a few fine dining options.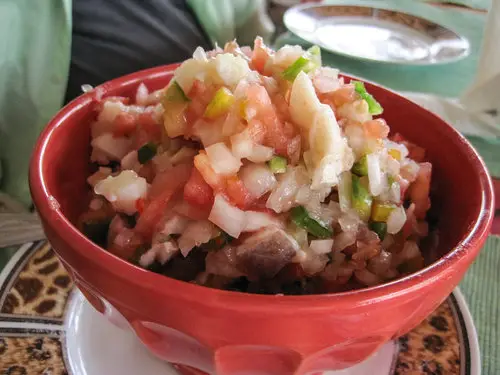 Conch Salad. Photo: sailn1, flickr cc by 2.0 
These are places to dine in Abaco when you are on a budget. You will find the atmosphere very casual and the furnishings might strike you as shabby. Mostly locals will frequent these places though some of them are quite favored by tourists too. These places are best used as a quick meal joint or a takeaway. They will usually accept only cash. 
Price Range: meal for two at a budget restaurant in Abaco Islands is around 30$ and above. 
Back 2 Da Island 
Address: Crossing Beach, Marsh Harbor, Great Abaco Island 
Phone: +1-242-367-0150 
This is one of the best places on the island to grab breakfast. It's just across the road from Crossing Beach and inside the parking lot of the ferry dock to Man O War Cay…this makes this place ideal for a quick meal before you catch the ferry. This café style eatery has a lot of nice local Bahamian dishes. Go there for the massive sandwiches that are packed with tuna/ eggs, bacon and veggies…. the vegetable omelets are also great. 
Some other best selling dishes are chicken curry special and steamed mackerel with cheese grills. This is more of a takeout kind of place so don't expect fancy ambience… outside seating options are also limited. The cafe closes at 3pm every day except on weekends when it closes at 6pm. 
Jake's Restaurant and Ice Cream Parlor 
Address: Suite 107, 108 Memorial Plaza, Marsh Harbor, Great Abaco Island 
Phone: +1 242 367 5253 
Jake's has a lot of seating capacity but it's not a sophisticated place. Portions are nice and the staff is always friendly though the service is sometimes slow. Some great dishes to try out here are vegetable quesadillas, conch fritters, mango jerked pork, pork chop, rice and peas, mac and cheese, lobster with garden salad. the prices are really reasonable and that's an advantage in overall expensive Bahamas.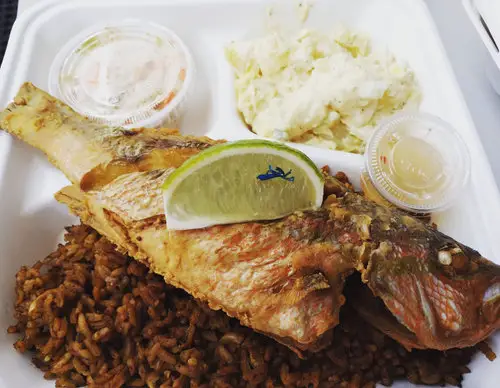 Fish fry with rice & peas. Photo: Jake's Restaurant 
The ice cream selection here is really nice and so are the matted milk shakes…. try the warm coconut and pineapple tart…it's their specialty. Jakes sometimes has theme nights like Pizza nights, wings nights and steak nights so try visiting on those days. The only disadvantage is that they are not located on the seafront. 
Ju'Novia's 
Address: Don McKay Blvd, Marsh Harbor, Great Abaco Island 
Phone: +1-242-367-1271 
This place is known for its wholesome breakfast menu… you will get a range of options here right from Bahamian specialty Stewed Fish, souse made of sheep tongue and chicken (the souses come with complimentary chunks of Johnny cakes) to traditional ham, potatoes and eggs. 
Pancakes and coffee, French toast, multi layered sandwiches etc are also available for lovers of typical American food. The only downside is that the ambience isn't that great and the place looks understaffed. Go to this place with cash…they don't usually accept cards. 
Harbor View Pizza X CLOSED 
Address: Bay Street, Across Harbor View Marina 
Marsh Harbor, Great Abaco Island 
Phone: +1-242-375-9550 
If you are missing American pizza then this is the best place to get it at a reasonable cost. Their thin crust pizzas (try ones with pepperoni, Canadian bacon, Hawaiian chicken and sausage), chicken wings, calzones. They have free Wi fi and free parking and free delivery too. Harbor View Pizza is closed on Sundays. The ambience is not that amazing though and you might miss the Pizza Hut atmosphere. 
Locals come here often… you might prefer taking takeaway food from here. These people only make thin crust pizzas but they are remarkably good. Prices are quite reasonable and portions are good. 
Jamie's Place X CLOSED 
Address: Bay Street, Marsh Harbor Great Abaco Island 
Phone: + 1-242-367-2880 
Jamie's is just 15 minutes from the airport so this where you can drop in if you are hungry after your flight. Breakfast, lunch and dinner are available and the staff are warm and friendly. Some good dishes to try here are lobster, tuna salad wrap, steamed conch, steamed stew beef, pepper steak, fried fish. The ice cream, iced tea and dessert options are good too and the bread is always freshly baked. Portions are big and the prices are pretty reasonable according to Bahamas standards. 
The one big disadvantage of Jamie's is that there is no alcohol on the menu. Jamie's remains closed on Sundays so even that's a downer. The ambience is more like a local dining place though you will see a healthy mix of tourists and locals inside.  
If you do not want to spend a lot on food and yet you have reservations about going to a very homely place for your meals then mid-range restaurants in Abaco are your best bet. These restaurants have moderately priced food and pleasant ambience. They may accept cards occasionally but it's safer to carry cash. 
Price Range: meal for two at a mid-range restaurant in Abaco is about 60$ and above. 
Jib Room Restaurant 
Address: 1 Pelican Shore, Marsh Harbor Marina, Great Abaco Island 
Phone: +1-242-367-2700 
Located on Marsh Harbor Marina, Jib Room is one of the most popular places around amongst the local tourists and the boater community. The fish Reuben here is mighty tasty as well as the steaks. There is a special Rib Night on Wednesdays and steak night on Saturdays. There is a casually styled bar that serves up nice concoctions of local drinks. There is parking facility and it is possible to pull up your boat to the Marina and then hop in to the restaurant. 
Ribs. Photo: Jib Room Restaurant 
Weekends are rather packed so you need to make prior reservations. Sometimes a Live band plays here and the atmosphere becomes lively and entertaining. You might find the atmosphere more American then Bahamian. 
Anglers Restaurant 
Address: Abaco Beach Resort, Off Bay Street, Marsh Harbor 
Phone: 242-367-2158 
Tuck into succulent roasted lamb racks with mashed potatoes and broiled tails of lobsters while you look at the seascape and the yachts on Boat Harbor Marina. This place has a very nice décor scheme… there are beautiful white tablecloths decorated with orchids, seashells and lovely pastel shaded napkins.  
Come here and feast on the catch of the day…the charbroiled steak, seafood pasta and Bahamian chicken, Guava duff are great too. Anglers is on the touristy strip on Marsh Harbor and it's the only place here where you can get a wholesome cooked breakfast. 
Colors by the Sea 
Address: East Bay Street, Marsh Harbor, Great Abaco Island 
Phone: +1 -242-699-3294 
Colors by the Sea is just a 5 minute walk from the public dock and a ten minute walk from the moorings base. The grilled snapper, plantain dishes, conch fritters, tacos, Cajun grouper fillets, fish fingers here are great. Do try the punched rum and cocktails too… they have this option of a personalized Colors special drink that you can customize as per your preferences. 
Photo: Colors by the Sea 
The owner Mrs. Duncombe is friendly. Colors has excellent harbor views and that's a big advantage… this is probably the prettiest place in Marsh Harbor to get a drink. The bar chairs are made of hardwood and might seem uncomfortable to some. 
Café La Florence 
Address: Treasure Cay, Great Abaco Island 
Phone: 242 365 8185 
The café is inside Treasure Cay Resort and it's near the gorgeous shopping strip on the island. Most locals and tourists swear by the cinnamon rolls, muffins and shakes here. If you are looking for a light lunch… this is a good place to go to. You can try out dishes like conch chowder, lobster quiche, Jamaican meat patty etc. the chef here can also arrange private dinners with customized menus on request. This place is closed on Sundays. 
Abaco does not have too many super expensive restaurants, so most premium restaurants here will not match up to your expectations if you are judging them by Nassau or even Grand Bahama standards. That being said, these are good places to have nice private meals in a relatively elegant atmosphere. Most premium restaurants here are attached to a resort and usually accept cards. 
Meals for two at premium restaurants in Abaco Islands can cost about 70$ and above. 
Treasure Sands Club 
Address: Treasure Cay Road, Great Abaco Islands 
Phone: + 1 242 365-9385 
This restaurant is about 3 miles away from the Treasure Cay golf resort and the setting is on the beach so it's visually attractive. There is a stunning pink dock here and a lovely pool with a good array of loungers all decked up with cushions.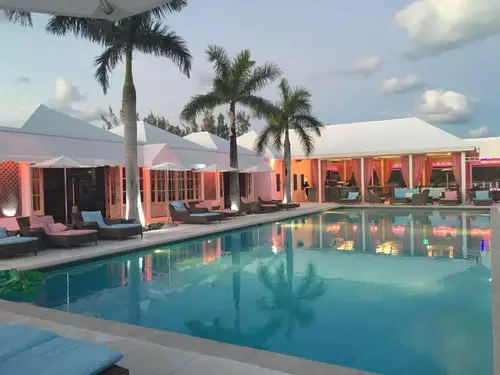 Photo: Treasure Sands Club 
The food is good but might seem a little overpriced in comparison with other local restaurants. Bahamian Fish Sandwich, Lobster BLT, lamb, garlic conch, steaks are some of their best dishes. The dessert selection seems good to look at but the dishes are not that great if you compare them to Florida standards. 
The staff and the manager are attentive and there is a super friendly waiter here who is fondly called Pineapple. If you come here by boat …you pretty much have to dock your own vessel… the staff appears to be super busy. You have to pay a cover charge for the dock even if you have a proper meal here. 
Wally's Restaurant 
Address: E Bay Street Marsh Harbor 
Phone: +1 973-418-1688 
This is located near the Marsh Harbor Marina so it's easy to find this pretty pink house that has been converted into a restaurant. Go here for Conch chowder, fish cake appetizers, conch fritters, cracked conch plates, sweet potato fries… and all the other local food items are pretty good too. 
The patio area is very pretty and is a good choice to sit and have wine. They have nice offers and sumptuous six course meals on Valentine's Day, New Year's and other events. 
Know beforehand that the bill includes VAT and a suggested percentage for the tip. The restrooms are not that great and sometimes the place is so full that you have to wait for a sizeable amount of time for your order to arrive. 
Bahama Beach Club 
Address: Treasure Cay Drive, Treasure Cay 
Phone: +1 242 365 8500 
This restaurant is part of the beach club so there are plenty of added activities you can indulge in like games and paddle boating. The pool grill and bar has a lovely outdoor setting and all of the grounds are nicely maintained. There are some specialty cuisine nights like Italian nights, Mexican dinners etc. and Friday nights are for having steaks sitting under the stars. 
The grilled shrimp, lobster and the steaks are quite nice but there is a lack of kid friendly entrees on the menu (for example French fries aren't served). The cocktails like Bahama Mama, Goombay Smash and Pina Coladas are also great… you will find it nice to interact with the bartenders and the chef Keeshad. A downside is that they close pretty early ….on someday the place shuts down by 5 p.m. 
Oasis 
Address: Memorial Plaza, Marsh Harbor, Abaco 
There are few places in Abaco where you can have a nice elegant dinner in the midst of reasonable privacy and Oasis is one of them. Owned by three entrepreneurs David Thompson, Antonio Huyler and Demeko Saunders… the menu here is a mix of French, Asian and Italian food. 
Every Tuesday there is a delectable Asian spread… there are very good Sushi and Chinese dishes. Friday and Saturday have fun theme nights. The restaurant is closed on Sundays and on other days it closes by 9.30pm which is a big downside. 

By Raj Bhattacharya 
Raj, a seasoned travel writer and Bermuda destination expert, has extensive global travel experience. This website reflects his profound insights, garnered over nearly two decades of dedicated findings and research on the island. Raj has assisted countless Bermuda-bound visitors by providing direct, personalized responses to their queries and imparting his wealth of knowledge through this platform. This site serves as an indispensable guide for those seeking informed and reliable insights into Bermuda's treasures. 
Related Articles
Visitors' Reviews and Comments