Top Budget, Mid-Priced & Fine Dining Restaurants & Bars in Exuma
When it comes to dining….Exuma offers food with a decidedly local twist. Not that it's any less delicious but if you are looking for authentic sushi or Italian style Pizza or true blue French food its rather difficult to find them here. What you will get is an abundance of sea food that's made into a variety of dishes.  
The budget restaurants of Exuma serve mostly local food and drinks while the mid-range places may serve casual food like pizzas (Bahamian version), sea food burgers etc. apart from local food. The fine dining restaurants in Exuma are mostly the part of expensive resorts or luxury boutique hotels and it is here that you will get world cuisine or at least some part of it apart from high standards in local food. 
Like in hotels too, the restaurants in Exuma (in budget and mid-range category) will accept mostly cash. The expensive restaurants or the fine dining ones will take cards. 
Budget Restaurants
These are local eateries or beach shacks in Exuma that serve hearty local fare and have a vibrant though very casual atmosphere. You can choose to go to these places if you want to experience the local Bahamian life and taste authentic island food. The ambience will mostly not be good and the amenities will be mediocre. These places will take cash only. 
Shirley's Seafood Restaurant 
Address: Fish Fry, Queen's Highway, North of George Town 
Phone: 242-554-3642/ 242-336-3737 
This casual place has Wi Fi and decent seating arrangements. You should try the crab cakes here…they are lightly cooked with zero batter (a welcome alternative to all that deep fried local food). Fresh grouper in a Pita like bread wrap is another must try. Coconut and garlic flavored grouper is another favorite amongst regulars here. You can also try the grilled sea trio and this includes shrimp, grouper and lobster. Sides are peas and rice, fried plantains, mac and cheese and the cocktails are really good but very strong (there are house specials like Dirty Shirley).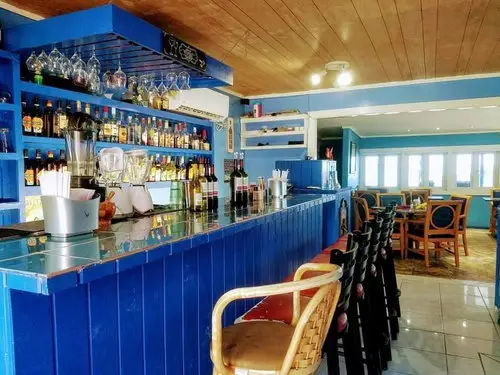 Photo: Shirley's Seafood 
Dessert platter is also good …you can sample the home made guava ice cream and coconut ice cream. Service is invariably good and food is moderately priced though a little more expensive than the other stalls in Fish Fry. Also on busy days you will feel that Shirley should hire some more staff…she seems to be overworked. 
Cheaters Restaurant and Bar 
Address: George Town, Great Exuma 
Phone: 242-336-2535 
Open from 7 a.m. to 4 p.m. Closed on Sunday and Monday 
This is a good place to go to when you are in a rush…service is comparatively fast here unlike most restaurants around. Menu options are limited though you will get nice steaks (they have lots of vegetables as a side), fried chicken, crab cakes, cracked lobster and traditional Bahamian preparation of Grouper/ snapper with Cole slaw, rice and peas. You can also try light options like fish in light cream sauce and steamed vegetables…it is difficult to find healthy un-fried food in local restaurants around. The homemade rum cake with ice cream is a must try. 
Photo: Cheater's Restaurant & Bar 
On the downside, the ambience isn't good…it looks more like a tavern than a bar and grill. However the owner Mr. Julian "Cheater" Romer will do his best to make diners feel comfortable. 
Big D's Conch Spot 
Address: On Hamburger Beach, Steventon, Great Exuma 
Phone: 242-358-0059 
Open from 12 p.m. to 10 p.m. everyday apart from Monday 
Big D's is justifiably proud of its conch based dishes and they are so popular here that the place hasn't bothered to diversify its menu. This is a simple looking chilled out Cabana and most guests here are dressed in beach wear. There is another Big D's outlet near the Sandal's resort and even that has a similar menu and ambience.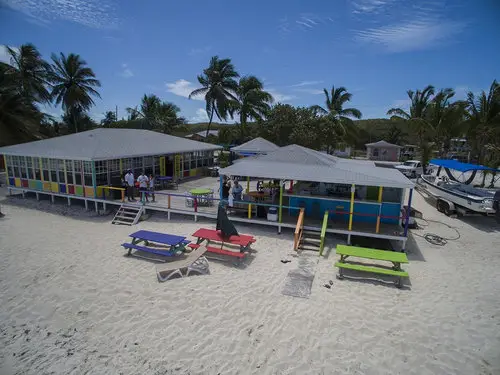 Photo: Big D's Conch Spot 
An important tip is to go only when Big D is personally present here…his level of service and cooking cannot be replaced. When the man is here …he usually makes it a point to ask customers their preference in Conch salad i.e. Citrusy or spicy or sweet and tangy and he customizes salad himself with incredible finesse in chopping while jovially narrating island lore. The salad will take a while in arriving but it will be fresh and tasty. There are other entrees too like conch fritters, grouper fingers, baked fish, lobster fry and huge burgers. 
The porch has great views all around….you can choose to have your meals right on the beach on the candy colored chairs strewn around. Tourists sometimes take their masks and go swimming and snorkeling while their food is being prepared. 
The bill will come with VAT and gratuity added and that's a downer. Sometimes all the best dishes are sold out and then you are basically left with one or two options. 
The Original Three Sisters Restaurant  
Mt Thompson, Exuma Harbor Estates 
Phone: 242-3587011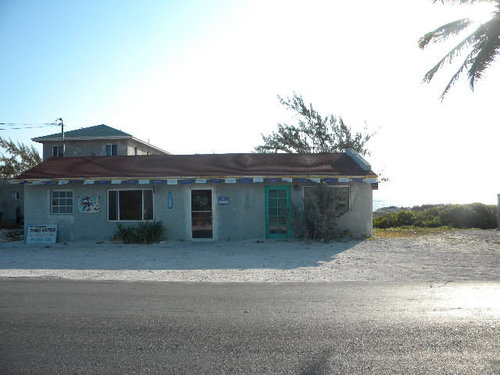 Photo: The Original Three Sisters Restaurant  
The house specialties are baked chicken, grouper fingers with special sauce and red snapper. There are 4 kinds of meal choices at 10 USD each and that's really an incredible deal. You can choose from three sides too including a compulsory portion of peas and rice. For homely, budget friendly and comfort food head in here 
Mid-Range Restaurants
There are many restaurants in Exuma that offer a complete local experience. You can go to these places not just to have meals but to listen to music, swim around (most of these are near beaches), listen to local anecdotes, play games, kayak and generally enjoy slices of Bahamian life.  
These restaurants sometimes take credit cards and sometimes cash and they have decent ambience. 
Chat n Chil Restaurant, Bar and Grill 
And Beach Wedding Destination 
Address: 1 Stocking Island, Volleyball Beach,  
Phone: +1 242-336-2800 
Hours: Open from 11AM to 7 PM everyday 
Probably Exuma's most loved and most discussed dining Spot…Chat n Chil is so much more than a restaurant. It is a sumptuous grill, site for the famous pig roust, a social meeting point and a preferred beach wedding destination. The clientele here is decidedly global…tourists are known to fly in to stocking island just to see Chat n Chil…it has its own iconic reputation. 
Specialties here are Conch jumbo burgers, Chicken Rotisserie, special KB Cabbage Garlic Slaw, Local Rice and Peas, Bahamian style grilled fish and prime ribs with sauce. The Conch salad is ultra-fresh…the conch is grabbed from the sea by a salad specialist guy and chopped up with an array of ingredients. The cocktails are very nice and strong….you should definitely try out the Goombay Smash. 
Photo: Chat 'N' Chill 
Drop in on any day and you will hear the CNBC news playing on in full volume interspersed with Bahamian classical music….there is a special fondness for Nikki Minaj videos too. Their motto is "no shoes" and everybody here seems to follow that rule…the atmosphere is decidedly casual. 
Sometimes there are corporate meets, team building events, outdoor concerts here too and if you wish you can get your own private event conducted at Chat n Chill. There is a sign stand with many world destinations and their mileage on it…this is a great selfie spot. There is the water taxi pier where you can stand and catch glimpses of random marine life including sharks 
While you arrive here you can spend some time interacting with the sting rays that come up to the edge of the water. If you are a snorkeler or a swimmer then the cove waters are perfect for you…try snorkeling to the other side in company of spotted eagle rays and mini lemon sharks. 
There is also a gift shop nearby called Soggy Dollar where you can buy some island stuff. So a visit to Chat n Chill is not just a restaurant visit for food…you can engage in multiple activities here and that makes it a complete package experience. 
Sundays there is the traditional Bahamian suckling pig roast…the roast is done over several hours and if you are a pork lover then this is "unmissable". For a moderate price on Sunday, you will get a plateful of pork, Mac and Cheese and rice garlic coleslaw along with special honey mustard sauce. 
You should not visit this place when you are pressed for time…this runs decidedly on Island Time. Make sure that you get your Water Taxi before 6 p.m. (last taxi timing) to exit Stocking Island if you haven't come by your own vessel or have no plans to spend the night on Stocking Island. 
The people manning the restaurant will arrange water taxi for you. This place is flooded by people most of the time so you might feel as if you aren't given enough attention…orders take a long time to be processed and the bar looks severely understaffed. 
Chat n Chill accepts credit cards but charge an extra 5% for it. If you are too germ conscious you might not like the place…part of the décor scheme are old t shirts and some of them are quite moldy. If you want to avoid the crowds…avoid the weekends. 
Driftwood Café 
Address: Queens Highway, George Town, Great Exuma 
Phone: 242-336-3800 
Hours: Open from 7.30 a.m. to 3.00 p.m. 
Probably the best place on the out islands to grab breakfast, the Driftwood Café is well known for its delicious scones. This charming little café also has a great selection of breakfast sandwiches…big super-sized ones with different options of stuffing's (try the chicken pesto and turkey melt). This is a place where you can get proper American food and non-Bahamian entrees….eggs, bacon, pancakes, scrambled eggs and toast, salads, quiches, Panini's and so on.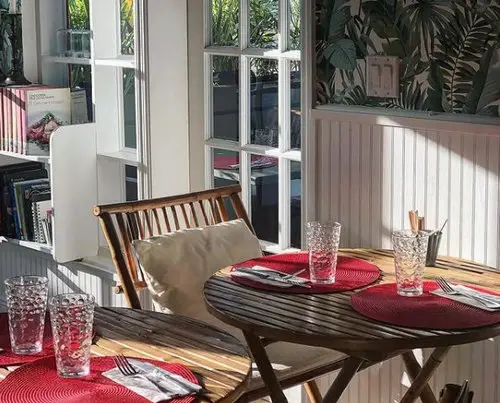 Photo: Driftwood Cafe 
Lunch is also offered here but you will see most people dropping in for breakfast…there is a good selection of iced lattes, cinnamon rolls, muffins and bagels with cream cheese too. If you are visiting with kids …get them the Pink Lemonade …they will love it!! 
The ambiance is nice …there is air conditioning inside and outside seating options on the patio with tables and sun shades. Usually there are local musicians outside playing the guitar and it's a nice experience to sit listening to them as they play the guitar and you sip your coffee. 
They close by 3 p.m. everyday which is rather disappointing. The service is rather slow and customer service seems a little lacking. Like many other places in Bahamas they run out of necessities like bread and eggs and bottled water sometimes.  
Shoreline Restaurant and Bar  
105 Kingsway Drive, Rolleville (north tip of Great Exuma) 
Phone: 242-345-6201 
Open from 12 p.m. to 9.30 p.m. everyday apart from Sundays 
Closes on 5 p.m. on Tuesdays 
Shoreline reflects its names truly. The restaurant is spread out on the beach shore and most diners prefer to sit on the colorful candy chairs on the beach and enjoy their meals. The restaurant is near the famous coco plum beach and the views all around are excellent.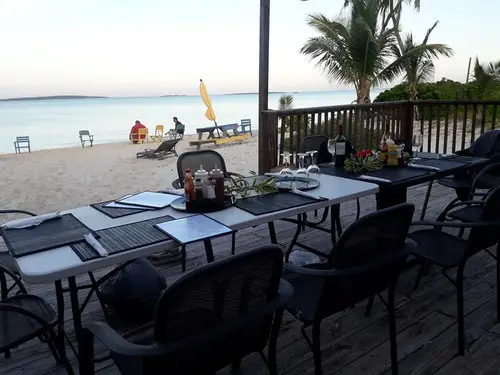 Photo: Shoreline Restaurant & Bar 
Violet Higgs who is the presiding chef at Shoreline is one of the best Bahamian chefs in this part of the island. House specialties include grilled to perfection snapper, fresh sea bass, frozen mango daiquiri, huge Bahamian style burgers, spicy chicken jerk sandwiches, fish tacos with cole slaw apart from the conch based dishes. The fish served here is all from local catch and rumors say that the chef buys them herself. 
This is not a large glamorous restaurant but a small one that exudes warmth and hospitality…the restaurant is run by Kevin and Violet who are both friendly and affable people. Wi Fi is available here. Customer service is great here and they do their best to accommodate dietary restrictions of customers. Sometimes on busy days you may feel that the place is understaffed. 
Augusta Bay Bahamas Restaurant 
Address: Queen's Highway, Great Exuma 
Phone: 242-336-2251 
This place serves all 3 meals; breakfast, lunch and dinner and that's a major advantage. If you have visited Exuma you will know that there very few nice breakfast places and this restaurant is one of them….this is one place where you can hope to get regular eggs and bacon for breakfast. While lunch menu comprises of local favorites like jumbo burgers, grouper fingers, sandwiches and conch items…dinners are more elaborate with steaks and seafood preparations. 
The location is good…you can look over Elizabeth Harbor during your meals…on Friday nights a bar is set up on the dock. There is free WI Fi…this restaurant is a part of the Augusta Bay Resort property so guests can use their pool and beach too. The property has a nice Tiki Bar called Frankie Bananas which serves great cocktails so you can have your drinks here first and then visit the restaurant for meals. 
The seafood linguine is a must try. Other special dishes here are fish stew, lobster bisque, sea food based pasta, crab cakes and fish. One of the bartenders….Glenroy Munroe rustles up a nice experience…he is somewhat of an icon here. 
On the downside, many menu options are usually not available and that is disappointing. The service may seem cold at times and there is compulsory tip (gratuity) and VAT added to the bill so that's disappointing. Like many other places in Exuma…this one too has very slow service. 
Splash Bar and Grill 
Address: Hideaways Palm Bay Resort, Georgetown, Exuma 
Phone: 242-336-3587 
Open from 7.30 a.m. to 9.30 p.m. everyday 
One of the most popular bars amongst both tourists and locals in Exuma….the Splash has a vibrant atmosphere. Splash is right next to the resort pool at Hideaways Palm Bay Resort. There is a beach right outside the restaurant patio and the bar area has swings on it. You can try your hand at the Pool table too while you are here.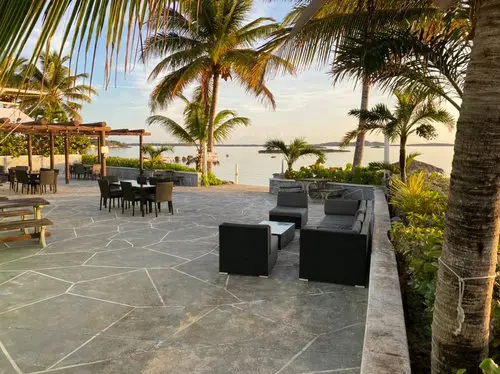 Photo: Splash (Hideaways Palm Bay Resort) 
All 3 meals a served here and that's a huge advantage. There are vegetarian options too in the menu and the chef is accommodating enough to make dishes with dietary restrictions. There are nice cocktails here like the pina colada and the bright green rum cocktail with 4 variants of rum…you might find them a little pricey though. 
Do try the Jalapenos cheese burger, stuffed mushroom cheeseburgers, chicken wings, fish Tacos, Ravioli Alfredo, buffalo chicken strips, pizza, lobster pops and cracked chicken. The staff is friendly and fun and the manager Anita will go out of her way to make guests feel comfortable. 
On the downside…there is no air conditioning inside so you might feel a little sweaty. 
Haulover Bay Bar and Grill 
Rolle town, George Town Ex 29214, Great Exuma 
Phone: 242-524-2108 
Open from 11.00 a.m. to 5.00 p.m. Sunday to Thursday 
This is one of the few dining options in RolleTown and is a family owned place mostly managed by a lady called Karen. The view from the restaurant patio is really nice and you can walk on the sandbars outside. This restaurant is also approachable by boat which is good news for people exploring the area via boat…tie your boat on the anchor and rent a kayak if you want.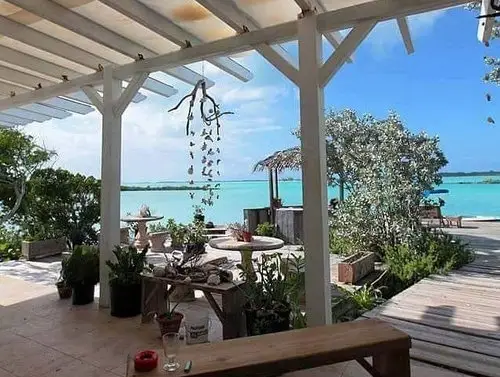 Photo: Haulover Bay Bar and Grill 
Mostly boaters and tourists stop here for lunch and the food is local. The fresh grouper with peas and rice and Cole slaw or snapper with salad and sides is usually a staple. There are cold Kaliks and mint tea on offer too. The menu is literally absent…the family rustles up dishes with whatever ingredients they have around. This means fewer options but they can personalize your meals, accommodate food allergies and other reservations since basically everything is prepared from scratch. 
Do stop at the charming little gift shop next door…the daughter in the family sells handmade soaps, local jewelry, honey etc. 
This isn't a place to have a quick meal…the food takes time to arrive and is usually very good. The family will talk to you and entertain you with anecdotes while you sip your drinks. Haulover Bay Bar offers a local experience that's much more than a mere meal. If you do come…low tide (this is around 12 p.m. to 2 p.m.) is a good time to arrive…you can walk along the sandbar and explore till Man O War Cay…if you are lucky you will meet baby lemon sharks and sting rays. 
On the downside the menu is very limited and sometimes you might find amenities like toilet paper in the washroom missing. Go here if you are aren't too picky and want to enjoy the view. 
Tropic Breeze Beach Bar and Grill 
Address: Williams Town, Little Exuma 
Phone: 242 345 4100 
Open from 11 a.m. to 6 p.m. On all days except Sunday and Monday 
Interestingly this place is run by a graduate of the Cordon Bleu school…the lady is named Khriston Turnquest and she was once the chef at Sandals. This restaurant opened in 2014…thanks to Khriston's idea of opening her own place. The view from the restaurant is great and the food is reasonably priced and delicious. You can have lobster in Panini or in Taco shells for under 20 USD and that's good value.  
Do order the seafood sampler…it has grouper, lobster and shrimp and also the seafood nachos. Dessert selection is also nice and home created rum cake is a best seller.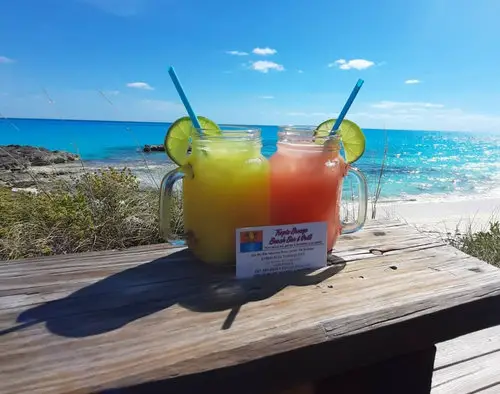 Photo: Tropic Breeze Beach Bar & Grill 
The location is picturesque …it's there on a small hilltop commanding good views. The Tropic of Cancer beach is nearby…most people who go there come here for meals. The food presentation and chef's capacity to accommodate impromptu requests are a definite advantage. 
On the downside you need to call ahead before you go as the restaurant is closed sometimes for random family occasions. Also the area outside the restaurant is sometimes disappointingly littered. 
Santana's Bar and Grill 
William's Town, Great Exuma 
Phone: 242-345-4102 
The owner is named Dee and he is very charming... he likes to chat up his customers and entertain them with anecdotes. The restaurant setting is also great…it's on the beachfront and you will have fast access to the beach.  You can see William's Town that has a lot of cultural and historical value, dine at Santana's and then come back…this is how most tourists do it. 
The food quality and quantity are consistently good. …though the menu is not exceptional. Great dishes to try here are the lobster and grouper as well as the cracked conch with Cole slaw, rice and peas (these are side dishes with all main entrees) and macaroni casserole.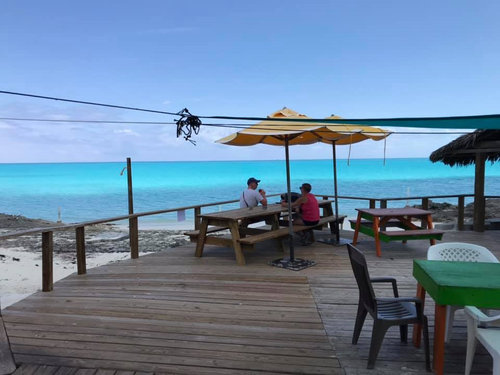 Photo: Santana's 
There is a bakery right next door (Sweet Mom's Bakery) owned by the same lady so you can fulfil your confectionary cravings there….take along some macaroons, coconut tarts, pineapple bread, and Bahamian bakes. 
Santana's has a great view and nice casual ambience. Locals say that parts of the movie Pirates of the Caribbean was shot here and Johnny Depp and Orlando Bloom ate here then…the owners have the pics of the shooting and they let guests have a glance. Some diners prefer to go for a swim while the food is being rustled up. 
This is a cash only restaurant…there is no extra gratuity and VAT Tax on the bill. The only downside is that Santana's has a very nondescript appearance…it looks like a small wooden shack. 
La Fourchette 
X CLOSED 
Roker's Point, George Town, Great Exuma  
Phone: +1 242-524-8622 
Open every day from 7.30 a.m. to 10.00 p.m. 
The host or the owner is French and that explains the rather unusual choice of a name considering the fact that this place is in the out islands. There is free Wi Fi here and there is buffet breakfast also (this is a rarity). The building itself reflects a fusion of French and Bahamian elements and its rather chic to look at. There is a small but balanced menu and there are daily specials every day.  
Some signature dishes to try here are lobster fettuccine and ceviche, chicken quesadillas, mahi, conch fritters, crepes, potato salads, Bahamian cracked conch, romaine salad, French onion soup etc. The best thing about this place is its ambience, its small, intimate and rather romantic, one of the few places in Exuma where you can go on a date. The drinks menu is also good and the cocktails are well selected. 
The owner Angelo is very friendly, polite and good in customer service…however the rest of the staff are not very welcoming. The chef seems to change in a rather frequent cycle….and that affects the quality of food. Also, the restaurant is on a resort property and it's sometimes quite crowded during meal times. 
Emerald Bay Pub and Grill 
X CLOSED 
Address: Farmers Hill Exuma Harbor Estates 
Emerald Bay Great Exuma (Near the Grand Isle Resort) 
Phone: 242-358-3274 
This is probably the best place in Exuma to get Pizza. You will also get nice burgers, conch fritters, jerk chicken, lobster, grouper, cracked fish, pastas and salads. The Guava Duff and the meat lovers Pizza here is pretty famous. All the food is made to order. 
The Television sets keep on playing American Football so this doesn't really qualify as a local place. The owner Stephen and his staff are very friendly and accommodating….there is a bartender called Aaron who can mix nice cocktails. The service is relatively fast…not on island time. 
Unlike most other niche local restaurants around…this one doesn't have a wonderful location. It's essentially inside a mall and doesn't have proper signage or a parking lot. 
Fine Dining Options
Exuma has a much laid back and casual vibe and as mentioned earlier …fine dining options are few. Most luxury restaurants here are attached to some branded resort and there are virtually no standalone places. 
These restaurants will all accept cards unless they are having a bad "card machine" day. 
Latitudes 
Exuma Beach Resort 
1.5 miles North West of George Town 
Open from 7 a.m. to 10 p.m. every day (12 a.m. on Fridays) 
Phone: 1 242-336-3100 
This restaurant is a part of Exuma Beach Resort and is quite near to Hideaways Resort and Island Time Villas. This is a relatively upscale restaurant at a pretty yet convenient location which makes it perfect for a nice dinner or elegant lunch. House specials are Fish Tacos, Shrimp/ chicken Alfredo, conch fritters, chicken coconut curry, minced lobsters and steak strips. 
Photo: Exuma Beach Resort (Booking.com) 
Also try out their dessert selections like cheesecake with cherries, key Lime Pie. Their frozen drinks are nice too….banana liquor, coconut rum and baileys. People with diet restrictions also get accommodated…the chef happily prepares gluten free meals. 
This is one of the few rather upscale dining options in Exuma and there is a charming patio where you can opt to have your meals (you will get bay views from here) apart from the regular dining area. It's good to eat at a place which has tables covered with pretty white table clothes and classy décor if you are tired of eating in shacks. 
There is live music here on some days of the week…you can call in advance to enquire. Every Friday night there is a party which goes on till 11.30 p.m.…this one of the rare places in Exuma that has night life. There is free Wi Fi (though connectivity isn't great) and they take credit cards. 
The Palapa Grill 
Grand Isles Resort and Spa, Emerald Bay, Great Exuma 
Phone: 242-358-5000 
This is one of the most expensive and sophisticated restaurants in Exuma and it does justice to its reputation. This is the only restaurant on the Grand Isles property so all their guests eat here but the staff have a welcoming attitude towards outside guests too. All 3 meals are served here and the restaurant remains open every day.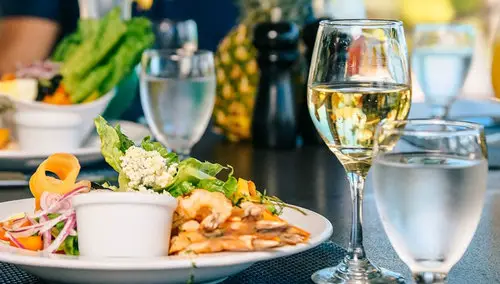 Photo: Grand Isles Resort and Spa 
There is a lavish continental buffet here (probably the best continental breakfast in Exuma)….try the guava and coconut French toast. You will also get proper grilled cheese sandwiches, Mac n Cheese, cheese burgers, chicken nuggets and these have an American not local feel about them. You can try the range of pastas, the lamb dishes, pork chops, sea food fettuccine and the fillet. Incidentally this restaurant serves gluten free food too. 
Service is somewhat slow and you can feel that the menu could have been more imaginative considering the price that they charge. Also sometimes it's difficult to get a place here though you may have reserved a table in advance…naturally Grand Isle guests are given first preference. 

By Raj Bhattacharya 
Raj, a seasoned travel writer and Bermuda destination expert, has extensive global travel experience. This website reflects his profound insights, garnered over nearly two decades of dedicated findings and research on the island. Raj has assisted countless Bermuda-bound visitors by providing direct, personalized responses to their queries and imparting his wealth of knowledge through this platform. This site serves as an indispensable guide for those seeking informed and reliable insights into Bermuda's treasures. 
Related Articles
Visitors' Reviews and Comments