Top Nightlife Venues in Abaco
Bars & Grills
Most restaurants in Abaco have bars apart from ones in Hope Town which is an alcohol free zone. That being said, there are some nice places which serve BBQ style food with nice ocean views and a good bar. These are basically places where you should take a boat trip to and enjoy the atmosphere along with a few drinks. Most of them do not accept cards. 
Pete's Pub & Gallery 
Little Harbor, Abaco 
Phone: 1-242-577-5487 
Peter Johnston is the owner of this pub & gallery... as the name suggests, it's not just a pub, it also has a foundry where exquisite bronze sculptures are made and showcased in a gallery. Peter (known as Pete) is a well known and talented sculptor as well as a highly skilled chef.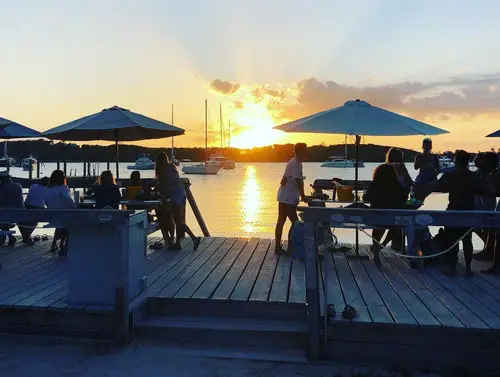 Photo: Pete's Pub & Gallery 
The pub has a multi-level bar and a wonderful ambience, it's located by the beach and you can see the sailing boats as you enjoy your drinks and dine on a picnic table on the wooden deck. There is usually a live music or a DJ playing on Sunday evenings. Lots of locals come here to enjoy drinks and food. 
They serve lunch and dinner. The menu always has fresh seafood. A typical lunch menu includes cracked conch soft taco, sautéed shrimp soft taco, ginger garlic tun gyro, blackened or lemon pepper mahi mahi, mandarin chicken fillets, Angus beef burgers etc. In sides you get peas n rice, baked Mac & cheese, Caesar salad, pineapple walnut slaw etc. In dessert, try out the turtle pie or chocolate pie. 
Miss Emily's Blue Bee Bar 
New Plymouth Town, Green Turtle Cay 
This has to be the first bar mentioned when talking about Abaco's bars... this is where the famous rum punch known as Goombay Smash originated... a unique concoction of rum and fruit juices. Miss Emily was the inventor who passed away in 1997, however over time, Goombay Smash became a household name in the entire Bahamas and even Caribbean. It would be hard to believe that any tourist who visited the Bahamas hasn't heard of this cocktail which originated in this very bar.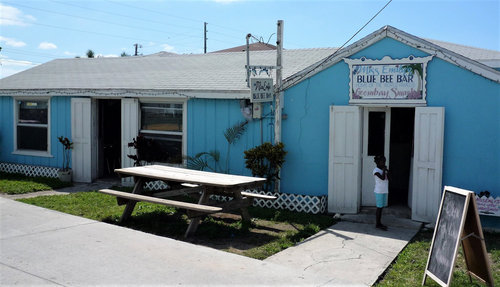 Photo: Miss Emily's Blue Bee Bar 
This is a small fun restaurant which is now run and managed by Miss Emily's daughter Violet Smith. She is a very friendly lady and will make you at home with a big smile as soon as you arrive. She will even invite you to write on the walls or leave behind any memorabilia to be hung from the ceiling... there are numerous such pieces already hanging from the ceiling. There is outside seating as well on an wooden deck and under the umbrellas.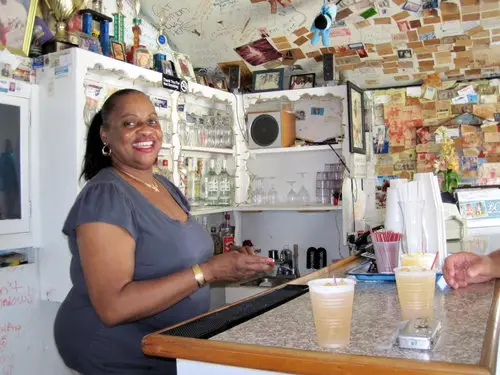 Violet Smith, Photo: sailn1, flickr, cc by 2.0 
Other the Goombay smash, there are regular spirits as well and chilled beer like Corona. Blue Bee Bar also serves lunch and dinner... try out their special grouper dish and the fresh salad (served with slices of boiled eggs). The food served is mostly Bahaminal local cuisine and Caribbean. 
Cracker P's Bar & Grill 
Lubbers Quarters, Great Abaco Island 
Phone: 1 242 577 3139 
You can take a short boat trip to Lubbers Quarters from Hope Town… this is a fun place to hang out at. This place is distinguished by the fact that there are no fried dishes here… the specials change daily and they are posted on the board. The fish dip, frozen mojitos, hamburgers, bratwurst sausages, baked mac and cheese and the marinated conch are bestsellers. You can also buy a bottle of their hot sauce…it's pretty nice. 
Once you are done with filling your tummy you can indulge in the plentiful bar games, paddle boarding and playing beach volleyball. The owner Patrick S and his staff are quite friendly. There is a gift shop on the premises… it stocks a lot of nice artifacts and T-shirts. 
Nippers Beach Bar & Grill 
Great Guana Cay 
Phone: +1 242 365 5111 
They are the only beach bar & grill in Great Guana Cay and very popular among the locals and tourists alike. The deck opens out to a lovely beach below. The views are marvelous with the turquoise sea extending as far as you can see. It's a great place to hang around at one of the three levels... they also have two pools. There is a large screen TV showing world sports. You can meet lots of locals here... the place really gets crowded on the week ends.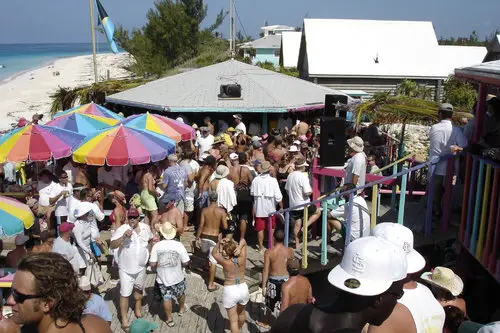 Photo: Tom Purves, flickr, cc by 2.0 
The food is mainly Bahamina bar fares including conch fritters, burgers etc. You can enjoy pig roasts on Sundays. Food quality is good and service is okay. There is often live music and you can enjoy that with a cold beer. The house concoction is great as well. There is a nice gift store here with T-Shirts, hats and many other souvenir items... little pricey, but that's the way the whole Bahamas is. 
Update: Hurricane Dorian (that struck in September 2019) has completely damaged Nippers and they are unlikely to re-open anytime soon. 
Ballyhoo Bar & Grill 
Address: Near White Sound, Bluff House Beach Hotel Marina 
New Plymouth, Green Turtle Cay 
Phone: 242-365-4200 
This is a casual place on the Bluff House Marina and it has good water views. Try and grab a seat under the umbrella on the deck…you can get a nice view of the harbor this way…. otherwise the air-conditioned dining room that's styled like a pub is also nice. Good dishes to try here are conch fritters, American burgers, roasted pork tenderloin, goat cheese salads, vegetable roasts and a variety of cocktails. The pool nearby promises nice recreational activities. 
Snappas Chill & Grill 
Marsh Harbor, East Bay Street, Great Abaco 
Phone: +1-242-367-2278 
The boater community frequent this waterfront place a lot… and the Tuesday Pizza nights are especially packed up. There is a large TV Screen here that keeps broadcasting games. Try the special subs with French fries, grilled fish, lobsters they are all great. The alcohol selection is also nice though happy hour (5 p.m. to 7.30 p.m.) discounts are only applicable on bottled beer which is disappointing. 
A live band plays at dinner time on some days and sometimes there are theme nights which are fun. This is the kind of place where even if you go alone… you don't feel or end up alone. 
Sunset Grill & Bar 
Address: Great Abaco Highway, Sandy Point, Great Abaco Island 
Phone: +1 242 375 9858 
This is a good place to go when you are craving BBQ style food. The fish and the chicken preparations are really good and you will get a nice selection of fresh fruits too. The menu is kid friendly so that's an advantage if you are going with family. The food quality and portions are consistently nice. This is an open air place so the views are good. Staff is friendly and they work quite hard. 
Coco Beach Bar and Grill 
Address: Treasure Cay Hotel and Resort, Great Abaco Island 
Phone: +1-242-365-8470 
The best thing about this place is the location… it's right there on the Treasure Cay Beach on the best spot. There is always a rush at the bar so you might have to wait for a while to get your drink. The menu is rather limited but the dishes are well prepared… the best dishes here are (predictably) cracked conch and conch fritters though the meaty burger selection here is nice too. 
You will find an Asian influence in the food. All three meals i.e. breakfast, lunch and dinner are served here so that's an advantage. Sunday brunch is good. Service is slow but that's the case almost everywhere on the islands here. 
Nightclubs and Disco Bars
Abaco in general is not known for its nightlife. However if you absolutely cannot stay without visiting a disco bar then checking out the below mentioned places is a good idea. These bars are all in the entertainment strip of Marsh Harbor that's adjacent to the airport. Entry to these places are free apart from some special events where a nominal charge may be taken. These are places where there are security personnel and are relatively safe for tourists. 
Club Solid Gold 
Address: Don MacKay Boulevard, South of Traffic Light 
Near Marsh Harbor Airport 
Open from 9 p.m. onwards 
Club Solid Gold is the only exclusive nightclub in Marsh Harbor. Pop and rock artists come here often and this is where the cream of Marsh Harbor youth goes. There is a proper dance floor here and good quality audio equipment which can satiate the cravings of party addicted tourists. 
Tardies 
Address: SE Bootle Highway, Near Marsh Harbor 
Open from 8 p.m. onwards 
Tardies is another local nightclub that's managed by Vernita Dawkins and Henley. This a pure Bahamian establishment, right from the decoration to the music and atmosphere… it's all pure Bahamian. Barbeque Ribs and chicken fry are very popular dishes here while on Thursday there is yummy fish fry.  
Abaco's best DJ's play here… this is also one of the places that remains open till the wee hours of the morning. Most people who visit Tardies come here around midnight…this is when the place is at its liveliest. 
DNR Sports Pub 
Address: Don MacKay Boulevard, South of Traffic Light 
Near Marsh Harbor Airport 
Possibly the only sports pub in Abaco… there are ongoing discussions on baseball, basketball and football here all the time. Discussions and videos of local and international sporting agents are shown and there is a large screen that broadcasts games. This place doesn't have a proper dance floor but the locals do dance it out on the patio outside the pub. 

By Raj Bhattacharya 
Raj, a seasoned travel writer and Bermuda destination expert, has extensive global travel experience. This website reflects his profound insights, garnered over nearly two decades of dedicated findings and research on the island. Raj has assisted countless Bermuda-bound visitors by providing direct, personalized responses to their queries and imparting his wealth of knowledge through this platform. This site serves as an indispensable guide for those seeking informed and reliable insights into Bermuda's treasures. 
Related Articles
Visitors' Reviews and Comments