Great Guana Cay, Abaco - Bahamas
Getting Here: This 7 mile long island is only 8 miles away from the Marsh Harbor. It's beautifully sandwiched between Sea of Abaco and Atlantic. You need to take a taxi and get to the ferry dock known as 'The Ferry at The Crossing' near Conch Inn at Marsh Harbor. Taxi fare from the Marsh Harbor airport to the ferry dock will be around $15 for two persons. Ferry takes about 30 minutes to transfer you to Great Guana Cay, the fare is $15 one way, and $25 for a return ticket. 
There are about 150 residents in Great Guana Cay and no police stations, post offices and banks exist (bring cash when you visit). The beach is 5 miles long and has soft powder-like sand. Any place on this cay is accessible by walking, bicycling and travelling via golf cart rentals. 
Location & Road Map, Great Guana Cay 
Right near the Ferry Dock is a popular shopping stop... the shop is named Gone Conching... they sell a good range of Bahamian handprints clothing, conch artifacts, sea glass jewelry and trinkets. 
In case you want an authentic Bahamian experience which is all about swimming and relaxing on not so crowded beaches then visiting the Great Guana Cay is a must-do activity. The beach is about 6.5 miles long making it one of the longest beaches in Bahamas. Not many people stay around here and you can get to imbibe the Bahamian way of life with plenty of local liquor options, all day pig roasts and not much of glamour. On weekends beach parties with live music and beach dancing take place. 
Orchid Bay Beach. Photo: kitchenerd, flickr, cc by-sa 2.0 
Great Guana Cay has a bar called Nippers Beach Bar & Grill which gets impossible traffic on the weekends… the bar overlooks the Atlantic. The drinks here are called Nippers…the dancing and music here makes this one a winner. The bar opens at 7 a.m. and is open till 10 p.m. …it is open on all days except Monday. Update: Nippers has been severely damaged by hurricane Dorian in September 2019 and it is not known when they will re-open. 
Other bars to check out are Blue Water Grill, Grabbers Bar etc. The Grabbers Bar and Grill is in Fishers Bay in Great Guana (you can anchor your boat here) the fish, lobster, sea food pizza and conch fritters (drinks here are called Grabbers) here are nice. The Blue Water Grill and Red Sky Lounge are a part of the posh Dolphin Beach Resort that's probably the most luxurious place to stay around here…there's an Austrian chef here who cooks up delectable dishes. 
For quieter and more rustic experiences you can go to Kidd's Cove Seafood Bar & Grill that's on the front street of Guana 'a Main Road….lobster salad and local style sushi here are nice. 
In case you want to try out boating and snorkeling you can contact Maria and Troy at
Dive Guana
(Phone: +1 (242) 365-5178; Email:
[email protected]
).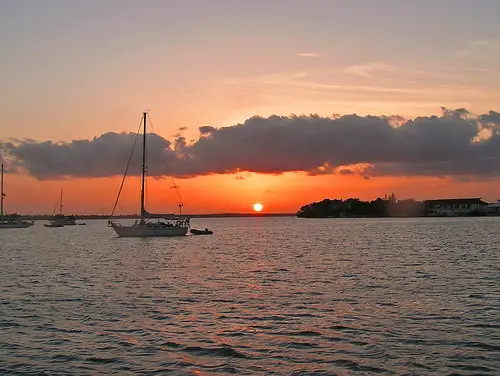 Sunset over Great Guana Cay. Photo: Killian77, flickr, cc by 2.0 
Black Tip Cove is 1.5 miles away from the settlement harbor at Great Guana Cay so that's one place you can check out too. You can visit the 3rd largest reef on the world (it's saturated with exotic marine life) that's just 100 yards away from the Cay. The west end of the island has rather photogenic ruins of an ancient mill that you can explore. 
There is also an old Anglican church here….most people here have loyalist ancestors and they still practice carpentry, fishing, farming and boat building. The houses are all painted bright and made from clapboard…the owners are remarkably friendly…they will randomly give you history lessons, boat building tours and if you are lucky…some Bahamian snacks too. 
Man-O-War Cay
Getting Here: This is a nearby small island. You can take a boat and easily visit the island from Great Guana Cay. There is a ferry service from Marsh Harbor Dock… the ride will last a good 20 minutes. Albury's Ferry runs reliable rides and leaves from a small dock which is near the Abaco Beach Resort. Update: After hurricane Dorian severely damaging the ferries in September 2019, Albury's had to stop their ferry operation and the it has been taken over by a new company The Ferry at The Crossing. 
Abaco has always been famous for boat building and Man-O-War Cay is believed to be a boat building hub. The cay is sparsely populated by residents who are descendants of the early settlers and boat builders like Billie Jo and Joe Albury. 
Albury had legendary skills in making handcrafted boats and these skills have been passed on from generation to generation. Incidentally Albury Benjamin was a sailor in 1820 who had survived shipwreck and had made Man-O-War his home…his descendants now run most of the large businesses here. 
There are many tourists who visit Joe Albury's boat studio to admire the array of model boats and dinghies. These make for nice souvenirs in case you are interested to pick up something that will remind you of the beautiful sailing vessels of Abaco. 
You can also visit Albury Brothers Boat Building Shop and Alburys Sail Shop to see the art of boat making, wood carving, dinghy sailing and creation of canvas items. Nowadays fiberglass boats have started replacing traditional wooden boats of yore. Albury's sail shop is at General Delivery Road in Man O War Cay also sells bags, hats and fashionable items made of canvas clothes. 
Norman Albury Sail Makers also make customized tote bags out of sailboat material (these aren't available online making them an Abaco specific collectible). If you want to see the boat making process first hand then stopping at the Edwin's Boat Yard is a nice idea.  
You can also check out Man-O-War Heritage Museum on the Queens Highway…this is actually an ancient wooden home built in 1800. Inside you will find old archived records about the town's history, rare photographs, artifacts and items of historical interest. It's open from 10 a.m. to 1 p.m. everyday apart from Sunday though you can call Mrs Chana Albury at 242-365-6599 to know the exact timings.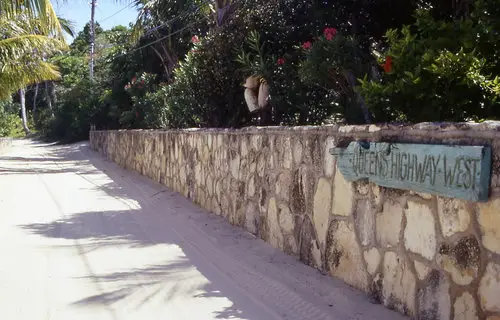 Queen's Highway. Photo: jason williamson, flickr, cc by-nc-nd 
Other places you should check out while you are visiting Man O War Cay are Hibiscus Café, and Dock N Dine. Hibiscus Café is now renamed Bradley but locals still like to refer to the old name…it's on the waterfront and it serves good salads, sandwiches, tacos and conch fritters. DocknDine is on the sea road and you will get a close look at the large yachts and boats that are anchored at the dock there. Do try the coconut crusted grouper burger with tartar sauce there. 
One point to remember here is that Man O War is a dry zone… you cannot buy alcohol here. However what you can do is to bring your bottles of beer!!! 

By Raj Bhattacharya 
Raj, a seasoned travel writer and Bermuda destination expert, has extensive global travel experience. This website reflects his profound insights, garnered over nearly two decades of dedicated findings and research on the island. Raj has assisted countless Bermuda-bound visitors by providing direct, personalized responses to their queries and imparting his wealth of knowledge through this platform. This site serves as an indispensable guide for those seeking informed and reliable insights into Bermuda's treasures. 
Related Articles
Visitors' Reviews and Comments