Famous Homes & Hideaways Boat Tour, Bermuda
This is a cruise on a 48-foot motor cruiser and is one of the most informative and highly entertaining sightseeing cruises in Bermuda. It has a licensed capacity of 75 persons. This cruise was earlier known as Consort Cruises and captained by Ronnie O'Connor. Since 2013, there has been a change in ownership although the offerings have remained more or less the same. 
It is now known as the Winsome Cruises. In my personal opinion, the quality of this specific tour 'Famous homes and hideaways' has improved a lot and has become much more interesting and entertaining since the change. This double decker boat is now captained by Jamie and assisted by his wife Tammy. While both are born and bred in Bermuda and have great knowledge about the island and its history, Tammy mostly takes the role of narrating many stories of the island and would answer virtually every question that you may have.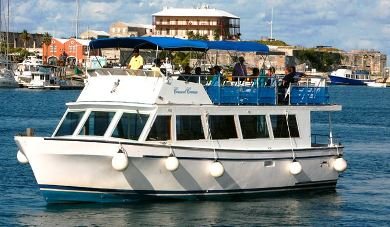 Photo: Winsome, Bermuda 
The tour lasts for 1.5 to 2 hours and provides a wealth of well researched historical information with amazing stories about the island. As you cruise along the shoreline, you will view charming colonial homes as well as exclusive neighborhoods of rich and  the famous, known as Millionaire's Row. 
The Captain will show you some of those exclusive homes, such as that of Hollywood celebrities Michael Douglas and Catherine Zeta-Jones; then that of James Martin, Pioneer of Texas Instrument. 
You will also pass by 'Chaplin Estate' in Warwick Parish (earlier known as 'Spithead')... 18th Century home of Bermudian merchant and privateer Hezekiah Frith which became the home of playwright Eugene O'Neill in 20th Century, who's daughter was married to Charlie Chaplin. 
Chaplin Estate, Bermuda 
Photo: Aodhdubh / Wikimedia Commons, cc by sa 3.0 
Other famous homes include that of illustrator William Denslow, famous for his work on the "Wizard of Oz" and lot more great mansions and landmarks of the island. You will discover tranquil island hideaways those are only accessible by boat. 
On this tour, you will also see classic Bermuda landmarks like the
Gibbs Hill Lighthouse
which is the oldest cast iron lighthouse in the Western Hemisphere. 
They also offer a 2-hour 'Mini Famous Homes and Swim' tour which is similar but additionally takes you to the wonderful and serene
Paradise Lake
. You can take a quick dip, relax on a noodle on the crystal clear water of the lake or just enjoy the beauty from the deck while having a cocktail or a soft drink. 
And the surprise entertainment continues even on your return. Captain Jamie is a great vocalist singer and performs regularly at the Hamilton Princess hotel on the week ends. He will volunteer and sing a few songs for you. 
One of the songs which he often sings (and unless he does, you must request him to do so) is "Bermuda is another world" ... a classic which was composed by the legendary Bermudian musician Hubert Smith. Sip a rum swizzle and enjoy the song as you sail by, it'll be a great memory to cherish. 
Complimentary soda and water are provided on board. Some features of Winsome Cruises boat includes spacious interior and  shaded upper deck, cash bar and Restrooms. 
Rates by Viator 
Winsome also offers sunset cruises (2 hours) as well as private charters. 
Location 
They depart from the Dockyard at the west end, i.e. Kings Wharf port area (from Island Tour Center). 
Contacts 
Phone: (441) 333-0663, (441) 335-2896 

By Raj Bhattacharya 
Raj, a seasoned travel writer and Bermuda destination expert, has extensive global travel experience. This website reflects his profound insights, garnered over nearly two decades of dedicated findings and research on the island. Raj has assisted countless Bermuda-bound visitors by providing direct, personalized responses to their queries and imparting his wealth of knowledge through this platform. This site serves as an indispensable guide for those seeking informed and reliable insights into Bermuda's treasures. 
Related Articles
Visitors' Reviews
Annette Wells (May 2014) 
We just got back from Bermuda and this cruise tour was very enjoyable.  We felt very comfortable on the boat and Tammy was personable and entertaining. We felt safe with Jamie, the captain and  Mark, the ship's owner. I highly recommend this if you have the time while visiting Bermuda. Jamie also entertained us with a few songs, as he is a performer as well as the ship's captain.