Cigars and Tobacco - Bermuda
I am not a smoker. But I understand that for Cigar aficionados, Bermuda is the place to smoke Cuban hand-rolled cigars without censure. Some great brands include Montecristo, Romeo Julieta, Trinidad, Cohiba, Partagas and Hoyo de Monterrey. Punch English Briar and Turkish Meerschaum pipes are very special in Bermuda. Cigars are expensive in Bermuda and the price could be in the range of $10 to $35 (or even higher) per cigar depending on the brand. 
Note that in 2006 a law was passed in Bermuda that prohibits smoking in any closed public places including bars, restaurants and workplaces. So when you buy cigars from a store, you can not smoke inside the store. You need to come out to an open space and smoke. 
There are numerous retail stores all across the island that sell tobacco and cigars, but they do not all necessarily specialize in tobacco and instead source it from handful of them in the island who are specialists. 
Below are some of the well known places where you can purchase Cigars and Tobacco of all types. 
Chatham House is located on Front Street (Hamilton) and an authorized distributor for cigars. It's run by the Pitt family through generations and has been a landmark in Hamilton since 1895 when it was only a small retail store. Cuban cigars has been one of their main stocks since the beginning and so are Havana, Dominican, and Jamaican cigars. Some popular brands are Cohiba, Montecristo, Partagas, Punch, Romeo Y Julieta , Hoyo de Monterrey, H. Upmann etc. They also sell tobaccos as well as smoking accessories like Briar, Meershaum, Clay pipes etc. 
The store is located about 5 minute walk from the Hamilton Ferry Terminal, turn right on Front Street as you come out of the ferry terminal. It's at the corner of Front Street and Burnaby Street. Address: 63 Front Street. Phone: (441) 292-8422; Email:
[email protected]
Churchill's is located at St. George. While it sells wine, spirits, beer, cocktails, accessories etc, it has the only walk-in humidor in Bermuda and has nice collection of Cuban cigars as well as cigar accessories. Some of the well known Cuban cigar brands stocked includes Bolivar Tubos, Cohiba Esplendidos, Guantanamerra Cristales, Montecristo, Punch Coronations, Romeo and Julieta Churchills etc. They also have cigars from USA, Costa Rico, Dominican Republic, Holland, Honduras, Jamaica, and Nicaragua. Some of the nice cigar accessories stocked includes cigar cases and cutters, lighters etc. 
Churchill's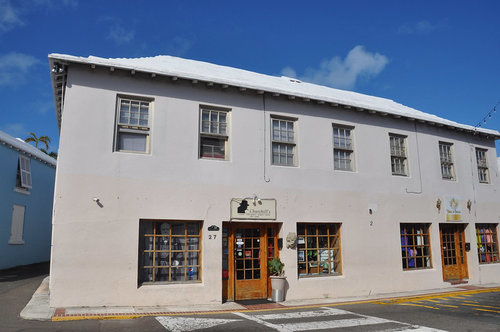 Photo: James Willamor, flickr, cc by-sa 2.0 
Open 9am to 9pm from Monday to Saturday. 
27 York Street, St. George's Bermuda 
Phone: (441) 297-1650; Mobile: (441) 799-8260 
The Matchbox 
Located at Washington Mall, Hamilton. 
They sell many different kinds of cigars and tobacco including cigarettes of various brands. 
Washington Mall, Lower, 22 Church Street. Phone: (441) 292-3000 
Humidor 
Located in Clocktower Mall at the dockyard. 
They too sell Cuban cigars. 
X Closed 
The Smoke Shop 
The store is located in Washington Mall in Hamilton City and sells almost everything related to tobacco smoking including the relatively inexpensive 'roll your own cigarettes'. They also offer hookah, tobacco pipes and electronic cigarettes as well. They stock about 25 types of Cuban and Dominican cigars. The store is open from Monday (9:30am) through Saturday (5:15pm). Phone: (441)296-2436; Email:
[email protected]

By Raj Bhattacharya 
Raj, a seasoned travel writer and Bermuda destination expert, has extensive global travel experience. This website reflects his profound insights, garnered over nearly two decades of dedicated findings and research on the island. Raj has assisted countless Bermuda-bound visitors by providing direct, personalized responses to their queries and imparting his wealth of knowledge through this platform. This site serves as an indispensable guide for those seeking informed and reliable insights into Bermuda's treasures. 
Related Articles
Visitors' Reviews and Comments
RF (July 2017) 
I recently returned from Bermuda and visited both Churchill's in St. George and Chatham House in Hamilton to find Cuban cigars. While I haven't smoked any of the ones I bought yet I can tell you that Churchill's was terrible. They have a good selection in a walk-in humidor, but many of the ones I inspected were cracked, had growths on them or dried out. Looks like a humidor issue. I walked out with 2 R&J tubos #3 for $12 each. 
The next day I visited Chatham House in Hamilton and found those same cigars for under $10.  I purchased a few different ones and the person helping me inspected each one with me, and only 1 had a slight fraying at the end and she replaced it. It's not a walk in but lots of choices and the quality seems much better. Wherever you go don't buy without closely inspecting the sticks. Prices are not cheap, so beware of what you are getting. 
Steven Contento (May 2016) 
Good Day, We will be travelling to Bermuda next week. I was hoping to purchase Cuban cigars to bring home was wanted to ask which shops were recommended and reasonable. We will be travelling to Hamilton. Your site has already been most helpful, Thank you! 
Raj (bermuda-attractions.com) May 2016 
Hi, Catham House in Hamilton is the best place to buy Cuban or any kind of cigars. It has been there since 1895. It's located at the corner of Front Street and Burnaby street (63 Front Street, at the ground floor). From the Hamilton Ferry terminal, it's about 5-minute walk towards right and across Front street. Price won't be cheap here or anywhere in Bermuda. An approximate cost of Montecristo No.2 would be $23 each, $500 for the box. As per Bermuda laws, you can't smoke indoors, not even inside the cigar store.