Bermuda Wine and Alcohol
Drinks that are special
Over the years, Bermuda has developed some of its own blends of island drinks that are distinctively different in taste from the usual and quite popular both locally and with tourists. 
Black Seal rum of Gosling Brothers is one such unique drink of Bermuda; it is dark and slightly sweeter than other Caribbean rums. The liquour merchant Gosling Brothers had set up their first shop in Bermuda in 1806 (in St. George's) and had been running the family business for over two centuries. The Front Street store in Hamilton City was opened in 1824 on rent. 
Gosling's Black Sea Rum, Bermuda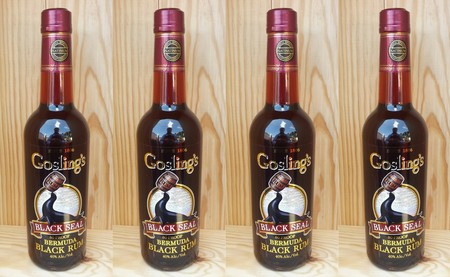 Photo: Dominic Lockyer, flickr, cc by 2.0 
Until the world war-I, they used to sell the rum directly from barrels and the locals used to bring their own bottles and filled them up for a price. Gosling kept refining the blends of rum. 
Later Goslings supplied rum in champagne bottles that were retrieved from the Army. Those days it was called "Old Rum". The bottles were sealed with cork and black wax, which finally led to the name "Black Seal". Today they are one of the largest exporters from Bermuda. The company blends and bottles the product. They of course sell other spirits and wine as well, but Black Seal rum remains their signature product enjoying huge popularity in the island. 
Gosling's Brothers Limited in Hamilton City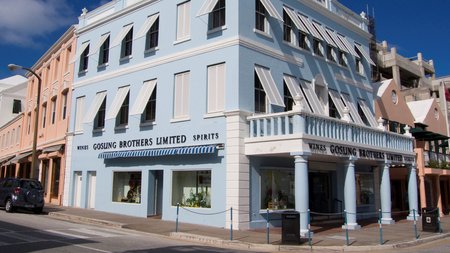 Photo: Andrew Currie, flickr, cc by 2.0 
Another popular island drink is the
Rum Swizzle
, which typically contains light or dark rum, bitters, fruit juices (lime, pineapple, orange), and a sweetener such as honey, sugar syrup, or grenadine. With crushed ice, the whole mixture is stirred by inserting a pronged stick into the pitcher and rubbing it between the palms of the hands. The
Swizzle Inn
, a very popular pub is the inventor of this drink in the island. Their exact recipe remains a secret. Rum Swizzle is so popular among locals and tourists that many other bars and pubs offer the island drink in Bermuda including
Frog and Onion Pub
in dockyard. 
Rum Swizzle at Frog and Onion Pub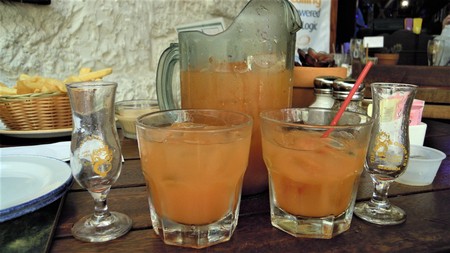 Photo: slgckgc, flickr, cc by 2.0 
Dark n' Stormy is another locally popular cocktail which combines rum with the ginger beer over ice. It is said that a sailor invented the name because he said that the drink was the color of clouds that you wouldn't want to sail towards. In both Rum Swizzle and Dark n' Stormy the rum used is the Black Seal of Gosling's. This drink is often dubbed as the 'National Drink' of Bermuda (well... I guess it's time to question why so? Even historic reasons have a span). 
Dark n' Stormy, Bermuda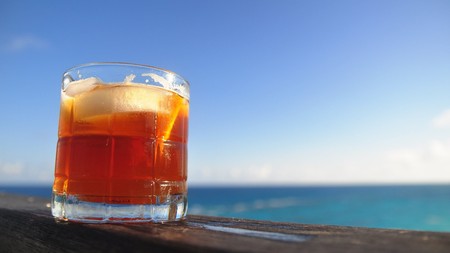 Photo: kansasphoto, flickr, cc by 2.0 
Bermuda Gold Liqueur is a great rum based punch which is produced by the Somer's Distillery. The distillery is now part of Gosling's Brothers Limited which also markets the product in Bermuda. They use loquat fruits as one of the ingredients which is grown locally and has limited supply. The liqueur is therefore available only in the island. 
Bermuda Gold Liqueur 

Photo: Goslings Limited 
Update September 2015: Gosling's famous cocktail Dark n' Stormy is now the 11th in the list of 50 best sellers of Drinks International while Rum Swizzle has also received an honorable mention. 
Update December 2012: Gosling's old rum has been chosen as the top rum in 2012 by the online newspaper Caribbean Journal. It came first within all the rum producers from Caribbean, USA, Central and South America. It mentioned "It is the most complete rum in the world — flavorful, balanced, complex, sweet but not too sweet." 
Update Feb 2012: Goslings Brothers have come out with cans of Dark n' Stormy that are now available island wide. This newly packaged drink is offered in 4-packs of 250ml/8.4oz cans containing 9% alcohol by volume (or 18% proof US). So the potency is like that of a strong beer. 
The Wine Merchants and Retailers
In Bermuda, you can get Gosling's Black Seal rum and other spirits, wine, beer in several local liquor stores, supermarkets and also at the duty free shop at the airport. Gosling Brothers have their own retail shops in Hamilton City, one on the Front Street and the other on the Dundonald Street. I purchased a bottle of Gosling's Rum from the airport. It read 151% Proof and 75% volume/volume. So you can imagine how strong the drink would be. 
Burrows Lightbourn Ltd. 
They are the largest distributor of spirits, wine and beer in Bermuda having several outlets in different places. If you like to take wine and spirits back to your home country, they can pack it for you at duty free prices and deliver it to your ship or at the airport so that you can collect it on your departure. 
Bermuda law requires that all duty free purchases in the island is collected only at the time of departure from the port or the airport. The company has their outlets at Hamilton City on East Broadway towards the eastern continuation of Front Street, Addendum Lane in Pembroke, Harbour Road at Paget, Water Street in St. George's Town and also in Sandy's Parish. Phone: (441) 295-0176. 
This is Bermuda's original brewpub where you can get freshly brewed handmade beer. It's located at Smith's Parish. Until 2006, their brewing equipment were there just behind the bar area and you could see fresh beer being brewed. However, due to space scarcity the equipment have been shifted to the
Dockyard Brewing Company
at the Royal Naval Dockyard. 
Fresh beers of different flavors are brought daily in barrels from the dockyard to North Rock Brewery which is set up like a typical English pub. The beers have different names like Whale of a Wheat, St David's Light, Somers's Amber Ale, Trunk Island Pale Ale and North Rock Porter. 
Bottled American and other European beers as well as all the popular brands of spirits are also available in most pubs and bars. You can choose from nice wine selections including reasonably priced carafe. Check out the section under Bars and Pubs in
Bermuda Nightlife
to know which are the best bars and pubs in Bermuda. 
Bermuda is the worldwide headquarters of Bacardi. A wide range of spirits such as, Bacardi 151, Bacardi Superior, Bacardi Anejo and other spirits are available at reduced prices in Bermuda. Bacardi's ofiice in Bermuda is located at 65, Pitts Bay Road, Pembroke Parish, Bermuda. Phone: 441/295-4345. 
Bermuda Wine Circle 
This is a group of wine enthusiasts of the island who have formed a virtual club. Anybody above the legal drinking age can join the group, drink wine with the members in a friendly ambience, learn a lot and eventually become a connoisseur of wine. There are regular monthly wine tasting sessions held at the Royal Hamilton Amateur Dinghy Club (located in Paget Parish, Mangroville, 26 Pomander Road). Tasting sessions are combined with fun and educational presentations from leading figures in the local wine trade. 
Apart from this, the group also holds special events like annual BBQ dinner in summer, Champagne tasting in fall and annual Christmas dinner in winter. If you like to become a member, just turn up at any of the events and sign up, or email them at
[email protected]
. 
If you prefer only non-alcoholic drinks then you can always choose a soft drink, fruit punch, or Bermudian ginger ale (much spicier than other brews of the same name). Imported mineral water is universally available, although many Bermudians find the idea of drinking bottled water strange since their own rain water is so pure. 

By Raj Bhattacharya 
Raj, a seasoned travel writer and Bermuda destination expert, has extensive global travel experience. This website reflects his profound insights, garnered over nearly two decades of dedicated findings and research on the island. Raj has assisted countless Bermuda-bound visitors by providing direct, personalized responses to their queries and imparting his wealth of knowledge through this platform. This site serves as an indispensable guide for those seeking informed and reliable insights into Bermuda's treasures. 
Related Articles
Visitors' Reviews and Comments
TJ Walczewski (January 2012) 
Hi, I have been to Bermuda 5 times, and have loved every trip. I was wondering if there is a way to get an item made in Bermuda shipped to the USA. It is Bermuda Gold Liqueur. Thank you, 
Raj (bermuda-attractions.com) January 2012 
Hi, Bermuda Gold Liqueur is sold only in Bermuda and is not available elsewhere, neither shipped to any country outside Bermuda. While returning from Bermuda, visitors can buy bottles from the duty free shop at the airport or from the cruise ship. Beyond 1 liter there is a duty applicable on each additional bottle. 
There is a small miniature bottle of Bermuda Gold Liqueur along with a mini model of a Bermuda Policeman available at the ebay. It's more like a souvenir. Currently it costs $25 plus shipping charges. Regards, 
Raj (bermuda-attractions.com) 
[...I had subsequently written the following note to Outerbridge Peppers Ltd. which was owned by Mr. Outerbridge who also owned the Somers Distillery.] 
Hi, Can you kindly let me know if Bermuda Gold Liqueur can be imported to the United States from Bermuda and what may be the process. I am writing this question to you as I read that Mr. Yeaton Duval Outerbridge was the founder of Somers Distillers that produces the liqueur. If I have directed the question wrongly, I apologize. Thank you for any help. 
[...I got the following reply] 
Hi, Sorry but Somers Distillers was sold by Mr. Outerbridge many years ago. I believe Gosling Brothers in Bermuda are now the distributors. 
[...So I wrote a similar note to Gosling Brothers who replied] 
Dear Raj, Thank you for your email. Gosling's Bermuda Gold Liqueur is made in Bermuda for the local market only and unfortunately we are prohibited from shipping alcohol via courier service overseas. I would be happy to keep your email on file and notify you should we start exporting this product to the USA. I'm sorry we could not help you on this occasion. 
Kind regards, 
Claire L. Terceira, BA (Hons) 
Export Manager, GOSLING'S EXPORT (BERMUDA) LIMITED