Dockyard Brewing Company Bermuda
Dockyard Brewing Company makes beer and is a joint venture between the
North Rock Brewing Company
located at Smith's Parish and the
Frog and Onion Pub
in Dockyard. Originally the brewing operation was owned by North Rock and housed in their brewpub in Smith's parish. However they started to run out of storage space for both raw material and the finished products. They moved some of the brewing equipment from the bar area to the patio. They out grew that space too. 
In 2006, they formed a joint venture with Frog and Onion pub located at Royal Naval Dockyard. Frog and Onion was one of their biggest offsite customers for beer. They had all the space that was required for such brewing operation that was growing fast with increasing demand for handcrafted fresh draught beer. Since then, the brewing operation is located in the dockyard at the Frog and Onion pub premises and operating under the name of Dockyard Brewing Company. 
Dockyard Brewery, Bermuda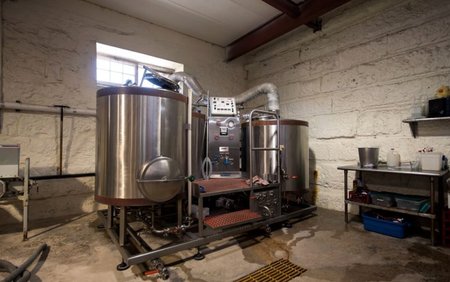 Photo: Dockyard Brewing Company 
The brewery at the dockyard has a 7 barrel, steam fired brew-house manufactured in Prince Edward Island, Canada by DME Brewing Services. North Rock originally started with a 3-barrel unit that had soon grown out of capacity. A barrel by the way is a commonly used unit in the brewing industry and equals 33.3 US gallons. 
At present the Dockyard Brewery produces around 550 barrels per year. There are five different types of beer produced here. Here are those: 
A Whale of a Wheat 
This is a light a refreshing ale and prepared using wheat and barley malt. It's brewed using German hops and served with lemon slice.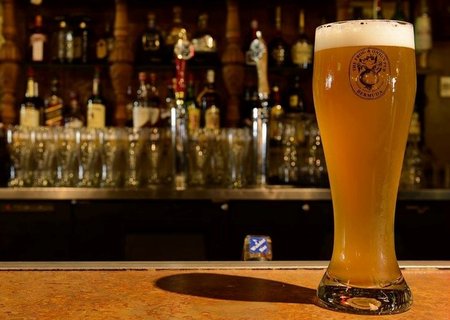 Photo: Dockyard Brewing Company 
St David's Light 
This light straw colored beer goes well with light meals. It's brewed with European hops and has a dry finish. 
Somer`s Amber Ale 
This is one of our favorites from the Dockyard Brewery. This copper colored beer is named after Bermuda's founder Sir George Somers. It tastes like a traditional English Bitter. Goes well with meat and other pub food. 
Trunk Island Pale Ale 
This beer is also known as IPA and has a sharp bitter finish. 
Black Anchor Porter 
This is a rich dark ale and a classic London Porter. It's a full bodied and medium hopped beer, and goes well with meats and other pub fares. 
You get full range of all these ales both in North Rock Brewing Co. in Smith's parish and in Frog and Onion Pub at the dockyard. Another place where you will get it is in
Swizzle Inn
. 
The beer is served in three sizes - 16oz growler, 23oz pilsner or 50oz Big Ben. 
Beer Tasting and Tour of Dockyard Brewery
The dockyard brewery conducts a brew master led tour of the brewery. It includes a 5 course meal along with beer tasting. A typical menu includes: 
1) Pretzel Crusted Goat Cheese mixed greens, honey mustard paired with Whale of a Wheat 
2) Grilled Westover Farms Sausage paired with St Davids Light Lager 
3) Srirachi Spiced Prawns paired with Trunk Island Indian Pale Ale 
4) Frog and Onion Battered Cod paired with Somer's Amber Ale 
5) Mini Short Rib Pot Pie with Black Anchor Porter 
The tour cost is $75 per person. You can walk into Frog and Onion pub in dockyard and book the tour, or alternatively place a booking request from their website. 
Location and Contact
The Frog and Onion Pub 
The Cooperage, Royal Naval Dockyard, Sandy's Parish.  
Phone: 441/234-2900 
You can reach by Bus #7 or 8 (operating between Hamilton City and Dockyard), or take Blue Route Ferry from Hamilton for dockyard ferry dock. 

By Raj Bhattacharya 
Raj, a seasoned travel writer and Bermuda destination expert, has extensive global travel experience. This website reflects his profound insights, garnered over nearly two decades of dedicated findings and research on the island. Raj has assisted countless Bermuda-bound visitors by providing direct, personalized responses to their queries and imparting his wealth of knowledge through this platform. This site serves as an indispensable guide for those seeking informed and reliable insights into Bermuda's treasures. 
Related Articles
1) Check out
North Rock Brewing Co.
to know about the first and only brewpub in Bermuda that originally owned this brewing operation. 
2) Check out
Frog and Onion Pub
to know about this great pub and restaurant in dockyard where the brewing equipment are now housed. 
Visitors' Reviews and Comments
Share your experience.