Swizzle Inn Bermuda Pub & Restaurant
$$, British &  Bermudian 
Located at the Bailey's bay near
Crystal Caves
, Swizzle Inn Bermuda is the oldest pub in the island, opened in 1932 and set up in a 17th century roadside house. It is run by the Correia family through generations. Swizzle Inn is known to have created island's famous drink,
The Rum Swizzle
. It's a mix of Goslings Black Seal  Rum, Gold Rum, orange & pineapple juices, and bitters. I found Rum Swizzle fairly strong, however noticed the islanders taking pitcher full of this drink :-) 
The restaurant here offers British and Bermudian dishes. As you enter Swizzle Inn, there are thousands of business cards and graffiti pasted all over the walls. It's customary to leave your business card or scribble your name on the pub's colorful walls. The furniture in the pub have a rustic look. The guest book dates back from 1942. 
The Bermudian magazine rated the swizzleburger, a bacon cheese burger made at Swizzle Inn, as the best in Bermuda. Serving primarily pub fares, some of the freshly prepared favorites include fish & chips, conch fritters, shepherd's pie etc. These items are a notch above typical Bermudian pub grub. 
Swizzle Inn Bermuda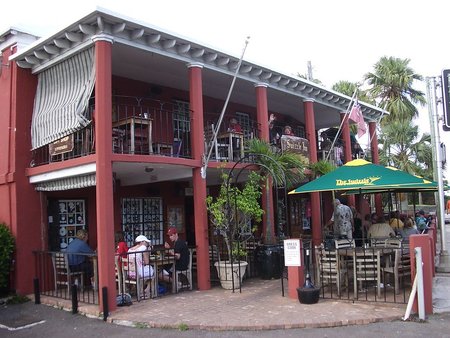 The Bailey's Bay Fish Sandwich and onion rings at Swizzle Inn are excellent and served during lunch time. The fish sandwich having a large portion is made of white toasts stuffed with battered local fish fillet, melted cheese, tartar sauce, lettuce and tomato.  
There are more varieties of food served during dinner though. You get the seafood medley (rockfish, mussels, and shrimp in marinara sauce), catch of the day, and some tasty Asian curries. Barbecues with ribs, steaks, and seafood are prepared on every Friday and Saturday. 
There are regular nighttime entertainment in the pub including live bands and trivia nights. There are special parties and celebrations held on St. Patrick's Day and Thanksgiving Day. The on-site gift and souvenir shop Swagger Out Gift Shop is quite popular with both visitors and locals. You can also buy all these items through the pub's website. 
They accept credit cards. Reservations are not required and accepted only for a party of 8 or more. A sister restaurant,
Swizzle Inn South Shore
is now open in Warwick parish on the South Road and convenient for the visitors to the south shore beaches. 
Indicative Prices 
Soups & Salads: $7-$11, Appetizers: $14-$17, Main Courses: $17 - $30 
Pub fares are priced between $9 to $17. 
Open Hours 
Open daily from 11am-11:30pm 
Location and Contact 
3 Blue Hole Hill, Bailey's Bay, Hamilton Parish.  
Bus Route: #1, 3, 10, 11 (operating between Hamilton City and St George). From dockyard take a ferry to Hamilton and then catch a bus. 
Road Map 
Raj Bhattacharya
Raj is an avid traveler and a full-time travel blogger. He has traveled to numerous countries across the world and loves to keep travelling. His mission here is to help viewers like you visiting Bermuda or seeking insights into related matters with the most comprehensive content compared to any other online resources. Since years now he has been helping countless viewers by posting quality articles on this website, answering questions and sharing experiences. Launched in 2008, this website is Bermuda's leading source of online information since many years. 
Related Articles
2) Check out
Top Cheap Restaurants
to know about the inexpensive dining choices in Bermuda that serve great dishes and are quite popular in the island. 
5) Check out
Hamilton Parish
to know all about the place including the attractions, hotels, activities, maps and more. 
Visitors' Reviews & Comments
Review and share your experience.