Swizzle Inn Pub & Restaurant, Bermuda
$$, British and  Bermudian 
The Restaurant and Ambience
Located at the Bailey's bay near
Crystal Caves
, Swizzle Inn is the oldest pub in the island, opened in 1932 and set up in a 17th century roadside house. It is run by the Correia family through generations. Swizzle Inn is known to have created island's famous drink,
The Rum Swizzle
. It's a mix of Goslings Black Seal  Rum, Gold Rum, orange and pineapple juices, and bitters. I found Rum Swizzle fairly strong, however noticed the islanders taking pitcher full of this drink :-) 
The crowd is a good mix of both locals and tourists at this very classic Bermuda style eatery with an eclectic decor. Some locals come here to watch the soccer game which they enjoy with a nice drink, lending the place a very neighborhood camaraderie. They also have a private room upstairs which can be booked to hold a private group dinner etc. 
Swizzle Inn Bermuda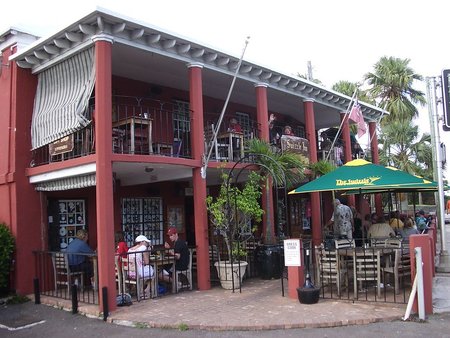 Photo: djLicious, flickr, cc by 2.0 
The outlet has a certain charm and makes for a perfect stop owing its proximity to the famous
Crystal and Fantasy Caves
and on the way to the airport. There is both an indoor and an outdoor seating area here. Outside seating is available on both floors. Sitting on the patio is especially nice as you watch the passersby and the street below while enjoying a great meal. 
As you enter Swizzle Inn, there are thousands of business cards and graffiti pasted all over the walls. It's customary to leave your business card or scribble your name on the pub's colorful walls. The furniture in the pub have a rustic look. The guest book dates back from 1942. 
Food and Drinks
The restaurant here offers British and Bermudian dishes. The Bermudian magazine rated the swizzleburger, a bacon cheese burger made at Swizzle Inn, as the best in Bermuda. Besides that, it is a fun place for some great island drinks and a decent menu. Serving primarily pub fares, some of the freshly prepared favorites include fish and chips, conch fritters, shepherd's pie etc. These items are a notch above typical Bermudian pub grub. 
Chili Nachos 
The Wahoo nuggets are fresh and taste exceptional. They also serve good burgers, pasta, pizza, great buffalo wings and some delicious chicken tenders with the perfect amount of tender crispness. The Swizzle Burger Pizza is worth a try and the nachos are quite renowned here as well. 
The Bailey's Bay Fish Sandwich and onion rings at Swizzle Inn are excellent and served during lunch time. The Onion rings are light and tasty and the fish sandwich having a large portion is made of white toasts stuffed with battered local fish fillet, melted cheese, tartar sauce, lettuce and tomato. You can also start off with teriyaki wings or a wahoo sandwich  with spicy cole slaw on top or even a Teriyaki burger with grilled pineapple on top. It is extremely juicy and flavorful. The Bermuda fish chowder served here is amazing too. 
There are more varieties of food served during dinner though. You get the seafood medley (rockfish, mussels, and shrimp in marinara sauce), catch of the day, and some tasty Asian curries. Barbecues with ribs, steaks, and seafood are prepared on every Friday and Saturday. 
Beef Bone Ribs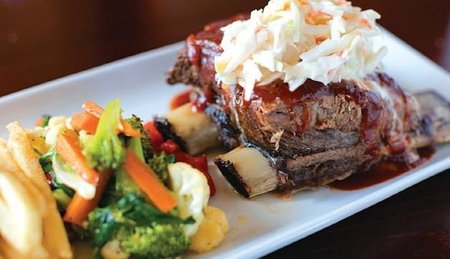 If you are into festive drinks, do not miss out on the mango daiquiris. They are really well made here. Apart from the regular rum swizzle, which some might find a tad too sour, they also serve the Frozen swizzle which is slightly sweeter than the former. However, no matter what, it is actually fun having a Swizzle at the venue where it was arguably conceived. 
They serve breakfast on Saturday and Sunday and the Pub Breakfast is a great option. We also had the Bermy Benedict which was incredible. Planning a breakfast at the inn is highly recommended and definitely worth your while. They have nightly dinner specials too. 
Hearty breakfast at Swizzle Inn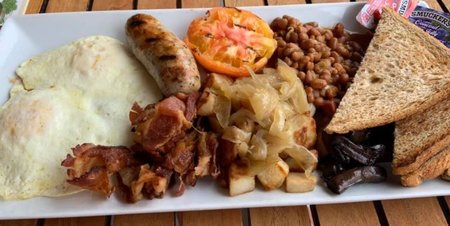 The red velvet cheesecake is a lovely choice in desserts. It is delicious and moist and is great with some Espresso Martinis on the side. Choices in their desserts menu are very few though. 
Service
The management as well as the wait staff here are helpful and friendly. They are very efficient and can handle your gluten free/ vegan/ food allergy/ vegetarian requirements with a flair. You can be sure to be greeted warmly by all the staff here.  
Trivia
There are regular nighttime entertainment in the pub including live bands and trivia nights. There are special parties and celebrations held on St. Patrick's Day and Thanksgiving Day. The on-site gift and souvenir shop Swagger Out Gift Shop is quite popular with both visitors and locals. You can also buy all these items through the pub's website.November through March live entertainment is very limited and you can call beforehand to know what is on.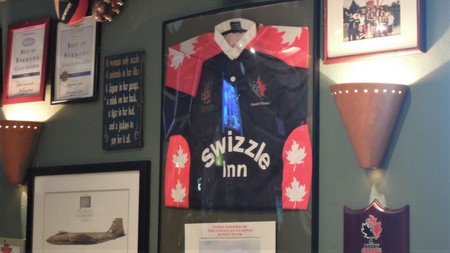 Photo:  slgckgc, flickr 
They have live music on Friday nights (April through October) and other fun events during the week. Prices seem reasonable for the amount of food you get and are less than most hotel-owned restaurants. The inside of the restaurant is air conditioned. The place can get really loud, so if you are looking at sharing a quiet intimate meal, this might not be your place. 
They accept credit cards. Reservations are not required and accepted only for a party of 8 or more. A sister restaurant,
Swizzle Inn South Shore
opened in Warwick on the South Road and convenient for the visitors to the south shore beaches. Update: Swizzle Inn in Warwick closed down in May 2020. 
Conclusion
This is a great place to sit back, relax and eat either indoors or out on the patio. The pub style ambience at this Bermuda staple adds to the charm and allure of the place. A classic place to have both local and comfort food along with the island's signature drink by the glass or a pitcher, they absolutely deserve the credo they so understandably use- Swizzle Inn and Swagger Out ! 
Indicative Prices
Finger Foods: $8-$14, Sandwich and Burger: $16-$19, Soups, salads and starters: $8-$19 
Main courses: $15-$31 
Desserts: $9-$10 
Breakfast: $10-$17 
Cocktails: $12, Wines by the glass: $7-$13, Beer and Cider: $6-$11 
Open Hours
Open daily from 11am-11:30pm. 
Breakfast: Saturday and Sunday 11am-3pm 
Location and Contact
3 Blue Hole Hill, Bailey's Bay, Hamilton Parish.  
Bus Route: #1, 3, 10, 11 (operating between Hamilton City and St George). From dockyard take a ferry to Hamilton and then catch a bus. 
Road Map 
Related Articles
2) Check out
Top Cheap Restaurants
to know about the inexpensive dining choices in Bermuda that serve great dishes and are quite popular in the island. 
5) Check out
Hamilton Parish
to know all about the place including the attractions, hotels, activities, maps and more. 
Visitors' Reviews and Comments
Review and share your experience.