Frog & Onion Pub Bermuda
$$, British Cuisine 
After a whole day's tour in the Kings Wharf dockyard, this is where my family and I spend a couple of hours for an early dinner and let our son get some entertainment of his own. Frog & Onion is just not a pub and restaurant, it has many other offerings like a games room, a gift store, pool table, pub quiz and such. 
So if you are docked in Kings Wharf or have come to visit the dockyard, this is a great place to unwind and have some good food & drinks. This huge British style pub is located inside the dockyard complex. The Frog & Onion was opened in 1992 by a Bermudian (The Onion as Bermudians are also known as
Onions
) and a Frenchman (The Frog). But this historic building was earlier used for a different purpose altogether. It was a cooperage, a workshop that built, repaired and dismantled barrels, casks and kegs.  
In the early days, almost all provisions had to be packaged in barrels or casks so they could be moved, loaded and stored in cargo ships. The cooperage space and adjacent yard were converted into five storehouses in the 1940s. Today they are all part of the Frog & Onion pub and restaurant. A huge stone fireplace which once used to be a forge is now the center piece of Cooper's Room (a dining area).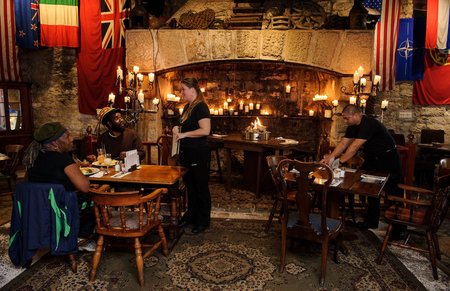 Other than the Cooper's Room, there are three other dining areas in Frog and Onion - The Admiral's Room is mainly used for private parties. Outside, there are two sitting areas, the Bear Garden and the Victualling Patio. The patio (like an atrium of the pub) is a sunlight covered area just outside of the main entrance. This area provides an open air atmosphere complete with Bermuda's green foliage. This area also has full service from the bar & restaurant.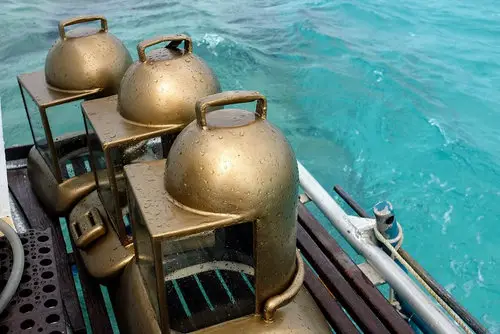 The Front Bar area of The Frog & Onion Pub is one of the largest bars in Bermuda. The full pub capacity is 200 persons. The area is based on a marine theme with a sailboat mast and boom in the center of the room. You can watch sports channels on large screen TVs. 
They have an onsite brewery know as
The Dockyard Brewing Company
which produces five different types of draught beer. This is where you can take a brew tour along with dine and beer tasting. 
The food at Frog & Onion is typical English style pub fares. Some of such food includes Bangers & Mash (sausage & mashed potato with sauce), Cornish pastie, Fish n Chips etc. 
You also get several innovative dishes and seafood. Soups like Bermuda fish chowder served with Outerbridge's sherry-rum peppers is one of our favorites here. You also get Onion's soup with Cheddar Cheese. Some of the great starters include Jumbo shrimp served with a spicy horseradish cocktail sauce; Tender rings of crispy fried calamari with plum tomato and garlic dipping sauce; Yellow Fin Tuna sashimi with soy sauce and wasabi, and such. We really liked the Fish n' chips as well as the sea food sandwiches. 
Some other great options are: Pan fried Grouper with fried banana, fresh seasonal vegetables and potato choice; or the Marinated jumbo shrimp, skewered, served on Spanish rice with fresh seasonal vegetables and garlic butter sauce. 
They also have a kid's menu with some fun mocktails for kids each named in keeping with the spirit of the outlet- Cool Island Frog, Pink Princess Frog, Happy tadpole etc. The menu also has kids' pizza and burgers, pasta, chicken tenders, fish n chips etc. ... 
The Ballast Gift Shop, a nice little store right in the pub area has lovely little things that you can pick up as souvenir. It has everything from T-shirts for adults and children, to mouse-pads and hats with Frog & Onion logos on them. The games room in the Frog and Onion not only has a wide range of arcade games, it is one of the few places in Bermuda which has pool tables. 
Another unique offering of Frog & Onion is the Pub Quiz which is held every Tuesday night. The quiz master Paul is supported by his wife and able assistant Judith who is also the co-writer of the quiz. They present the quiz in a unique style. This is one of the very few pub/bar quizzes held in the island these days. On Monday nights (9pm until midnight), there is live music. 
Dress code in the pub is smart casual. They accept credit cards 
Indicative Prices 
Soups & Salads: $8-$16, Appetizers/Starters: $10-$13, Main Courses: $22 to $33. 
Pub fares like Fish n' Chips, burgers etc range from $16 to $24. 
Open Hours (in season) 
Lunch: 11:30 to 17:30/ Dinner: 17:30 to 21:30 
Bar is open daily from 11:30am to midnight. 
(Note: During winter Dec-Feb, Frog & Onion usually remains closed on Mondays) 
Location and Contacts 
Frog & Onion Pub Bermuda 
The Cooperage, Royal Naval Dockyard, Sandy's Parish.  
You can reach by Bus #7 or 8, or by Ferry from City of Hamilton. 
Road Map 
Raj Bhattacharya
Raj is an avid traveler and a full-time travel blogger. He has traveled to numerous countries across the world and loves to keep travelling. His mission here is to help viewers like you visiting Bermuda or seeking insights into related matters with the most comprehensive content. Since years now he has been helping countless viewers by posting quality articles on this website, answering questions and sharing experiences. Launched in 2008, this website is Bermuda's leading source of online information since many years. 
Related Articles
2) Check out
Top Cheap Restaurants
to know about the inexpensive dining choices in Bermuda that serve great dishes and are quite popular in the island. 
4) Check out
Restaurants in Sandys
know about all the great restaurants & bars in and around Southampton parish. 
6) Check out
Sandys Parish
to know about the parish including all its attractions, activities, hotels and other information. 
Visitors' Reviews & Comments
Review and share your experience.