Pickled Onion Bermuda
$$, Bermudian and International Cuisine 
The Restaurant andáAmbience
Pickled Onion is one of our favorite restaurants both for the great international dishes it serves, as well as for the lovely view of the
Hamilton Harbor
from its balcony. Located on Front Street in Hamilton City, Pickled Onion is a popular place for both locals and tourists. 
This mid-range yet casual restaurant has a retro modern look, with lots of warm wood and 1950 style furniture and lighting giving it a classy yet urban look. 
The Pickled Onion restaurant opened in 1998, although the building dates back to 1800s. There have been many establishments that had come up here and gone with time. Initially it was occupied by wine and spirit merchants. In 1940 it became the 21 Club, a men only club which was essentially meant for elite personalities in the island. In 1960s it became Ye Olde Ck and Feather pub andárestaurant which became well known for its lively bar. 
The Pickled Onion Bermuda Imagery 
Then it was the turn for Pickled Onion in 1998 which is still going very strong. In 2007 it had completed a major renovation of the restaurant to give it an urban yet elegant look. After the completion of its third full renovation, the restaurant exudes great vibe while serving some of the island's most delectable fares. Their Rockfish Tacos, Bowtie Chicken pasta, Fire grilled Wahoo and Bermuda fish chowder are consistently excellent and very popular. 
Inside Dining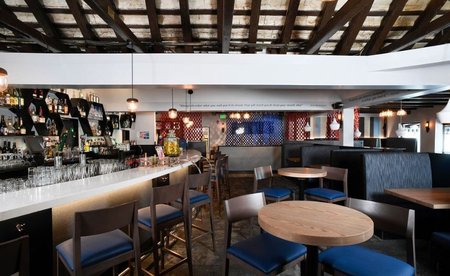 If you happen to be in Bermuda on a Wednesday and between May to October, dining in Pickled Onion can be of special treat. Wednesday night between May to September is the
Harbor Night
. The Front Street is closed out to motor traffic in the evening. With lighting, street performers and vendors of varied types, it becomes like a night long festival on the Front Street. The balcony view of the street with the backdrop of the harbor and combined with a drink can be a special experience at Pickled Onion. This is something we would never miss out, if we are on the island on that day. 
Harbor Night view from balcony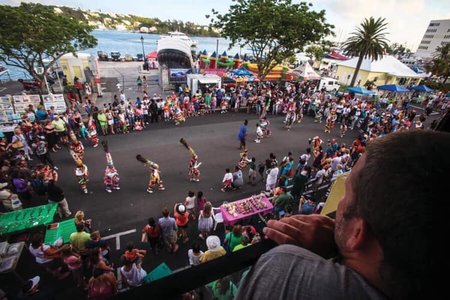 Photo: Pickled Onion 
Food andáDrinks
The Pickled Onion has been well known for its creative and contemporary international cuisine. The Angus beef preparations here are unmatched, all cut and trimmed in-house, and grilled to perfection. Itĺs cooked to your specifications, and accompanied by steak-cut potatoes and peppercorn sauce. 
Try out the slow roasted prime rib, or New York steak, or Filet Mignon. Menu is quite comprehensive. Some of the other favorite choices here are flame-seared tuna, dressed with avocado, tomato, and cilantro salsa, or the Roasted Snapper served with Basmati rice. Fish here, for that matter, in any form is great- be it the chowder, fried fish, sandwich, tacos etc. 
Photo: Pickled Onion 
The menu is robust and very varied and they also have a good bar/pub style food to match the venue. They serve several snack items like wahoo burgers, pizza sticks, egg rolls etc. The calamari, steamed mussels and scallops are all delicious. 
For dinner we had the wonderful combination of the Filet Mignon served with truffle and cheddar, double baked potato, honey sage carrots and herb butter. Our table also had the lamb, kobe beef stir fry and the spicy tuna... all prepared flawlessly and were flavorful. You can also go for the salads along with a drink. The Goat cheese and the spinach salads need special mention. There are plenty of vegetarian options too. 
Sunday brunch is quite popular here. They use organic fresh eggs from Wadson's farm. For brunch, go for the Hearty Steak andáEggs, or Eggs Benedict. The lunch menu and Sunday brunch menu have great choices. The Thai hot pot is scrumptious and so is the avocado toast with bacon and egg. 
They also make excellent thin crust pizza which is served áhot and crispy. Portions are great and the food is quite filling. The chicken pasta, fish tacos, turkey avocado sandwich are just a few names that are always good and beautifully made. The wahoo sliders and dry rub ribs are fantastic too. Goes wonderfully well with the local Dockyards Hefeweizen and Classic Bermuda Rum Swizzle. 
Desserts are all made fresh in house. For dessert, Melanie's Bermuda banana bread with bruleed bananas are our favorites. You can even try the guava and cheese spring rolls with dulce de leche sauce which is delicious. 
The long frost colored bar is well stocked. The stools along the bar counter are usually the favorite seating places for the locals. 
Fresh draft beer locally brewed by the Dockyard Brewing Company is now available at Pickled Onion. You won't have to go all the way to the Frog andáOnion Pub in the dockyard to get the freshly brewed local beer. They are now available in Hamilton both in Hog Penny and Pickled Onion. Several different types of beers are served. Try the Brew Sampler which offers five of their best, brewed in-house by their own brew master. There are also several types of ales, lagers, pale ales, all made in Bermuda. Cocktails are great too. The bartender here is wonderful, gives great service and makes you feel very welcome. 
Service
We found the service here quite friendly and competent. On a busy day also, you will find the service here professional and quick. They can give you great advice on the menu and even engage in some delightful conversation. 
Trivia
During the high season, there is a live band entertainment almost all seven nights of the week. You will find DJ Siid James or the band Graffiti Park in action. Prices are mid range but you will get a fair value for money. There is no elevator to take you to the second floor. So it is difficult to access in a wheelchair or with children in strollers. 
Make reservations before visiting as they tend to get very busy (especially on Harbor Nights). However, no booking is needed if you are early enough. The indoor dining room is air conditioned. They accept credit cards. Reservation is recommended on the weekends. Dress code is smart casual. 
Conclusion
Enjoy wonderful food, hospitality and a great view of the Front Street bustle and the shimmering harbor from a table by the window at The Pickled Onion. Stop here for a bottle of cold beer and a quick bite on a humid day or for a relaxed evening on a quiet night or even on when the place really rocks with live music by amazing artists and a vibrant scene at the swanky bar. Definitely a place to stop and enjoy. 
Indicative Prices
Lunch 
Appetizers: $9-$17, Soups andáSalads $9 to $21 
Burgers/sandwiches/wraps: $17-$22 
Main courses : $20 to $31.  
Dinner  
Appetizers: $13-$19, Soups andáSalads: $9-$15 
Steaks: $33-$41, Main course: $21-$37 
Desserts: $10, Special coffees: $5-$10 
Brunch: $18-$27 
Open Hours
Open daily  
Lunch: 11:30am to 5pm; Dinner: 5:30pm to 10pm 
Sunday Brunch: 11am to 3pm. 
Bar: 11am - 1am (extended to 2am for Friday andáSaturday) 
Location andáContact
53 Front Street, Hamilton City, Pembroke Parish. 
Bus routes: #1, 2, 10, 11. While coming from dockyard, take a ferry for Hamilton and then walk across. Check out
Hamilton Dining Map
to see the location of this restaurant and others nearby. 
Road Map 
Related Articles
2) Check out
Top Cheap Restaurants
to know about the inexpensive dining choices in Bermuda that serve great dishes and are quite popular in the island. 
Visitors' Reviews andáComments
Review and share your experience.