Harbour Nights in Hamilton Bermuda
About Harbor Nights
Harbor night celebration takes place on every Wednesday during the high season (usually May through September) on Front Street of Hamilton Bermuda. 
So what is Harbor Nights? This is the longest running street festival in Bermuda and the largest. The
Front Street
in Hamilton gets closed to all vehicles after sunset. The shops and the restaurants remain open till late at night. 
And the street comes alive with sparkling lights and music. Large number of vendors wearing colorful dresses sell various kinds of local arts and crafts. Many of them will be the local artists themselves who are generally willing to chat with you and explain their artwork. 
There are also a number of food sellers selling different kinds of food - both Bermudian and ethnic. And then comes the
Gombey dancers
with their lively music and rhythmic drumming. They are huge crowd pullers. 
It's a great experience even if you just take a stroll along Front Street and enjoy the ambience of the Harbor nights. People mix freely and talk to each other. This is a great family event and gives a wonderful insight into Bermudian culture. 
If you plan to take your dinner in Hamilton on Harbor Night, make reservations and come early. Choose a restaurant with a balcony facing the Front Street and the harbor. You will watch the whole festive world below on the street with a backdrop of the beautifully illuminated harbor. 
Harbor Night (Gombey Dance) from restaurant balcony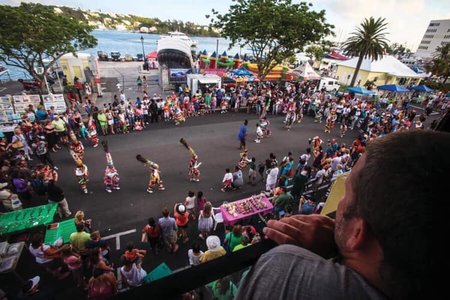 Photo: Pickled Onion. Bermuda 
Dining experience can't get any better than this. We just love it. Some of the best restaurants and bars on Front Street that have balcony views include The Pickled Onion, Barracuda Grill, Hog Penny Pub, Flanagans, etc. 
So Harbor Nights at Hamilton Bermuda essentially features: 
On-street celebrations from 7 to 10 p.m.  
Shops are generally open until 9:00 p.m.  
You get to see Bermuda's local Arts and Crafts  
Live Music and Entertainment 
Open on-street food court set up by local vendors 
Lots of activities for Children in the Children's Court, including fun castles in all sizes, the ever-popular train, face painting, tattoos and hair braiding.  
You can see the Bermuda Regiment band, which marches down Front Street in full regimental apparel with pipes and drums. And of course one of the biggest attractions is the performances by the Gombeys troupes. 
Harbor Nights is organized through joint efforts of Bermuda Chamber of Commerce, Bermuda Tourism Authority, the Corporation of Hamilton, and the Department of Community and Cultural Affairs. 
Harbor Nights 2023: Schedule, Venue and Highlights
Bermuda Chamber of Commerce has announced the schedule for 2023 Harbor Nights. 
Commences on May 24 and ends on August 30, 2023 (Every Wednesday, Time: 7pm to 10pm ADT) 
Venue: Front Street, Hamilton City. 
Entry: Free 
Highlights of this year includes a dedicated Kids' Zone, Gombeys performances, live entertainment, great treats from local vendors, and local art & crafts. 
For further information, contact Bermuda Chamber of Commerce: 
How to reach Harbor Nights venue
From Royal Naval Dockyard (Kings Wharf port), you can take the ferry to Hamilton (takes 20 minutes). On Harbor Nights, the last ferry from Hamilton to Dockyard is usually at 10:30pm. Check out
Ferry Schedule
to know about the current ferry timings. 
You can also get buses from the Central Bus Terminal at Hamilton (near City Hall) to get back to Dockyard (takes about an hour). There is a bus (#8) that leaves Hamilton at 10:30pm for dockyard. 
From St George, you can take a bus (#10, 11) to reach Hamilton in about an hour. You will get a bus back to St George after the event is over. 
Other than pass, you can use token ($4.50), cash in exact change ($5.00) or a ticket from a pack of 15 (pack costs $37.50) in both buses and ferries to reach Hamilton from dockyard. Same fare to return. Ample taxis are also available. 
Previous Harbor Nights
Update 2022: Apart from the regular fanfare of Harbor Nights including live entertainment, food & craft, etc, the last night of the event (August 31) featured the appearance of the Hamilton Town Crier Ed Christopher, Gombeys, and live performances organized by the Department of Culture. The street was packed with vendors, artists and artisans. 
Update 2021: Harbor nights was back again. The event was held between July 14 to August 25, 2021 on Front Street every Wednesday from 7pm to 10pm. 
Update 2020: The event has been cancelled due to Covid Pandemic. 
Update 2016: 24th Annual Harbor Nights is scheduled between May 4 to August 31, 2016 on every Wednesday. As usual, Front Street in Hamilton will be the main venue to host the longest running festival of Bermuda. 
Update 2015: While Harbor Night has ended this year, another Wednesday event called 'October Lights' will replace Harbor Nights and would run through October on Front Street. It's portrayed as the magical version of Harbor Nights with lots of light related activities plus many arts and crafts display, unique gift items, food and activities for kids etc.  
Update May 2015: This year Harbor Nights is scheduled between June 3 - September 2, 2015 (7pm to 10pm). Additional ferries beyond normal hours will be provided for visitors returning to dockyard. 
Update 2014: Harbor Nights is scheduled from May 7 to September 3, 2014, on every Wednesday from 7pm to 10pm. This is the 22nd anniversary of the event. Additional ferries will leave Hamilton ferry terminal for dockyard on Wednesdays at 9:30pm, 10pm and 10:30pm. 
Update 2013: Harbor Nights is scheduled to start on Wednesday May 1, 2013 and will run until Wednesday August 28, 2013. This year the route or the area for the event has been expanded. Apart from Front Street, it will also include Reid and Queen Streets. Vendors will set up stalls on all these three streets which will be made pedestrian only zone after sunset. Another addition is cultural entertainment programs almost along the entire route. 
Update 2012: This is the  20th anniversary of Harbor Nights in Bermuda and the organizers plan to hold the event this year for 20 consecutive weeks starting from April 25th and plan to make it larger than ever. So the last Harbor Night this year takes place on September 9, 2012 as per schedule unless the organizers extend it based on demand (which has happened in the past). 

By Raj Bhattacharya 
Raj, a seasoned travel writer and Bermuda destination expert, has extensive global travel experience. This website reflects his profound insights, garnered over nearly two decades of dedicated findings and research on the island. Raj has assisted countless Bermuda-bound visitors by providing direct, personalized responses to their queries and imparting his wealth of knowledge through this platform. This site serves as an indispensable guide for those seeking informed and reliable insights into Bermuda's treasures. 
Related Articles
1) Check out
Bermuda Events
for all the main events and festivals in Bermuda 
Visitors' Reviews and Comments
Maya (December 2017)  
Harbor night is amazing... they have Gombeys and a lot of events... all of the amazing lights and music and fun castles for kids. The stores are even open until like 9:30pm, it is on front street. If you go I bet you, you will have a lot of fun and if you have kids they will have a lot of fun. It starts at 7:00pm to 10:00pm. It is amazing 
Alexis Nye (September 2015) 
We are due to arrive on our cruise next week, Sept 30,2015. Has Harbor Nights ended? If so, is there anything going on in town that evening? Thanks 
Raj (bermuda-attractions.com) September 2015 
Harbor Nights has ended. Another weekly event called 'October Lights' is scheduled to start every Wednesday in October, so the first such event will be on October 7th. You can see the lights and several vendors will set up stalls selling food and items for kids etc on Front Street. It's a smaller version of Harbor Nights. 
Paula Devine (July 2015) 
What restaurants should we reserve for overlooking HArbour Nights. We are a family of 6 coming in Aug 2nd. My hubby is a chef but we don't want to spend an arm and leg with the teens. Just some good local flavor. Thanks! 
Raj (bermuda-attractions.com) July 2015 
You can consider Pickled Onion or Bolero Brasserie. 
Karen P (April 2015) 
We plan to attend the Harbor Nights on Wednesday. It doesn't start until 7pm. We will wrap up at the BUEI at 5pm. It seems like a lot of the attractions close at 5pm. Could you please give me some advice as to what to do for the two hours while we wait for the Harbor Nights to start? Ps. Your website has been INVALUABLE to me...Thanks so much!! 
Raj (bermuda-attractions.com) April 2014 
It's a good time to do some shopping at the alleyways of Hamilton and pickup some souvenirs. If you are planning to dine in Hamilton, then you need to go early to a Front Street restaurant and grab a balcony-side table. You can then watch the festival below while enjoying drinks and dinner. 
Otherwise from BUEI walk down along Front Street and visit Point Pleasant Park at Albuoy's Point located near the ferry terminal and HSBC Building. Sit and relax on a bench for few minutes... great harbor view. 
Then walk down to Queen Elizabeth Park (nearby on Queen St.)... lovely flower gardens, pathways, sculptures and trees. There should be still enough daylight. The Historical Society Museum is located at one end of the park (the museum would be closed though). Spend a few minutes before you walk back. 
Notice the Birdcage at the junction of Queen Street and Front Street. It's a blue and while metallic structure where a policeman used to be posted to control traffic. 
Josephine Schloesser (August 2014) 
My cruise ship will dock on October 1st. it's a wednesday. will there be a street festival that night? from what I read above it ends early September, any chance they extend it to end of the month? Thank you, 
Raj (bermuda-attractions.com) August 2014 
Unlikely that it'll be extended, but it has happened in the past. Good luck! 
Josephine Schloesser (August 2014) 
That is a shame, because we're coming in with a ship that holds almost 4,000 passengers. That's a lot of potential income that I can't believe the city would pass up on.  I have been to this event on previous cruises and I know it was past the first week of September.  I hope they extend it. Thank you so much for your prompt reply. I enjoyed scrolling through your website. 
Antonia Russomano (May 2014) 
My cruise ship will be at Kings Wharf on June 4, 5, 6. Will there be Harbor Night on the 4th? You mentioned ferry from Kings Wharf to Hamilton, what is the cost, please? How far a walk from the Hamiton pier to the location of the Harbor Night festivities? Also, do cruise ships still dock in Hamilton? Thank you for your time. 
Raj (bermuda-attractions.com) May 2014 
Yes, there will be harbor nights on 4th June (Wednesday). As you come out of the Hamilton Ferry Dock, you will be on Front Street which is the main venue of Harbor Nights. Cost from Dockyard Ferry to Hamilton Ferry (one way) is $4 by token, $4.50 by cash. Only few smaller non-contracted cruise ships dock at Hamilton but not every year. 
Anne Hetherington (May 2012) 
Our small company is bringing its staff to Bermuda this month to celebrate our 20th anniversary, which coincides with Harbour Nights 20th - cool, right? I've been to Bermuda many times, but never when Harbour Nights were happening. 
I'd like our crew to see the Gombey Dancers and enjoy the street party, but I have a few questions. Do you know around what point in the evening the dancers start?  
Also, wondering what kind of street food there is - trying to determine whether we can make a meal of it, or whether we should plan on a restaurant meal sometime around the proceedings (preferably without missing the dancers). 
I would appreciate any input you can provide to help with our planning to make the most out of the night. 
P.S.:  I really appreciate your site - very informative and all-encompassing. You have helped me a lot over the years, including with planning this extra-special visit.  
Raj (bermuda-attractions.com) May 2012 
Hi Anne, the food sold by the vendors on the street during harbor nights are mostly finger food. But there are restaurants right in the vicinity. So if you are to choose a place to eat while watching the activities, it's best to try one of these restaurants:
Pickled Onion
,
Barracuda Grill
,
Hog Penny
or
Flanagans
. 
You can actually see the Gombey dancers from the Flanagans balcony. You can however hear them from the other places as well. The dancers normally come around 8pm but they also close it out, so the times vary. 
Amy 
Hi! Firstly, thank you for having such an informative site! I just wanted to find out if you knew of any listed ferry schedule for the Harbor Nights or had any additional information. I know your site mentions additional ferries, but the official transportation site does not mention any extended schedule. 
I just want to make sure that when we make our visit, we can plan on having nighttime transportation from the Dockyard to Hamilton, since we're very much looking forward to seeing the local celebration! Otherwise we have to re-plan our itinerary which would be unfortunate. Thanks! 
Raj (bermuda-attractions.com) 
Hi Amy, there is no published schedule for the additional ferry. Dockyard to Hamilton should not be a problem, the last regular Blue Route ferry leaves dockyard at 9pm and reaches Hamilton at 9:20pm. 
Harbor Night ends at 10pm, so going any later will be of no use anyway. While returning, additional ferries are helpful, the timings for which are usually made available at the Visitors Info Center and the Ferry Terminals (including at the dockyard). The worst case option is to return by a taxi. So I don't see any need to re-plan your itinerary. Regards,