Front Street
Hamilton Bermuda
Front Street in Hamilton runs alongside the
Hamilton Harbor
and is the main commercial street of Bermuda. The first thing you will notice here is the row of pastel colored buildings designed on typical colonial architecture and there are upscale retail shops selling jewelry, clothing, liquor, crystals etc housed in them. Some of the best Restaurants and Bars are located on Front Street. There are many commercial establishments like banks and insurance companies that are also located here. 
Some of the flagship retail stores on Front Street includes the large departmental store Brown & Co., English Sports Shop offering upscale and traditional Bermuda dress wears, Gosling Brothers selling the popular Gosling's rum and other liquor products.
Read Shopping in Hamilton
to know more about the stores on Front Street as well on other parts of Hamilton and what they offer. 
Front Street - Hamilton, Bermuda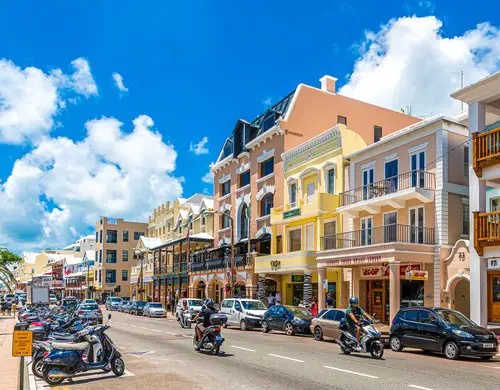 Photo: Darryl Brooks, Shutterstock 
I would suggest that you also explore the narrow alleyways that lead off the Front Street. We do it every time we are here. There are narrow lanes like Chancery Lane, Bermuda House Lane, or the Walkway leading out from Front Street where you can see a number of small shops selling collectibles like gifts and souvenirs or locally designed art and crafts, or small restaurants offering local seafood. 
Chancery Lane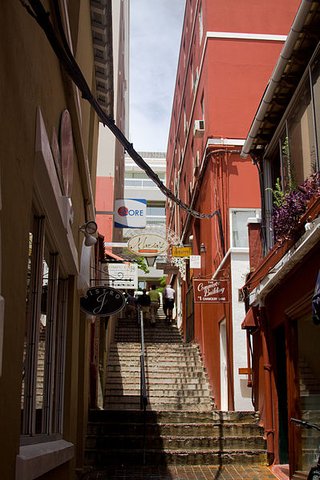 Photo: JoeyBagODonuts, cc by-sa 3.0 
A great experience here is to dine at one the restaurants on Front Street, preferably on one which has a balcony overlooking the street and the harbor. As you take a balcony seat, you can watch people and all the activities on the street below and get a wonderful view of the harbor with many boats anchored on it. Visit
Restaurants in Hamilton
to know about all the dining options here. 
There is a cruise ship berth on the harbor-side of Front Street. Smaller ships sometimes call this port. During the cruise-ship season, the Front Street often becomes quite crowded when a ship is docked here. But these days with most of the ships docking at Royal Naval Dockyard, this problem is somewhat under control. Nevertheless during the high season and particularly in the evenings, this is where most of the tourists hang around eating, drinking, shopping and enjoying. 
On Wednesday evenings during the summer months (usually End April till September), a very popular street festival known as
Harbor Nights
is held on Front Street. The entire street bustles with great festive activities with vendors selling fresh local food as well as art and craft, trinkets and souvenirs on the street, performers like the Gombey Dancers demonstrating Bermudian dance culture, face painting for kids and lot more, and the whole street gets illuminated with colorful lights. 
The main ferry terminal of Bermuda is located at the western end of Front Street. You can get ferry connections to various places in the island including Royal Naval Dockyard, Southampton, Warwick, Paget etc. The
Visitors Information Center
is located on Front Street and next to the ferry terminal. Here you will get maps, brochures, guided tours and transport passes. 
Related Articles
1) Check out
Hamilton Bermuda
for hotels, restaurants, attractions and lots of other information about Hamilton city. 
2) Check out
Pembroke Parish
know about where Hamilton City is located and also about all its attractions, activities, restaurants, hotels and more. 
Visitors' Reviews and Comments
Share your experience.