Flanagan's Irish Pub
Sports Bar & Restaurant Bermuda
$$, Pub Irish 
Established in 1988 by an Irishman named Jack Flanagan, this is the first and only Irish pub in Bermuda. Although it's an Irish pub, it's quite popular to both locals and tourists. It's located on Front Street, Hamilton. The main bar area is upstairs and has a large dining space. 
You can also sit on the balcony that overlooks the Front Street below and the beautiful Hamilton harbor beyond. You can dine and wine alfresco here. The main bar area also has an entertainment stage where live music is played in the evenings (in summer). 
There is another bar 'Outback Sports Bar' which is located one level below. This is essentially a sports bar with large number of flat screen TVs fixed on the wall and playing all sorts of live sports including British and European soccer matches and major American football, baseball and basketball games. For more active entertainment, you can also play foosball or interactive golf. The Outback Sports Bar was opened later and added in 1994. 
Flanagan's Balcony, Bermuda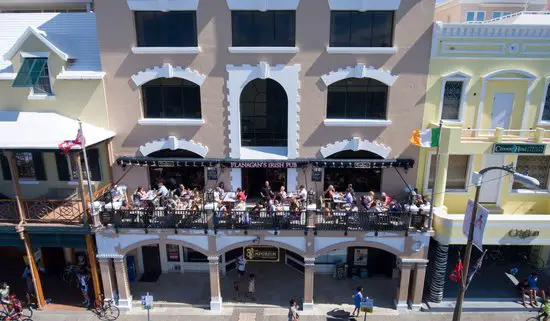 Photo: Flanagan's, Bermuda 
Flanagan's offers a full lunch and dinner menus (having traditional Irish favorites) with appetizers, main courses and desserts, as well as nice selection of drinks and refreshments. In soups, Flanagan's is well known for serving excellent Bermuda Fish Chowder - one of the finest soup preparations in the island. 
While they have wings, fries, burgers, pizzas etc for entrees, you can try Irish favorites like Steak and Guinness Pie (strips of beef simmered in Guinness with mushrooms, onions and potato in a light pastry crust). From the grill the good choices are roasted rack of lamb, beef tenderloin, cowboy rib eye steak. In seafood you can choose from the fish of the day like baked salmon, lobster or even mussels. All are prepared quite well. And finally in desserts there are many nice choices like Irish cheese cakes, ice creams, chocolate soufflés, aple tart, mango cake etc.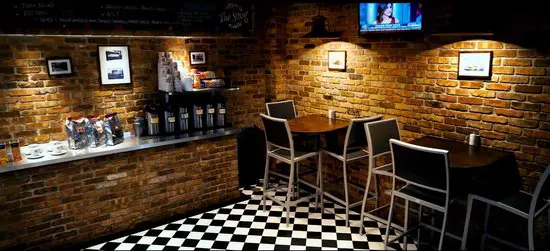 Photo: Flanagan's, Bermuda 
The pub also boasts of serving the widest variety of draught and bottled beer in Bermuda. You can enjoy a pint of Guinness here, but they also offer many exotic liquor drinks – the white Russians are said to be great. St. Patrick's Day is one of the biggest days here at Flanagan's, where they host an Irish Bash. Throughout the year they host many different celebrations including Christmas, New Years Eve, Canada Day, Sporting Events, Private Parties, and so on. 
Flanagan's also offers entertainment with local bands during the summer season, playing anything from rock to reggae. Reservations are not required, but are recommended especially for dinner during the high season, particularly if you want a table with harbor view. Dress code is casual. 
Flanagan's Bar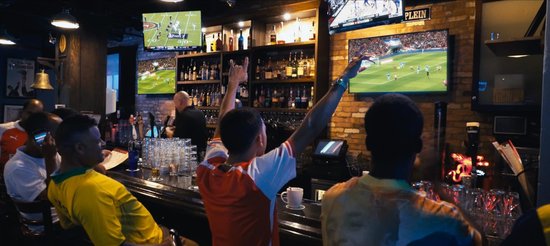 Photo: Flanagan's, Bermuda 
They also have an extensive menu with vegetarian options, gluten free and a kid's menu as well. 15% service charge is added to the bill so you need not pay any additional tips. 
Open Hours
Main bar area: 
Monday - Friday 11am to 1am;  Saturday - Sunday 9am to 1am 
Lunch Hours 11am to 5pm; Dinner 5pm to 11pm 
Outback Sports Bar:  
Monday to Saturday 12noon to 1:00am 
Sunday: 10am - 6pm, 10pm - 1am (Sept. 1st - Superbowl Weekend)  
Location and Contact
Flanagan's Irish Pub and Restaurant 
Emporium Building, 69 Front Street, Hamilton, Pembroke Parish, Bermuda 
Bus route: #7, 11. From dockyard take the ferry to Hamilton and then walk down. 
Road Map 
Related Articles
Visitors' Reviews and Comments
Review and share your experience.