Barracuda Grill Bermuda
$$$, Seafood & Chops 
Located in Hamilton City, Barracuda Grill is a sophisticated seafood restaurant with great contemporary style and design. Years back, this restaurant was known as the Fisherman's Reef. In 2002, it was completely redesigned with mahogany furnishings, designer lamps hanging from the ceilings, and sitting areas with etched glass partitions. This upscale modern seafood restaurant was then renamed as Barracuda Grill. Since then it has won several awards. 
The restaurant is part of the Island Restaurant Group which owns several other great restaurants like Pickled Onion, Hog Penny, Victoria Grill, Frog & Onion etc. Barracuda Grill with its two dining rooms one floor above the street level is great for both couples and families. 
If you are planning for a romantic dinner in this restaurant, then choose the 'snug corner' that has table for two and is tucked away in a private corner. 
While you wait for your turn to get a table, you can try the stylish cocktail bar at the restaurant. The bar has an amber color resin top and is lit from beneath to create a nice lighting effect. There are good selections of wine which you can have by glass. Other than the regular drinks, you also get some great innovative cocktails like Bermuda Bellini. 
Barracuda Grill Bermuda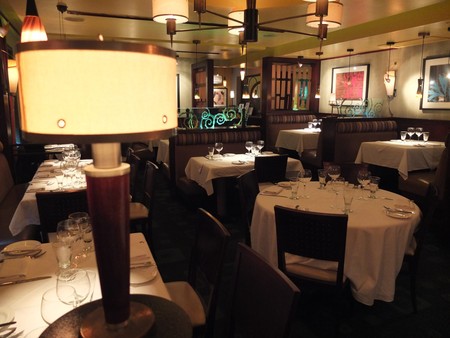 We would normally start with our favorite island style fish chowder soup. The Grilled Caesar salad is also excellent. There are quite a few great entrees to choose from. Here are some that we think are the best in the restaurant and normally like to select one of these. 
Seafood: They use fresh fish and the menu can change sometimes depending on what they get from the local fishermen on the day. Here are some of our favorite dishes: Grilled Wahoo, Pan Seared Bermuda rockfish, Lobster Fettucini and Grilled Wild Salmon Filet and Grilled Local Yellowfin Tuna. 
Barracuda Cocktail Bar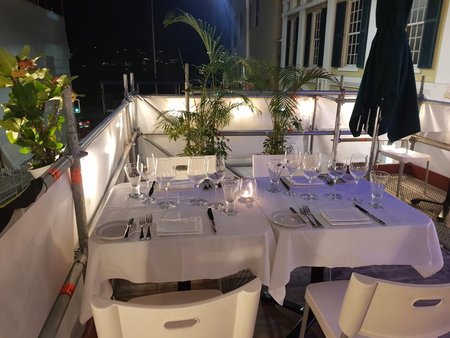 Others: Kobe Beef and Foie Grass Burger - this is one of the most expensive and exclusive dishes in the restaurant, Lamb Rack and Leg Duo - great roasted lamb racks, Niman ranch pork chop, and French cut chicken breast. 
You get some nice dessert choices as well: Chocolate Fondue, Ginger Bread Toffee Pudding, Chocolate Banana Bread and
Bailey's Ice Creams
. 
Indicative Prices
Soups & Salads: $9-$13, Appetizers: $13-$21, Main Courses: $32-$42 
They accept credit cards. Reservations recommended and to be done over phone. Dress code is smart. 
Open Hours
Lunch Monday - Friday: 12noon - 2:30pm; Dinner daily 5:30pm - 10pm 
Bar daily: 5:30pm to 11:30pm 
Location & Contact
5 Burnaby Hill, City of Hamilton (Pembroke Parish). 
Bus #1, 2, 10, or 11. You can easily walk down from Hamilton ferry terminal (about 250 meters) 
Road Map 
Raj Bhattacharya
Raj is an avid traveler and a full-time travel blogger. He has traveled to numerous countries across the world and loves to keep travelling. His mission here is to help viewers like you visiting Bermuda or seeking insights into related matters with the most comprehensive content compared to any other online resources. Since years now he has been helping countless viewers by posting quality articles on this website, answering questions and sharing experiences. Launched in 2008, this website is Bermuda's leading source of online information since many years. 
Related Articles
Visitors' Reviews & Comments
Share your experience.