Barracuda Grill Bermuda
$$$, Seafood and Chops 
Restaurant and The Ambience
Located in Hamilton City, Barracuda Grill is a sophisticated seafood restaurant with great contemporary style and design. Years back, this restaurant was known as the Fisherman's Reef. In 2002, it was completely redesigned with mahogany furnishings, designer lamps hanging from the ceilings, and sitting areas with etched glass partitions. This upscale modern seafood restaurant was then renamed as Barracuda Grill. Since then it has won several awards. 
The restaurant is part of the Island Restaurant Group which owns several other great restaurants like Pickled Onion, Hog Penny, Victoria Grill, Frog and Onion etc. Barracuda Grill with its two dining rooms one floor above the street level is great for both couples and families. 
Barracuda Grill Bermuda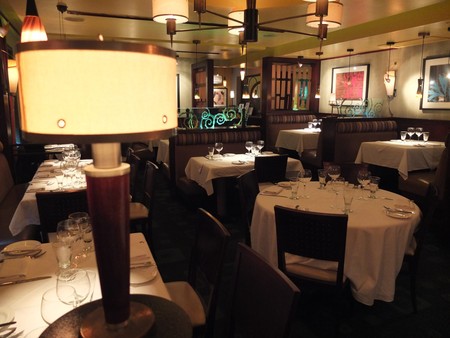 Photo: Barracuda Grill 
If you are planning for a romantic dinner in this restaurant, then choose the 'snug corner' that has table for two and is tucked away in a private corner. 
While you wait for your turn to get a table, you can try the stylish cocktail bar at the restaurant. The bar has an amber color resin top and is lit from beneath to create a nice lighting effect. 
The only knock about the place is that you have to negotiate stairs to get to the upstairs location, which could prove difficult for many. Apart from this, there isn't a great view from here that you can enjoy, if that's what you are looking for. There is however, a smallish open air terrace at Barracuda Grill with few tables laid out and they call it 'Skydeck'. You can enjoy the fresh air here. 
Barracuda Skydeck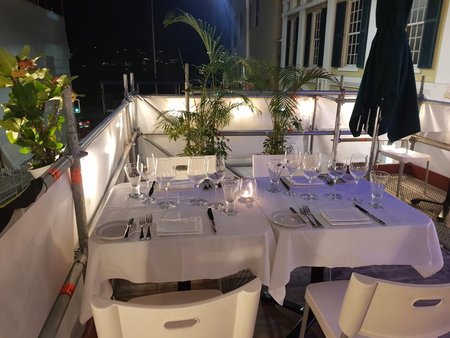 Photo: Barracuda Grill 
Food and Drinks
The menu here is diverse and the food and wine very nice, some of the dishes being quite unique.  
We would normally start with our favorite island style fish chowder soup. The Grilled Barracuda Caesar salad and the Korean calamari are also excellent and so is the Grilled Octopus appetizer with haloumi cheese and tzaziki. The bacon wrapped dates with Brussel sprouts and the scallops with pork belly are quite unique. They have some daily specials too and the wahoo special needs a special mention here. Do not miss it if it happens to be on the day's list of specials. 
There are quite a few great entrees to choose from. Here are some that we think are the best in the restaurant and normally like to select one of these. 
In Seafood they use fresh fish and the menu can change sometimes depending on what they get from the local fishermen on the day. Here are some of our favorite dishes: Grilled Wahoo, Pan Seared Bermuda rockfish, Lobster Fettucini and Grilled Wild Salmon Filet and Grilled Local Yellowfin Tuna. The Rockfish is a especially great with puree sweet potato and Bermuda kale. The filet stuffed with herb cheese is made beautifully too. The filet mignon stuffed with Boursin goes really well when accompanied with Gnocchi and broccoli with short rib concoction. 
There are plenty of options for meat lovers too. The organic chicken is very good here. Kobe Beef and Foie Grass Burger - this is one of the most expensive and exclusive dishes in the restaurant, Lamb Rack and Leg Duo - great roasted lamb racks, Niman ranch pork chop, and French cut chicken breast. We had steaks here which were cooked well and seared perfectly. The side of creamed Kale was wonderful and very nicely presented in a miniature cast iron skillet. The lamb chops are cooked perfectly and the braised leg pie is delicious too. 
Most of the dishes are healthy, fresh and rightly portioned to leave room for desserts. In desserts you have some nice choices as well. The Gingerbread dessert is simply delectable. There is also the  Chocolate Fondue, Ginger Bread Toffee Pudding, Chocolate Banana Bread and
Bailey's Ice Creams
. 
The menu also clearly identifies items that are gluten free. They have a full bar and make some really good martinis served in chilled glasses. There are good selections of wine which you can have by glass. Other than the regular drinks, you also get some great innovative cocktails like Bermuda Bellini. 
Service
The staff here is poised and professional and also quite knowledgeable on meals and wines and can give you some excellent recommendations. You can have a nice conversation with your server and the sommelier and know what to order. They are attentive and accommodating and will substitute your dish with something to make it gluten or dairy free should you need it. Service however could be a little slow at times. 
Conclusion
Enjoy some delicious food from a diverse menu, served in very stylish, elegant and refined surroundings along with some genuinely happy and helpful staff who measure up to the wonderful food. They have some interesting yet comprehensive combination of flavors. You will find a lot of local population here especially at lunch time and the staff seems to know them very well, and that we think is a great sign. 
Indicative Prices
Soups: $10, Salads: $14-$19, Starters: $11-$25 
Main Course: $35-$49 
Desserts: $13-$26 
Wines by the glass: $12-$22 
They accept credit cards. Reservations recommended and to be done over phone. Dress code is smart. 
Open Hours
Lunch Monday - Friday: 12noon - 2:30pm; Dinner daily 5:30pm - 10pm 
Bar daily: 5:30pm to 11:30pm 
Location and Contact
5 Burnaby Hill, City of Hamilton (Pembroke Parish). 
Bus #1, 2, 10, or 11. You can easily walk down from Hamilton ferry terminal (about 250 meters) 
Road Map 

By Raj Bhattacharya 
Raj, a seasoned travel writer and Bermuda destination expert, has extensive global travel experience. This website reflects his profound insights, garnered over nearly two decades of dedicated findings and research on the island. Raj has assisted countless Bermuda-bound visitors by providing direct, personalized responses to their queries and imparting his wealth of knowledge through this platform. This site serves as an indispensable guide for those seeking informed and reliable insights into Bermuda's treasures. 
Related Articles
Visitors' Reviews and Comments
Share your experience.