Bailey's Ice Cream Bermuda
$, Ice Creams and Snack 
Located in Hamilton Parish and close to the Grotto Bay resort, this is essentially an ice cream parlor that makes ice creams with exotic flavors and also serves snack items like fresh bread sandwiches. This is one of the best places in Bermuda when it comes to homemade ice creams. 
If you decide to take lunch at
Swizzle Inn
(across the road) or go towards the airport, you can stop by Bailey's Ice Cream Parlour and have an ice cream. It's set up in a nice traditional Bermudian cottage type building. There are many flavors of homemade ice creams prepared here. 
A popular one with the locals is the Dark & Stormy ice cream which has a unique island flavor. While you get Bailey's ice creams elsewhere in the island including in the U.S departure lounge of the airport, you won't get some of the unique flavors there like rum and ginger which are available only here. 
Some of the other great choices include Bermuda banana, coconut, white-chocolate cherries and chips. Try out the Rum Raisin Ice Cream ... it's fabulous. Whenever we take our lunch at the nearby Swizzle Inn, we would usually come to take this Rum Raisin cone at the Bailey's. 
So lunch at Swizzle inn and desserts at Bailey's Ice Cream are always a great combination. Bailey's also serves fresh fruit ices, frozen yogurt, sorbets and bottled juices. There are some 40 different types of cool products made by them. Some of the great local favorites during the summer includes chocolate chip cookie dough, butterscotch crunch, Oreo sweet cream and mango-passion fruit. 
Bailey's Ice Cream Parlor, Bermuda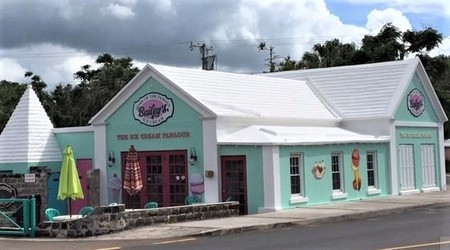 The menu was enhanced in 2005 to include hot snacks like chicken legs, fish cakes, peas 'n' rice, meat pies, meatball subs, sandwiches and hot dogs etc. There are picnic tables outside on the small terrace. So from a modest ice cream parlor, Bailey's has been growing to an eatery. 
The restaurant is closed during the winter time. 
They don't accept credit cards. You will need to pay in cash. 
Open Hours
Daily 11am - 8pm during summer time. They are usually closed in winter. Expectedly so as there is not much demand for ice creams during the winter time. 
Location and Contact
2 Blue Hole Hill (in Bailey's Bay), Hamilton Parish. 
Phone: 441/293-8605 
It's on bus route #1, 3, 10, and 11 (These buses ply between Hamilton and St George). 
Road Map 
Raj Bhattacharya
Raj is an avid traveler and a full-time travel blogger. He has traveled to numerous countries across the world and loves to keep travelling. His mission here is to help viewers like you visiting Bermuda or seeking insights into related matters with the most comprehensive content. Since years now he has been helping countless viewers by posting quality articles on this website, answering questions and sharing experiences. Launched in 2008, this website is Bermuda's leading source of online information since many years. 
Related Articles
Visitors' Reviews & Comments
Share your experience.