Bacardi Bermuda
If you drive along the
Pitts Bay road
that starts from the west end of Front Street in Hamilton city, you will see the Bacardi building with its lush gardens and fountain on your right. This is the world headquarter of the giant spirit producing company which is known worldwide for its Bacardi brand of rums. What started as a modest family business in 1860s in Cuba, has grown to become a leader in rum selling over 25 million cases of rum blends every year to over 180 countries. 
It continues to be a family held business with the key to its success being the world-shaking secret formula only known to the core family members. The founder Don Facundo Bacardi migrated to Cuba from Spain in 1830. Cuba was then a Spanish controlled colony. He was only a 14-year old boy working for a wine merchant. Rum was then a cheap crude drink meant only for the low class market. 
Bacardi Building, Bermuda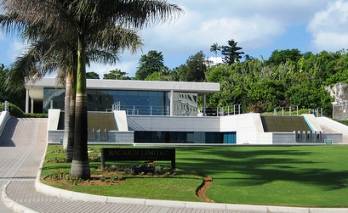 It was Facundo who first thought about converting the crude rum into a smooth drink and making it popular in the upscale market as well. He designed a formula that helped mellowing the coarseness, taming the color, and create a smooth blend. It soon started to take Cuba by storm. He later went on to buy out the distillery from the merchant. What he got out of the purchase was a still (an apparatus) made of cast iron and copper, old barrels and fermenting tanks. 
And he also got many fruit bats in the distillery that used to hang from the tinned roof during nighttime. Who knew that these bats would eventually become so closely associated with Bacardi. If you have noticed, the picture of a bat is used as a logo to represent the Bacardi name. You can see it on every bottle of Bacardi rum. 
Subsequently, three sons of Facundo joined the company and took charge, one working in the back office, the second looking after production and the youngest handling sales and marketing. Cuba went through many political upheavals during the late 1800s and also in 1900s. The company also got deeply entangled in it. Despite political turmoil that resulted even in long exile of the eldest brother, the popularity and operation of Bacardi continued to grow. 
After the Spanish American War in 1898, Bacardi came out with two other world favorite drinks - Cuba Libre and the Daiquiri. 
The Bacardi building in Bermuda has been designed by Mies van der Rohe, and is the world headquarter of this spirit giant. Today it has expanded its portfolio of offering to many different kinds of drinks including wine, scotch whiskey, breezers, fruit mixers and more. But the signature rum remains its strongest product as ever. 
Location and Contacts
65, Pitts Bay Road, Pembroke Parish, Bermuda. Phone: 441/295-4345. 
Related Articles
1) Check out
Hamilton Bermuda
for attractions, activities and other information about Hamilton city. 
2) Check out
Pembroke Parish
know about the parish where Hamilton City is located and also about all its attractions, activities, restaurants, hotels and more. 
Visitors' Reviews and Comments
Share your experience.