Pitts Bay Road, Pembroke Bermuda
If you are exploring Pembroke in Bermuda, Pitts Bay Road would be great to take a walk or a scenic scooter ride. The road goes along the
Hamilton Harbor
. Named after Pitts family whose descendants continue to live here, Pitts Bay Road starts from the western end of Hamilton City. This is where the
Front Street
becomes Pitts Bay Road at the junction with Par-La-Ville Road. 
As you continue towards west, you will pass by large mansions, small beautiful hotels and affluent residential areas. You will first see the massive four story building of the international insurance group called ACE Limited who has their head office now in Bermuda. This is where the old
Bermudiana Hotel
used to be located. Soon after, you will see the
building of Baccardi
, the famous liquor house. 
There are many small but excellent hotels on this road.
Waterloo House
used to be one of our favorite waterfront hotels in Pembroke that has been completely demolished now. You can see the harbor through this property now as you pass by.
Hamilton Princess &†Beach Club
, one of the top luxury hotels of Bermuda is also located on this Road. 
Photo from Pitts Bay Road, Bermuda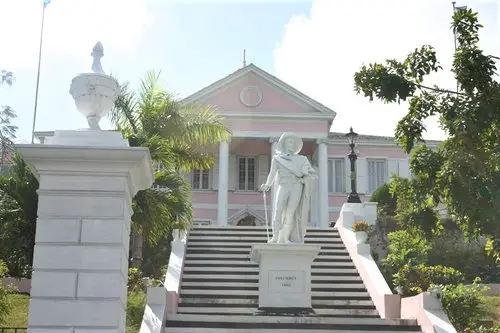 Other great hotels located on tranquil lanes off Pitts Bay Road are the
Rosedon
, a lovely old colonial house that once used to be a private house of a British family, a nice guest apartment
Rosemont
nestled in a quiet garden setting with great view of the harbor,
Royal Palms
located on a tree lined lane, and a nice old guesthouse
Oxford House
. 
As you go further towards west, you will see some of the most affluent housing enclaves of Bermuda like Fairylands, Point Shares and Millís Point, having waterfront homes. Some these houses are centuries old. This is where most of the wealthy merchant families of Bermuda live, and some for many generations. 
Further west at the round about, Pitts Bay Road becomes St. John's Road that continues towards picturesque
Spanish point
. 
Raj Bhattacharya
Raj is an avid traveler and a full-time travel blogger. He has traveled to numerous countries across the world and loves to keep travelling. His mission here is to help viewers like you visiting Bermuda or seeking insights into related matters with the most comprehensive content. Since years now he has been helping countless viewers by posting quality articles on this website, answering questions and sharing experiences. Launched in 2008, this website is Bermuda's leading source of online information since many years. 
Related Articles
1) Check out
Hamilton Bermuda
for attractions, activities and other information about Hamilton city. 
2) Check out
Pembroke Parish
know about the parish where Hamilton City is located and also about all its attractions, activities, restaurants, hotels and more. 
Visitors' Reviews &†Comments
Share your experience.