Oxford House Bermuda
Bed & Breakfast Guesthouse
Category: $$  Location: City of Hamilton 
Oxford House was built in 1938. This is probably the only tourist accommodation in Bermuda which was built specifically as a guesthouse. Oxford House won the Guesthouse Merit Award from Bermuda Department of Tourism in many consecutive years since 1996. It's owned and run by Anne Smith, a polite and very helpful hostess who ensures that you have a pleasant stay. 
It's located in a fashionable garden suburb of Hamilton City. Front Street which runs by Hamilton Harbor and the heart of Hamilton is only 5 minutes walk from the guesthouse. 
The ferry terminal is only a block away. And bus terminal, water tours and Front Street's shops and restaurants are just three blocks away. So all in all it's in a very convenient location and close to the city center. More over, the guest house is very clean.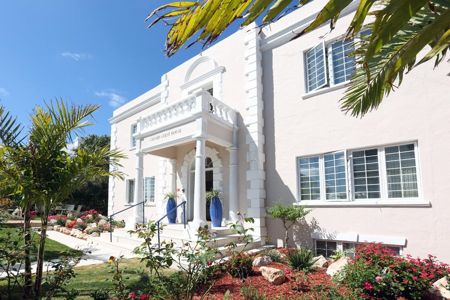 We came to know from the present owner that at the time of construction of Oxford House, French architectural designs were taken into consideration. You can see the French design features like the Doric columns as you go around the guesthouse. A curved staircase leads to the landing upstairs where most guest rooms are located. There's a small library for visitors at the landing. An adjacent balcony overlooks the small garden at the front of the house.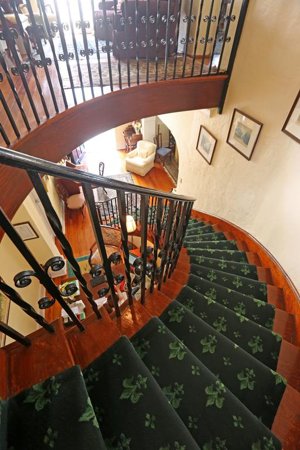 There are 12 spacious and well furnished rooms at Oxford House, all named after Bermuda's parishes. All except one are located upstairs. The one downstairs is located off the kitchen and has a separate door of its own to go outside. All rooms have facilities like air-conditioning, cable TV, telephone, private bathroom and coffee/tea maker. The rooms are all very nicely appointed and look like English country houses having antique furniture and floral drapes. 
Overall there is a British feel in all rooms of the guesthouse. Upstairs when you come out of a room, there is a common lounge area where you can meet up with other guests and have a chat. 
The owner and the staff are conscious about the electricity consumption. So when you are away, they will switch off the geyser and the air-condition. In a hot summer day, it may take a while to cool the room unless you have kept the AC on all the time.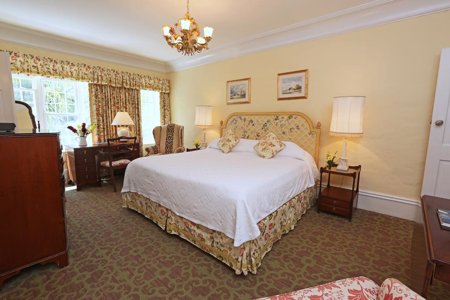 Oxford House provides continental breakfast that usually includes muffins, fruits, cereals, scones, boiled eggs etc. There is no other meals served at The Oxford House. This was no big issue for us as we could easily walk down to one of the several restaurants and pubs nearby. Excellent restaurants like
Harbourfront
,
Lobster Pot
,
Portofino
and many more are all within easy walking distance from Oxford House. 
Oleander Cycles has a branch half a block away if you wish to rent a scooter. Right across the street there is a drug and convenience store where you will find most essential items.  
My overall opinion
If you are looking for a beachfront hotel, then Oxford House is not the one for you. However if your considerations are central and convenient location, proximity to Hamilton City with its many restaurants and stores, a clean budget Bed and Breakfast accommodation in a nice locality, then you can close your eyes and go for Oxford House. 
The staffs are very friendly and sensitive to even small requirements you may have. Ferry and bus terminals are all within easy walk, so you can actually get around the island quite easily. The guesthouse is ideally suited for persons on business although it's good for even couples. I wish they had a bit more variety in breakfast (menu doesn't change at all). 
So if you stay for several days, breakfast would get quite monotonous. Since it's on a roadside, if you take a front side room and keep your windows open, it can be a bit noisy during the day time. 
Rates provided by booking.com 
Location and Contacts
Oxford House, 20 Woodbourne Avenue, Hamilton City, Pembroke. 
It's located on a side street that leads to the Front Street. You can ask for
Hotel Bermudiana
and Oxford House is right next to it. See the location and several others nearby in
Bermuda Hotel Map
Phone:  800/548-7758 in the US, 800/272-2306 in Canada, 441/295-0503 in Bermuda  
Road Map 
Related Articles
Visitors' Reviews and Comments