Lobster pot Bermuda
A Top Seafood Restaurant in Hamilton City
$$, Seafood 
Lobster Pot is one of the most consistently popular seafood restaurants located in the City of Hamilton, near the Hamilton Princess Hotel. Local Bermudians swear by this place. The restaurant is one of our great favorites as well. 
It's in operation since 1973. The Lobster Pot has created an internal ambience with a maritime-theme. The walls around the dining room showcase lobster traps, brass gears and even underwater simulations of corals and sea fans. There is a well stocked bar right at the entrance. I have seldom passed through it without having a local cocktail. That's the idea of the bar - have some drinks before you get in to the dining room which is behind the bar. 
The dining room appears a little dark and can get noisy at times. However, the exuberance all around make up for all that, and the food is simply out of the world. Our favorite starter is a bowl of steaming fish chowder. If you like, they put shots of rum and sherry peppers to further enhance the taste.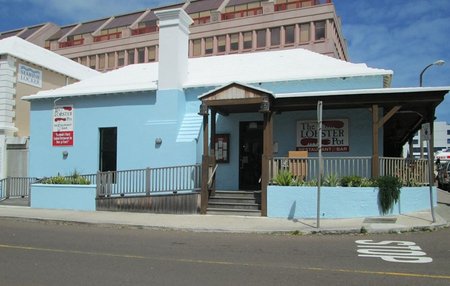 You get fresh local lobsters from September to March. One of the top local favorites is the yellowtail or rockfish with bananas and almonds. If you want to go for sandwiches, you get some of the most delicious fish sandwiches and platters of tuna, Wahoo, hogfish and rockfish. 
You can ask them to be prepared anyway you want. One of our choices is to get them grilled with amandine and lemon-butter sauce.... delicious!!! 
Some of the great favorites here are herb crusted & baked snapper, pan seared tuna, pan fried rockfish and of course the lobster dishes that this restaurant is named after. Note that Bermuda Lobsters (i.e. the Caribbean lobsters) are not same as the ones you get in New England states in the US. The lobsters in Bermuda do not have claws, not as sweet but have longer and more meaty tails. Overall very delicious. 
They also have steaks, racked lamb, chicken and even pasta on the menu, and serve some vegetarian dishes as well. However it's the seafood for which Lobster Pot is so well known for. The fish is brought here daily by the local fishermen. Many are repeat guests. While most drinks are available at the bar, some of the great local cocktails that are my personal favorites are Rum Swizzle and Dark n' Stormy.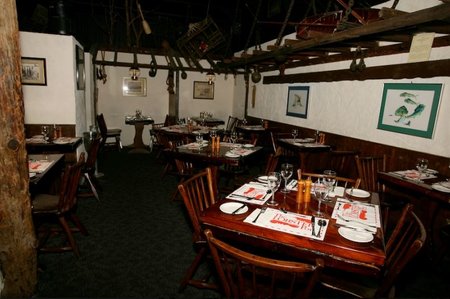 Indicative Prices 
Salads & appetizers range from $12 to $18, Soups $7 to $8. Main courses for lunch range from $15 to $32, Dinner main courses range from $24 to $35. Spiny lobsters are offered based on market rates. Local fresh Maine lobster $32 (1 pound). There is a limited availability of a set three-course menu that costs $20. This is a great deal for the food you get. 
They accept credit cards. It would be difficult to get a table without reservation. Dress code is smart casual. 
Open Hours 
Lunch: Monday through Friday from 11:30 a.m. to 3:00 p.m. 
Dinner: Daily from 5:30pm onwards. Closed on all public holidays. 
Location and Contacts  
Lobster Pot Bermuda,  
6 Bermudiana Road, City of Hamilton (Pembroke Parish). 
Phone: 441/292-6898 for reservation.  
Road Map 
Raj Bhattacharya
Raj is an avid traveler and a full-time travel blogger. He has traveled to numerous countries across the world and loves to keep travelling. His mission here is to help viewers like you visiting Bermuda or seeking insights into related matters with the most comprehensive content compared to any other online resources. Since years now he has been helping countless viewers by posting quality articles on this website, answering questions and sharing experiences. Launched in 2008, this website is Bermuda's leading source of online information since many years. 
Related Articles
2) Check out
Top Cheap Restaurants
to know about the inexpensive dining choices in Bermuda that serve great dishes and are quite popular in the island. 
Visitors' Reviews & Comments
Karen Wyon (May 2014) 
At the lobster pot tonight we (7) ate the waitress recommended fish dish with the special banana and onion topping. it was cooked to perfection as was the broccoli and zucchini. our waitress was very attentive to our 3 year old making sure that he had his kid menu first and coming right back to take his order and following up with his dessert. It was a pleasure.