Harbourfront Restaurant
$$$, Italian, Seafood and  Sushi 
The Restaurant and Ambience
The Harbourfront Bermuda, a great restaurant located in downtown Hamilton at the ground floor of Bermuda Underwater Exploration Institute, specializes in Italian, Seafood and  Sushi. It has a quiet and peaceful ambience despite being located on a very busy road and a close walk from the city.  
When we dine here on a table besides the enormous open windows, it feels as though we are floating on the beautiful Hamilton harbor. Nearly every seat in the restaurant has beautiful views of the quiet waters. There is also a lovely tiered outdoor deck area which provides a great setting with an unobstructed view of the water. You can even feed the fish from here and some of them actually make a jump for it when you toss bits of bread to them. So do save some bread for them! However, it could get quite hot here in the summers.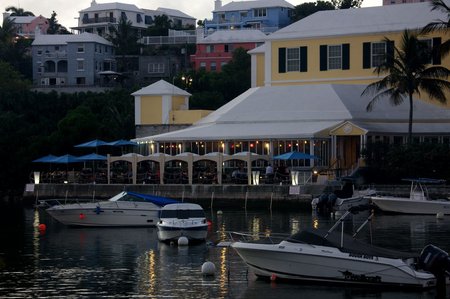 Source: Harbourfront Restaurant 
The indoor dining area on the other hand is air conditioned and more comfortable and at the same time see the pretty view without the outside feel, if you so prefer. Overall, the place has a reserved and polished air about it. 
Food and Drinks
The restaurant boasts of its innovative continental food and the town's best selection of sushi. It has a long and wide-ranging menu where sushi is served alongside continental and Mediterranean specialties. 
For starters, our usual favorite at Harbourfront is fish chowder. It is delicious and comes in large portions. However, Sushi lovers can go for miso soup as well. This is then followed by our favorite lobsters and crabs served open-faced with a garlic white-wine sauce. The escargots, buffalo mozzarella and the octopus carpaccio (served with a citronette dressing and jalapenos) are great too to start with. You can even start off with a shrimp cocktail that comes with mixed greens and a spicy cocktail sauce, followed by the scrumptious onion soup and some of their salads. 
The sushi here can easily be called one of the best on the island with an expansive sushi menu and a lot of fresh and delicious choices. Sit at the sushi and tempura bar and enjoy the lobster sushi... it's exceptional and comes with a special sauce. The salmon sushi is quite good as well although the portions are little small. However, the tempura and sushi platters continue to be our favorites. There is also the Bamboo roll which is pretty good and the ratio between rice and the other ingredients are absolutely perfect. The seaweed used lends it a strong flavor. 
Sushi Platter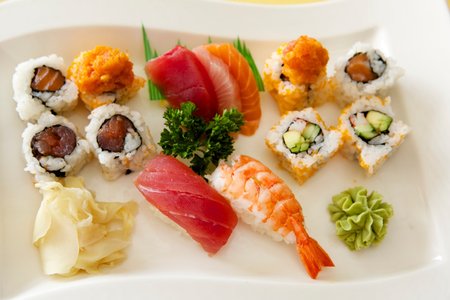 They can even serve gluten free rolls on request. If you wish to try their Italian fare, they make some beautiful pasta and risotto dishes. The lobster risotto is simply wonderful and the assagino risotto is a masterpiece- very tasty and great presentation. 
Fresh fish comes in a variety of ways, including pan-fried, broiled, baked, or Cajun style. The grilled salmon comes with a perfectly seared crust and is delicious. The filet mignon is tender and almost melts in the mouth. You can even try the local catch of the day which is perfectly prepared and beautifully seasoned. We would also recommend the Black cod and the Pierre Angelo tuna tartar.  
Shrimp and vegetable tower made out of vegetable ragout surrounded by grilled jumbo shrimps served in champagne-leek sauce are also great.  
Harbourfront also offers poultry and meat, including a well-prepared sliced breast of duck served in foie gras tempura. The Three Meat dinner that consists of duck, lamb chops and steak is a great choice. The New Zealand pork chops are well worth a try too. 
Desserts menu is comprehensive here and so is the wine list. Make sure you leave room for their homemade tiramisu. Do not miss the Pastries and cakes that are prepared fresh daily, and a scoop out of the wide variety of homemade Italian ice creams, or optionally the sorbets. 
The lunch menu is not as extensive as the dinner menu though it is still good for some quick bites. It has some sandwiches and wraps including some vegetarian options.  
Service
Service could sometimes be restrained and just average. It could lack in attentiveness though the same may not be a reflection of the entire staff. They however give special care to food allergies if any, as well as vegan/ vegetarian preferences. Servers are courteous and warm. The bartender is especially good and makes custom drinks to your liking. 
Trivia
Get a reservation especially for dinner on the outside patio. Dress code is smart casual though the restaurant atmosphere is quite formal. Car parking is easy and in close proximity to the venue. Prices are on the higher side but comparable with quite a few other places on the island. Food portions for most dishes are generous. Getting a taxi ride back at night from here could be a challenge, so it would be nice if a ride could be arranged beforehand. 
Conclusion
As the name veritably suggests, Harbourfront Restaurant comes complete with a great harbor view which you can enjoy some delicious sushi and very fresh fish. An al fresco dinner by the harbor at sunset creates an especially nice and romantic atmosphere and makes for some beautiful pictures and lifelong memories. 
Indicative Prices
Soups and Salads: $9-$24, Appetizers: $19-$29 
Pastas and risottos: $39, Main Courses: $19 - $48  
Sushi dishes range from $8 to $23, Tempura: $11-$23  
Desserts: $13, Coffees/special coffees: $4-$12 
Wines by the glass: $14, Port by the glass: $12 
The restaurant accepts credit card. 
Open Hours
Lunch: 11:45am to 2:30pm 
Dinner: 6:00pm to 9:30pm 
Sushi: 5:00pm to 9:30pm 
Sushi bar opens at 5pm 
Location and Contacts
Address: 40 Crow Lane, City of Hamilton (Pembroke Parish)  
Bus route: #1, 2, 10, 11 from Hamilton City 
Road Map 

By Raj Bhattacharya 
Raj, a seasoned travel writer and Bermuda destination expert, has extensive global travel experience. This website reflects his profound insights, garnered over nearly two decades of dedicated findings and research on the island. Raj has assisted countless Bermuda-bound visitors by providing direct, personalized responses to their queries and imparting his wealth of knowledge through this platform. This site serves as an indispensable guide for those seeking informed and reliable insights into Bermuda's treasures. 
Related Articles
Visitors' Reviews and Comments
Review and share your experience.