Harbourfront Restaurant
$$$, Italian, Seafood &  Sushi 
The Harbourfront Bermuda, a great restaurant located in downtown Hamilton at the ground floor of Bermuda Underwater Exploration Institute, specializes in Italian, Seafood &  Sushi. The restaurant boasts of its innovative continental food and the town's best selection of sushi. It has a long and wide-ranging menu where sushi is served alongside continental and Mediterranean specialties. 
When we dine here on a table besides the enormous open windows, it feels as though we are floating on the beautiful Hamilton harbor. Nearly every seat in the restaurant has beautiful views of the quiet waters. For starters, our usual favorite at Harbourfront is fish chowder. However, Sushi lovers can go for miso soup as well. This is then followed by our favorite lobsters and crabs served open-faced with a garlic white-wine sauce. 
Fresh fish comes in a variety of ways, including pan-fried, broiled, baked, or Cajun style. Shrimp and vegetable tower made out of vegetable ragout surrounded by grilled jumbo shrimps served in champagne-leek sauce are also fabulous. In Sushi, tempura and sushi platters are some of our favorites. Harbourfront also offers poultry and meat, including a well-prepared sliced breast of duck served in foie gras tempura. We never miss the Pastries and cakes that are prepared fresh daily, and a scoop out of the wide variety of homemade Italian ice creams.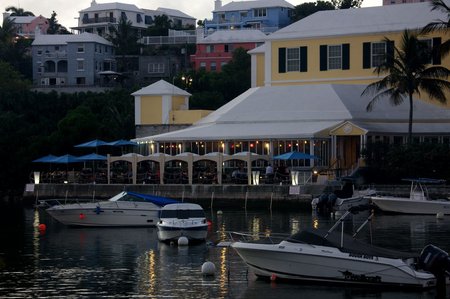 Reservation is recommended. Dress code is smart casual. 
Indicative Prices 
Soups & Salads: $7-$18, Appetizers: $17-$23, Main Courses: $35 - $44 
Sushi dishes range from $9 to $15. There is a Sushi buffet on every Monday. 
The restaurant accepts credit card. 
Open Hours 
Lunch Monday - Saturday from 11:45am to 3pm 
Dinner daily from 6.00pm to 10.00pm  
Sushi: 5pm - 10pm 
Happy Hour: Monday through Friday 5 - 6:30pm 
Location and Contacts 
Address: 40 Crow Lane, City of Hamilton (Pembroke Parish)  
Bus route: #1, 2, 10, 11 fro Hamilton City 
Road Map 
Raj Bhattacharya
Raj is an avid traveler and a full-time travel blogger. He has traveled to numerous countries across the world and loves to keep travelling. His mission here is to help viewers like you visiting Bermuda or seeking insights into related matters with the most comprehensive content compared to any other online resources. Since years now he has been helping countless viewers by posting quality articles on this website, answering questions and sharing experiences. Launched in 2008, this website is Bermuda's leading source of online information since many years. 
Related Articles
Visitors' Reviews & Comments
Review and share your experience.