Portofino Bermuda
Great Italian Restaurant
$$, Italian Cuisine 
Restaurant and Ambience
Portofino is one of our favorite Italian restaurants in Bermuda. Located in the City of Hamilton, Portofino with its little shuttered windows and traditional brick walls and hanging lamps, creates a wonderful Northern Italian ambience. There is an open dining area as well which gets crowded quite fast in the evenings, particularly on Fridays. If you want to take your dinner in this open area, I would recommend that you reserve your table and reach early at Portofino. 
The restaurant has undergone a recent renovation and the interiors have been brightened up while maintaining its traditions. There are now some amazing photos put up on the wall. They have also steeped up the cuisine and introduced a new lunch and dinner menu. The atmosphere is convivial and bright, and the same time cozy and casual without sacrificing attention to detail. 
Portofino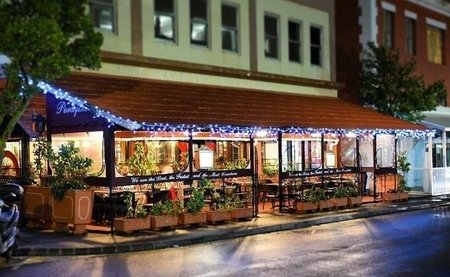 You will often find yourself getting into a friendly discussion with other guests around you, many of whom are locals/ regulars here. Conveniently located near the center of Hamilton City, it has a clean and nicely decorated dining room, an outdoor patio and a separate take-out area. 
Inside Dining, Portofino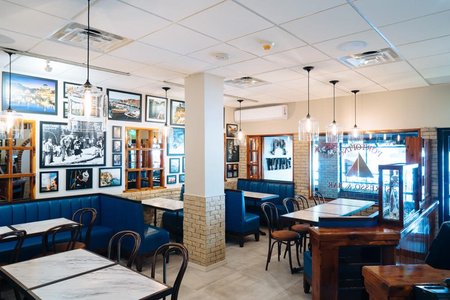 Food and Drinks
We think pizzas are what define an Italian restaurant and the pizzas here are great. The crusts are perfect and they come in different varieties. Our favorites in pizzas are the pepperoni and artichoke variety, the egg plant pizza and also the Caprese which is topped with large shrimps, scallops, lobster meat, calamari, mussels, garlic, parsley and cheese. There are 18 varieties of 9-inch pizzas. So if you are a Pizza freak, this is the place for you in Bermuda. 
The restaurant is also renowned for the two starters, calamari and garlic bread. There are also conventional Italian dishes at Portofino like the spaghetti pasta with clams, mussels, shrimps etc, the homemade Tagliolini and Tortelloni. The Risotto Milanese and pork sausage with grilled broccolini and fresh chili are also great. Prices are reasonable and portions are quite good as well. 
Pizza Special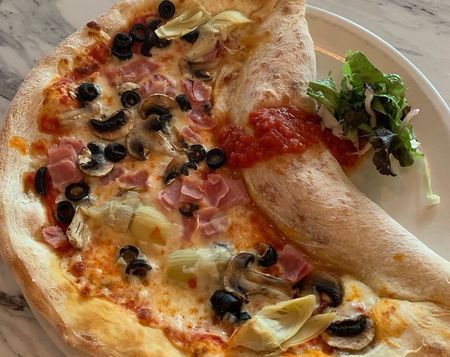 Apart from traditional Italian favorites, the chef crafts delicious dishes from some of the freshest local ingredients. You can start with a Caprese salad which comes with a very nice dressing or the spinach souffle which is fresh and excellent. 
If you do not want to miss out on the island's fresh sea fares, you have a wide selection on seafood as well on the menu. You can start with a grilled octopus and also try the seafood and pasta combo meal for entree. The homemade pasta is cooked al dente and the sauces are bright and delicious. 
There is also The Classic Vongole pasta in white sauce. The Ravioli di Branzino is great too. It is a seafood ravioli and is perfectly prepared. We also tried the linguine with clams and that was quite nice as well. Another great choice is their signature Octopus and rice dish with its deep, rich sauce. They make some of the best gnocchi here. You can try the buffalo mozzarella bronzino with a side of homemade gnocchi with truffle. It is definitely something you would not like to miss. 
Pan seared almonds crusted local tuna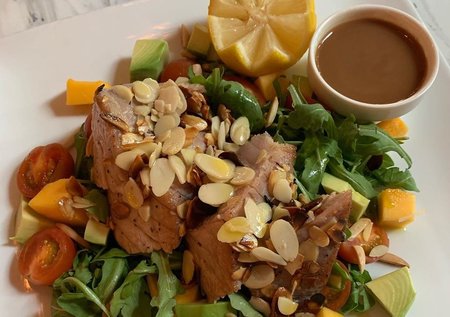 The veal is excellent and you can try each of the Picatta, ossobuco and saltimbocca. In meat selection, you can also try the beef and pork meatballs that is served with spaghetti pasta and parmesan, the grilled lamb chop or the grilled rib eye steak. They serve gluten free pastas as well.  
They also have a separate kid's menu with choice of entrees, sides and drinks. There are quite a few well-prepared and reasonably priced specialties, including classic minestrone, different kinds of spaghetti, freshly made pastas, including lasagna, ravioli, and cannelloni. 
Portofino has a limited selection of Italian wines. You can order the carafes of house wine as they are well chosen. 
We would suggest you leave room for dessert as they have some really good chocolate dishes like the chocolate lava cake  and The Tiramisu is rich and beautifully prepared and so is the Italian fried dough. They also give complimentary limoncello and orange liqueur shots which is delicious. 
Service
Service here is gracious and helpful and the staff quite professional and competent. The owner/ manager also pays you a visit from time to time to check if you are satisfied with the food and the service. However, the waiters may not appear to be too friendly or attentive on those evenings when the restaurant is very busy while they manage the excited diners. 
The new head chef Maximo Villagra, also comes out for a chat with the guests when he finds time from his kitchen. He is very passionate about  his food and is happy to indulge in friendly discussions about the food and also the island in general. 
Trivia
Prices have gone up after the restaurant underwent recent changes. Portions especially for the pastas are quite generous. The restaurant has a separate take away section. You can try getting their "generous lunchbox" or any other pizza/ takeaway and enjoy it in the park around the corner. 
If you have arrived at Portofino during a crowded evening, you need to be prepared to wait. It might be a test of patience for you. There is no lunch served at Portofino on the weekends. Portofino accepts credit cards. Reservations recommended. Dress code is smart casual. 
Conclusion
This is a wonderful venue if you are craving for authentic feel of a fresh, hot and delicious homemade Italian meal, so much so that you might as well have been on the promenade in Capri ! The delicious food  together with an environment that is romantic for couples yet great for families, makes the place a perfect choice. 
Indicative Prices
Soups: $9-$10, Salads: $15-$22 
Appetizers: $14-$21, Breads:$2-$8 
Main course (Lunch): Paninis, sandwiches: $16-$22; Pasta, Risotto: $19-$32 
Main course (Dinner): $21-$42 
Pizza prices range from $18-$22 
Wine by the glass: $10-$15 
Kid's menu: Choice of a Entree, one Side and one Drink for $12.95 
Open Hours
Dinner: Daily 5.30pm onwards 
Lunch: Monday to Friday 11:45am to 2:00pm.  
Take Out Service:  
Monday — Friday  11:00am — 10:00pm 
Saturday — Sunday  4:00pm — 10:00pm 
Location and Contact
20 Bermudiana Road, City of Hamilton, Pembroke Parish. It's a short walk from the Hamilton Ferry Terminal on Front Street. Cruise passengers can take a ferry from the dockyard to Hamilton ferry terminal and walk down to Portofino. Bus route: #1, 2, 10, 11. 
Road Map 
Phone (Reservation): (441) 292-2375 / 295-6090 
Related Articles
2) Check out
Top Cheap Restaurants
to know about the inexpensive dining choices in Bermuda that serve great dishes and are quite popular in the island. 
5) Check out
Hamilton City
and
Pembroke Parish
to know about the City of Hamilton and its parish including all its attractions, activities, hotels and other information. 
Visitors' Reviews and Comments
Borgida Family (June 23, 2015) 
Our family of 5 dined at Portofino this evening. We ate out on the front patio. Service was excellent. Very prompt and gave us great options and opinions on what to choose. We ended up eating mostly from the specials. The risotto was extraordinary.  Very light and perfectly cooked. Scallops were also excellent. Veal parmisian was so tender you could cut it with a fork.  The evening was topped off with the Tiramisu which was also excellent.  No complaints whatsoever and reasonably priced for the quality and quantity of food served. We would absolutely go back.