Portofino Bermuda
Great Italian Restaurant
$$, Italian Cuisine 
Portofino is one of our favorite Italian restaurants in Bermuda. Located in the City of Hamilton, Portofino with its little shuttered windows and traditional brick walls and hanging lamps, creates a wonderful Northern Italian ambience. There is an open dining area as well which gets crowded quite fast in the evenings, particularly on Fridays. If you want to take your dinner in this open area, I would recommend that you reserve your table and reach early at Portofino. 
The restaurant is renowned for the two starters, calamari and garlic bread. Pizzas are great, and our favorites in pizzas are the pepperoni and artichoke variety. There are 18 varieties of 9-inch pizzas. So if you are a Pizza freak, this is the place for you in Bermuda. 
Apart from the Pizzas, there are also conventional Italian dishes at Portofino like Venetian-style liver, veal parmigiana, chicken cacciatore and beefsteak pizzaiola. The Bistecca and the fettuccine Alfredo pasta are also great. Prices are reasonable and portions are quite good as well.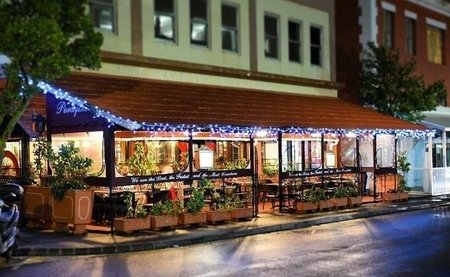 There are quite a few well-prepared and reasonably priced specialties, including classic minestrone, different kinds of spaghetti, freshly made pastas, including lasagna, ravioli, and cannelloni. Portofino Bermuda has a limited selection of Italian wines. 
If you have arrived at Portofino during a crowded evening, you need to be prepared to wait. It might be a test of patience for you. The waiters may also not appear to be too friendly on those evenings while they manage the excited diners. The restaurant has a separate take away section. 
There is no lunch served at Portofino on the weekends. 
Indicative Prices 
Soups & Salads: $7.25 to $8.50, Appetizers: $14 to $17, Main Course Specials: $24 to $35. 
Pizza prices range from $13 to $18. Pasta from $15 to $28.  
They serve gluten free pastas as well. 
Portofino accepts credit cards. Reservations recommended. Dress code is smart casual. 
Open Hours 
Dinner: Sunday to Thursday 6pm-9:30pm, Friday & Saturday 6pm - 10:30pm. 
Lunch: Monday to Friday 11:45am to 2:30pm. 
Location and Contact 
20 Bermudiana Road, City of Hamilton, Pembroke Parish. It's a short walk from the Hamilton Ferry Terminal on Front Street. Cruise passengers can take a ferry from the dockyard to Hamilton ferry terminal and walk down to Portofino. 
Bus route: #1, 2, 10, 11. 
Road Map 
Raj Bhattacharya
Raj is an avid traveler and a full-time travel blogger. He has traveled to numerous countries across the world and loves to keep travelling. His mission here is to help viewers like you visiting Bermuda or seeking insights into related matters with the most comprehensive content compared to any other online resources. Since years now he has been helping countless viewers by posting quality articles on this website, answering questions and sharing experiences. Launched in 2008, this website is Bermuda's leading source of online information since many years. 
Related Articles
2) Check out
Top Cheap Restaurants
to know about the inexpensive dining choices in Bermuda that serve great dishes and are quite popular in the island. 
5) Check out
Hamilton City
and
Pembroke Parish
to know about the City of Hamilton and its parish including all its attractions, activities, hotels and other information. 
Visitors' Reviews & Comments
Borgida Family (June 23, 2015) 
Our family of 5 dined at Portofino this evening. We ate out on the front patio. Service was excellent. Very prompt and gave us great options and opinions on what to choose. We ended up eating mostly from the specials. The risotto was extraordinary.  Very light and perfectly cooked. Scallops were also excellent. Veal parmisian was so tender you could cut it with a fork.  The evening was topped off with the Tiramisu which was also excellent.  No complaints whatsoever and reasonably priced for the quality and quantity of food served. We would absolutely go back.