Rosemont Guest Suites Bermuda
$$, Pembroke Parish 
Rosemont offers comfortable apartments in Bermuda for business and vacation travelers.  
Nestled in a quiet garden setting on the crest of a hill with views of Hamilton Harbor and the Great Sound, Rosemont is less than a ten-minute walk from the shops, restaurants, and other businesses in Hamilton city.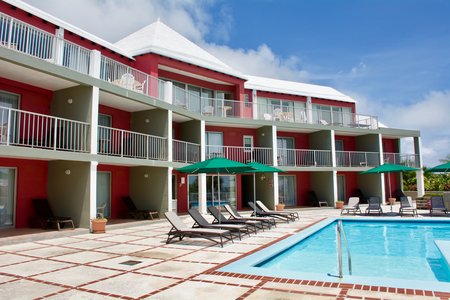 Photo: Rosemont Guest Suites 
Rosemont is only a fifteen-minute drive from the island's South Shore beaches and only a few minutes walk to the ferry terminal. 
The property has a large swimming pool and a terrace overlooking the
Hamilton Harbor
with plenty of chaise lounges and umbrellas for relaxing. 
Rosemont is family owned and operated, and provides great Bermudian hospitality and friendliness. 
Rooms and Amenities
They offer complimentary continental breakfast that includes coffee, muffins and yogurts set out in the lobby. There are complimentary morning newspapers and high-speed wireless internet access from anywhere on the property. 
All rooms are complete with full kitchenettes. They are equipped with: oven and four burner cook top, refrigerator/freezer, coffee maker (coffee is supplied), microwave and all cooking utensils, plates, cutlery and glassware.  
There are 47 apartments tastefully decorated in an attractive, comfortable, and colorful style. 
Standard Studio Suites 
These are standard sized rooms with king bed, air-conditioning, seating area, patio, private bath and a separate fully-equipped kitchen. 
Apart from this the rooms offer complimentary wireless internet access, free local telephone calls, in-room safe, iron and board, hairdryer, etc. Some of these suites are located in quiet garden settings while the others have pool view. 
A standard  studio suite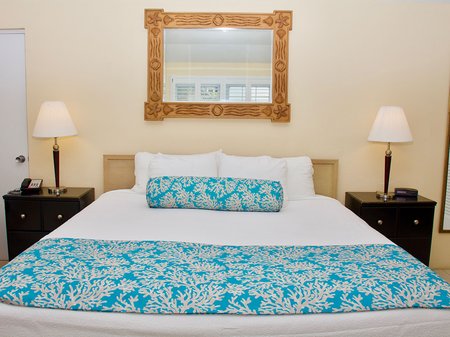 Photo: Rosemont Guest Suites 
One Bedroom Suites 
These have a separate bedroom and bathroom from the living room and Kitchen area. They are king bedded with a queen-sized pull out couch in the living room. The Kitchen is fully-equipped. these suites are located in quiet garden settings 
Suites on Top 
The Panoramic, Penthouse, and Harbor View Suites on the third floor are all unique and are the largest. They have spectacular panoramic views of the harbor 
For example the Panoramic Suit offers view of the pool and beyond that to the harbor and many tiny islands through its large sliding windows. You can even see
Gibbs Hill Lighthouse
far away. 
The room area would be close to 650 square feet. The Penthouse has a king bed and the Panoramic and Harbor Suites have two Queen Beds. They are equipped similar to all other suites. 
Other amenities include: Individually-controlled air-conditioning, Cable TV, Clock radio, Hair dryers, Irons and boards, In-room safes, Daily maid service, accessible Wheelchair. 
There are also barbeques for guests to use. They also offer same-day laundry service for a small charge and there are coin operated washers and dryers as well. There are also an ice, soft drink and vending machines in a central location on the property. 
My overall opinion
These are nice and cozy apartments in a location which is convenient and close to Hamilton City. No beaches nearby. But you can walk to the Ferry terminal in 5 minutes and to the bus terminal is 10 minutes. 
So, a great place to have easy access to public transports and get around the island. The staffs are very friendly and will go out of the way to help you with your requirements. 
The apartments are generally clean although there have been an instance of microwave in the kitchen being kept unclean and we having to call the staff to clean them. 
A big plus of the property is its attractive garden setting with a nice pool. This BnB apartments are good for tourists as well those on business. 
Location and Contacts
Rosemont Guest Apartments, 41 Rosemont Avenue, Pembroke Parish. 
41 Rosemont Avenue | Pembroke HM08 | Bermuda 
Phone: (441)292-1055 
It's at a walking distance from the Hamilton City Center (Front Street) and also on the main bus routes passing through Hamilton. 
The main Hamilton bus terminal is about 10 minutes walk. But the Ferry dock is only quarter of a mile from the hotel. 
Go through
Bermuda Hotel Map
showing the location of the hotel and several others nearby. 
Road Map 

By Raj Bhattacharya 
Raj, a seasoned travel writer and Bermuda destination expert, has extensive global travel experience. This website reflects his profound insights, garnered over nearly two decades of dedicated findings and research on the island. Raj has assisted countless Bermuda-bound visitors by providing direct, personalized responses to their queries and imparting his wealth of knowledge through this platform. This site serves as an indispensable guide for those seeking informed and reliable insights into Bermuda's treasures. 
Related Articles
Visitors' Reviews and Comments
Review and share your experience