The Hermes
Sunk in Bermuda Waters on May 15, 1985
The Hermes is Bermuda's most popular shipwreck dive site because it remains fully intact. Built in Pennsylvania in 1943, operated by the U.S. Navy, the little 165 feet long and 254 ton ship featured a unique configuration.  
Her mast was directly in front of the wheelhouse and the cargo hold was in the forward part of the ship. Connected to the mast was a 20 ton cargo boom that allowed the ship to pick up navigation buoys and lower them into her hold. She was bound for the Cape Verde Islands when she experienced engine trouble near Bermuda. Hermes was eventually abandoned by her crew because repairs were estimated to cost more than the ship was worth. 
After an anticipated sale of the vessel did not materialize, the Bermuda government awarded the ship to the Bermuda Divers Association for creation of an artificial reef. The vessel was thoroughly cleaned and made dive safe prior to her final voyage on May 15, 1985.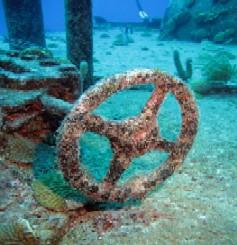 Hermes lies one mile offshore at Horseshoe Bay. The small ship sits upright in 80 feet of water with her mast pointing toward the surface. This wreck is a favorite among underwater photographers because she is intact, the visibility is exceptionally clear and lighting conditions are bright. The white sand bottom reflects sunlight and helps eliminate the dark shadows normally found around shipwrecks. Divers can examine her engines, galley, cargo hold, pilothouse, deck winch and propeller. 
The aquatic life on the wreck is marvelously healthy. Many Sergeant Majors and Damsel Fish have taken charge of the vessel and guard it with ferocity. Typically expect to find a resident school of Barracuda numbering into high tens to as many as one hundred. Despite many years of submersion, this wreck remains relatively clean of marine growth and is still in excellent condition. 
Check
shipwreck map
to get an idea about the location of this wreck in Atlantic. 
Related Articles
1) Visit
Famous Bermuda Shipwrecks
to know about amazing stories of many other famous ships that were wrecked in Bermuda waters. 
Visitors' Reviews and†Comments
Antonio Rodrigues (January 2022) 
At the time I was 25 years old and I was on the Hermes ship going to Cabo Verde Island. I have very good memory of the trip on Hermes, thanks god Iím in live, thanks to have the history of Hermes /Fogo Brava.