The Montana
Sunk in Bermuda Waters in December 1863
The Montana often operated under different names like Nola, Gloria, Paramount and Montana. She was a highly successful Civil War blockade runner that made frequent trips between England, Bermuda and North Carolina. Built in Glasgow, this sleek 236 foot paddlewheel steamer could run at a sped of 15 knots. Like many times, the shallow rocky reefs of Bermuda again accomplished what no gunboat could do and she was wrecked in December 1863.  
During the first leg of her mission, under the command of Captains Pittman and Rollins, the Montana (known at the time as the Nola) was caught in the North Atlantic's brutal winter storms. Arriving from Bermuda's east side under a threatening weather conditions, the captain thought that finding an entrance somewhere on the western side would be a better bet. 
But, even after circumnavigating most of the island's dangerous northern reef system, the Montana wrecked near the mouth of Western Blue Cut. Shortly after her grounding on December 30, a steamboat from St George was able to go to her assistance, rescuing not only her crew but most of her cargo as well. 
Montana Shipwreck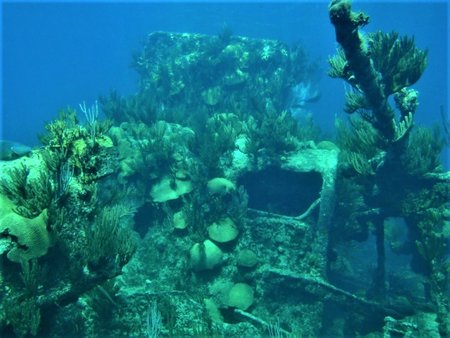 Photo: Heidi Hess 
Nothing could be done for the Montana, she had a 10 foot long hole in her hull below the waterline. Today the Montana's scattered remains lie in 30 feet of water in the middle of a large sand valley surrounded by high coral heads, eight miles northwest of the Hamilton dockyard. Her bow is still relatively intact and heavily encrusted with coral. 
The greatest concentration of wreckage and the most attractive for photography, lies around her mid region. Here, the Montana's coal burning engine furnace can still be seen standing upright about seven feet below the surface. Behind it are the ship's two large iron paddlewheel frames, which look like small Ferris wheels. Both structures and the bow are heavily overgrown with corals. This shipwreck is marked by a huge steam boiler and two paddlewheel frames. Adorned with a heavy coating of hard corals, soft corals and all sorts of marine life, she is a beautiful sight. 
Tunnel next to Montana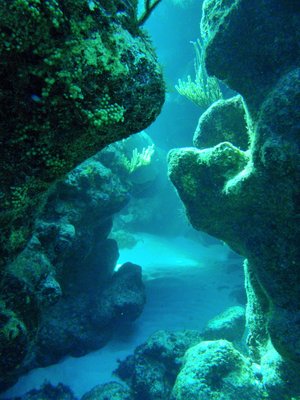 Photo: Heidi Hess 
There are many types of fish to be seen, including a resident school of large Grey Snappers on the wreck, and a large school of Barracuda in the sand hole next to the paddle wheels. In spring and autumn, a school of as many as 500 Barracuda can be seen here. The Montana sits near the wreck of the
Constellation
, which hit the same section of reef in 1942.  
The prime season for diving both wrecks is August through October, when visibility is usually at its best and the water temperature is still in the 78 to 82░F range. 
Check
shipwreck map
to get an idea about the location of this wreck in Atlantic. 
Related Articles
1) Visit
Famous Bermuda Shipwrecks
to know about amazing stories of many other famous ships that were wrecked in Bermuda waters.