The Minnie Breslauer
Sunk in Bermuda Waters on Jan 1, 1873
The Minnie Breslauer was one of those unlucky ships that gives nightmares to insurance companies. She sank on her maiden voyage, on New Years Day! This 300 foot long English steamer was built and launched towards the end of 1872.  
Bound for New York she departed Portugal with an assorted cargo of cork, lead ingots, dried fruit and wine. The captain and his 24 crew were in good spirits on this trans-Atlantic voyage. Intending to use Bermuda as a landmark, the captain edged his new ship close to the islands South Shore. He did not have the appropriate navigation chart and was unfamiliar with the waters. 
Cruising at full speed, the ill-fated ship rammed into a submerged reef one mile offshore, causing the bow section of the hull to collapse. Not realizing the extent of the damage, the captain desperately tried to back his ship off the reef. This immediately caused it to begin sinking.  
Today, the giant shipwreck is off Bermudas south shore, not far from the Fairmont Southampton Hotel beach. She lies on her starboard side on a coral slope, with her crumpled bow at 40 feet and her stern against the flat sand bottom at 70 feet. 
Prolonged saltwater submersion has caused this steel hulled Bermuda's famous shipwreck to become heavily overgrown with dome corals, sea whips and sponges. A huge steam boiler sits on the ship, providing an excellent point of reference while exploring this wreck.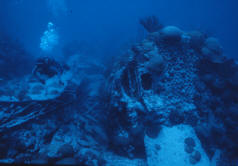 Much of the ship is a jumble of steel beams, deck plates, bulkheads and deck machinery. Yet the ships basic structure is still recognizable. The most interesting portion of this wreck is the stern, where you can get into the interior and shoot photographs among the steel beams. The ships giant four bladed propeller is intact and partially buried in the sand.  
The rudder is also present. Perhaps the most interesting artifact is the ship's steering; a metal device that allowed the ships rudder to be moved by a steering lever. You can often spot Flamingo Tongue Shells on the Fans and Gorgonian's. Underwater visibility in this area ranges from good to excellent ranging up to 100 feet. 
This wreck site is popular because of its proximity to three Bermuda dive operators and because visitors receive a Bermuda Shipwreck Certificate upon completing this dive. 
Check out
shipwreck map
to get an idea about the location of this wreck in Atlantic. 

By Raj Bhattacharya 
Raj, a seasoned travel writer and Bermuda destination expert, has extensive global travel experience. This website reflects his profound insights, garnered over nearly two decades of dedicated findings and research on the island. Raj has assisted countless Bermuda-bound visitors by providing direct, personalized responses to their queries and imparting his wealth of knowledge through this platform. This site serves as an indispensable guide for those seeking informed and reliable insights into Bermuda's treasures. 
Related Articles
1) Visit
Famous Bermuda Shipwrecks
to know about amazing stories of many other famous ships that were wrecked in Bermuda waters.