Mary Celeste (or Marie Celestia)
Sunk in Bermuda Waters on Sep 13, 1864
If you want to know about the ghost ship Mary Celeste that was found abandoned off the coast of Portugal, then Go to
Ghost Ship Mary Celeste
. The shipwreck that I am describing here is one of Bermuda's most historic shipwrecks with the same name and also known as Mary Celestia. 
The sleek 225-foot ship weighed 207 tons. This side paddlewheel steamer was chartered during America's Civil War. She was utilized as a blockade-runner while smuggling guns, ammunition, supplies and food for the troops in the South. 
One of the swiftest of her class, Mary Celeste had made at least five successful trips delivering goods to the south. On September 13, 1864, under the command of captain Sinclair and piloted by a local Bermudian John Virgin, Mary Celeste left for Wilmington, North Carolina. The ship was carrying cargo, which included beef, bacon, ammunition, and much needed rifles for the war. 
The Mary Celeste made an unusually fast run through the east end channel and up the south side of the island. First officer Stuart announced some breakers he had spotted ahead. But the local pilot John who was steering the vessel responded saying that he knew every rock out there in the sea. All on board the ship had to pay dearly for such over confidence. 
Within seconds, the vessel slammed into a reef and was sinking. The ship's cook had returned to his cabin and never made it out of the sinking ship. He was the only casualty. 
Mary Celeste Bermuda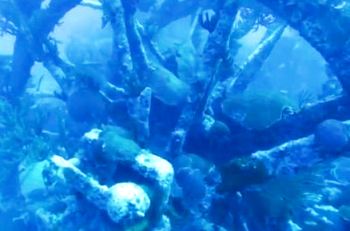 The wreck lies in 55 feet of water, with one of her paddlewheel frames standing upright like a miniature Ferris wheel. The other paddlewheel of this Bermuda's famous shipwreck lies flat on the sand along with many interesting artifacts such as the boilers, anchor and part of the bow. 
The sand area where the wreck lies is not a great place to find fish. However the occasional Eagle Ray will come into the sand flats to feed. Huge Groupers are often spotted close to the bow section. Towards the shore and a little off the wreck is a mini wall like structure, which climbs to within 10 feet of the surface. This is where you will find many fish and the Marie Celeste's heavily encrusted anchor. 
UPDATE JUNE 2011: 147 years after it was sunk, a group of international marine archeologists have discovered five bottles of fine wine from the wreck of Mary Celestia. The sealed wine bottles were stashed in an wooden crate near the tip of the bow and surprisingly found to be still intact. This discovery hints towards the fact that this blockade runner that supplied guns to the British backed confederate forces, was also involved in illegal wine trade. That the bottles were stashed in the bow indicates that they were deliberately kept out of the sight of the captain and the inspectors. 
Check out
shipwreck map
to know the location of this wreck in the Atlantic. 
Related Articles
1) Visit
Famous Bermuda Shipwrecks
to know about amazing stories of many other famous ships that were wrecked in Bermuda waters.