The Lartington
Sunk in Bermuda Waters on Dec 14, 1879
The Lartington was an early vintage freighter that crashed into Bermuda reefs on December 14, 1879. The old steamer had departed Savannah Georgia for Russia with a cargo of cotton. Her voyage was not an easy one; she encountered numerous storms and heavy seas. A giant wave cracked her hull, causing a massive leak. The ship's water pumps could not keep ahead of the incoming sea and the captain decided to make a run towards Bermuda.  
She never made it. Instead, the unlucky ship ran aground on the reef five miles northwest of the Royal Naval Dockyard. The crew abandoned the ship in lifeboats and was soon spotted and towed into Hamilton by a pilot boat. The Marine Board of Inquiry attributed the stranding to gross negligence and carelessness. The Captain should have taken information for depth and should never have altered his course. 
Subsequent storms scattered remains of this Bermuda's famous shipwreck, but her bow section is fairly intact. She lies in 15 to 30 feet of water with her steam boilers, stern section and propeller still visible. There is quite often a large Margate or a black fin Grouper underneath the bow. By the stern, keep your eyes open for the resident school of French Grunts, which will upon your approach surround you.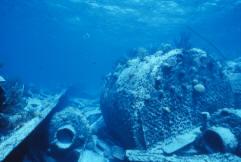 In the sand pockets around the wreck, you can see Purple Heart Sea Urchins. To the south of the wreck just beyond the bow, you will find a huge head of coral. There is a small cave on the eastern side, which typically houses between five and ten large Spiny Lobsters. 
This is also a fairly good area for finding shells, especially Tellin's. Look out for Eagle Rays feeding off the Heart Urchins in the large sand beds. The visibility on this wreck is usually fairly good, averaging 70 feet in the summer to well in excess of 200 feet during the winter months.  
Check
shipwreck map
to get an idea about the location of this wreck in Atlantic. 
Related Articles
1) Visit
Famous Bermuda Shipwrecks
to know about amazing stories of many other famous ships that were wrecked in Bermuda waters.