Caribbean Princess Cruise to Bermuda
Our Review
Here are some basic facts about The Caribbean Princess cruise to Bermuda: Total capacity is 3100 passengers. So it's a big ship. It started its operation in 2004. 
There are 15 passenger decks in the ship. Out of 1557 cabins or staterooms, 881 of them have balconies. The cruise departs from New York and docks at
Kings Wharf
in Bermuda. 
Caribbean Princess Cruise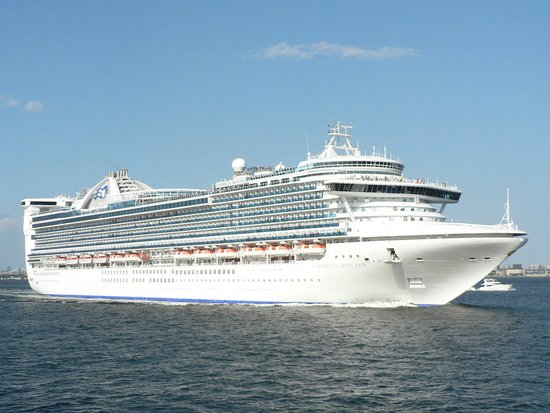 Photo: Marc Smith, flickr, cc by 2.0 
The Cabins or Staterooms
You have many choices starting from Grand Suites, Mini Suites, Double with or without balcony, right up to inside double (that have no ocean views). 
The Grand Suites have queen-size bed, a separate sitting room with convertible double sofa bed and dining area, large balcony, two televisions, personal computer, refrigerator, wet bar and walk-in closet. The bathroom has a corner tub (equipped with whirlpool jets) and a brass-fitting shower. Over all cabin size is about 1,280 square feet including balcony. 
The double ocean view cabins with balconies have twin beds, refrigerator, TV, closet, a desk and bathroom with shower. Size varies between 233 to 285 square feet, including balcony. There are double ocean view cabins without a balcony as well. The inside cabins are similar. Only difference is they are smaller (about 135 Square Feet) and have no ocean views, and therefore the cheapest of all. 
Restaurants and Dining Options
Traditional: The ship has several formal dining rooms. One of the best is Palm Dining Room. There are fixed time for the meals. 
Anytime: In this type, you aren't limited to eating at a fixed time on the ship. Options are the Coral Dining Room and Island Dining Room 
Specialty: There are restaurants serving nice local specialties. We had to wait at times (about 10-15 minutes). So recommend you reserve in advance. 
You have a choice of Sabatini's (an Italian restaurant), Sterling Steakhouse, and Ultimate Balcony Dining. There are cover charges, so watch out. 
Casual: You have casual dining eateries for quick bites. You can also take your food and dine by the pool. Here are the other choices: 
24-hour dining in the Horizon Court  
Café Caribe - serving Caribbean theme food  
Wine bar 
Lobby bar and patisserie  
Scoops ice cream bar  
Prego Pizzeria  
Trident Grill (burgers and hot dogs)  
24-hour room service 
Onboard Entertainment
The ship has recently transformed it's former atrium into a new three-deck-high, cafe style plaza. Here you get International Cafe (a bakery-cum-deli), Vines Wine and Seafood Bar, the Internet Cafe, Library and an entertainment area. All around this area you can enjoy variety of demonstrations and musical performances throughout the day. You also have the following options: Princess Theater and Movies Under the Stars (this is outdoor). The movies shown are generally feature length films. 
Other hot spots include Grand Casino (one of the largest on board cruise casinos), Explorers Lounge (nightclub-style performances), Skywalkers Nightclub (15 decks above the sea) and Club Fusion (a high-tech entertainment venue featuring 42 video screens and in-table slot machines). Lounges includes Wheelhouse Bar (marine theme), Churchill Lounge (cigar lounge and sports bar), Crooners Bar (offering more than 50 types of Martini) and Jokers Card Room. 
Activities
Pools and Spas: Calypso Reef and Pool (has 2 hot tubs), Neptune's Reef and Pool (has 2 hot tubs), 
Terrace Pool, Lotus Spa Pool (has 2 hot tubs), Pirate's View hot tub and splash pool. 
Lotus Spa and fitness center offers complimentary stretching and aerobics classes, as well as $12-per-class yoga and Pilates. There are over 20 trade mill machines here. 
Sports: Swim-against-the-current lap pool, Nine-hole putting course, Virtual golf simulators, Jogging track, Center Court, Shuffleboard 
For Kids: Children and teens have their own places to hang out. Teen centers are equipped with video games and movies, arts and crafts, foosball tables, board games and jukeboxes. Kids' can enjoy karaoke, pizza parties, pajama nights and so on. 
Others: Art gallery and auctions, 24-hour Internet service (there is wireless access, although we found signals from the cabins quite weak), Library and writing room, Hearts and Minds Wedding Chapel. There are Deals on designer clothing and gifts. 
Caribbean Princess: Cost that are outside the cruise deal
Watch out for these extra charges which are not covered in your basic cruise deal package in Caribbean Princess: 
As part of gratuity, Caribbean Princess adds $10.5 per person per night. 
Yoga and Pilates at the fitness center costs $12-per-class 
Internet charges are 75 cents per minute, or $55 for 100 minutes. There are other packages as well. 
Most cafe items are free, except chocolate-covered strawberries and evening tapas (ranging from $1 to $5). The "Queen of Steam" or "Jack of Java" punch cards are great deals. It gives you 15 espresso drinks of your choice for $24. 
A main course in Sabatini's (the Italian restaurant) will cost around $20. You need to order just one main course. Everything else keeps coming and you can pick up whatever you want. In Crowns Grill (specializing in Steaks and Sea food), a main course is about $25. 
$3 per custom-made sundae at the Scoops Ice Cream. 
Although the kids programs are free, there is a $5 per child charge between 10 p.m. to 1 a.m. 
Caribbean Princess: Our overall review and opinion
Although this is a large ship with a capacity of over 3000 passengers, we never felt the ship was overcrowded. The fellow passengers range from families with old, young and children of all ages.  
The summer time attracts lot more families. I love the new Piazza that has been created with all sorts of entertainment going on over there, from magicians, comedians to big productions. It was also nice to round off the evening with some live music.  
Although all cabin mattresses have been upgraded in late 2007, the ship is showing some signs of age. Like the coating of paints at some places, balcony furniture being a little worn out. 
However looking at all the positives, I guess I can live with these minor downsides. Overall, we enjoyed the cruise. 
Related Articles
1) Check out
Bermuda Cruises
to know all about cruises calling ports in Bermuda.