Review of
NCL Norwegian Dawn Bermuda Cruise
You can easily recognize NCL's Norwegian Dawn by its wild colorful stripes and a huge impression of Statue of Liberty on its hull. The Dawn has a total capacity of 2,224 passengers plus 1,100 crew. So it's a fairly big ship. It started its operation in 2002. There are total of 15 decks in the ship and 1,112 cabins. This cruise ship has been a regular caller in Bermuda and docks at a berth in
Royal Naval Dockyard
(usually Kings Wharf). The ship offers free style cruising.  
NCL Norwegian Dawn - cruise to Bermuda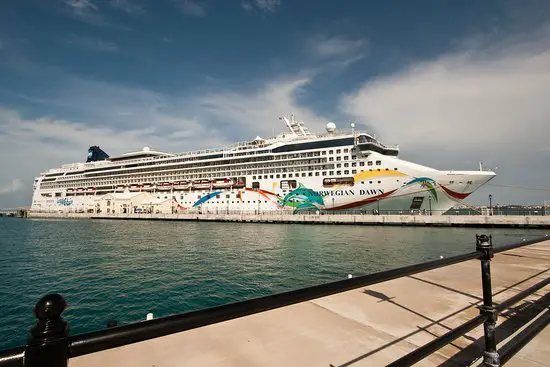 Photo: Andrew Malone, flickr, cc by 2.0 
So what is freestyle cruising? It means there is no fixed time for dining, there is no formal dress code, you can enjoy the early musical performance or the late show. The spa's open until 11 p.m. most nights, the fitness center and internet cafe are open round-the-clock. So there is a lot of casual flexibility. In a way it's a free style cruising. 
The Cabins or Staterooms
The ship emphasizes a lot on Garden Villa. The villa covers about 5000 square feet area along with private garden (with artificial plants though) and terrace. It has living room, dining room and three separate bedrooms, and CD/DVD library. Two bedrooms have a full bath with whirlpool tub and shower. Then there are Owner's suites (740 square feet) and Penthouses. These suites include a living room, private balconies, dining room, separate bedroom with mini bar, CD/DVD library and luxury bath with whirlpool tub and shower. Mini suites have sitting area, private balcony, two lower beds that convert to a queen-size bed, and luxury bath and shower.  
Balcony cabins have twin beds, sitting area, floor-to-ceiling glass door opening to the private balcony. The balconies have blue adjustable chairs and a small table. The cabins have twin beds, refrigerator, TV, closet, bathroom with shower. The fridge is generally empty and you can fill it with your own stuff. There are double ocean view and inside cabins as well. 
Restaurants and Dining Options
You have 12 restaurants to choose from. It's all mostly free style dining (5pm - 11pm). I recommend reservation in advance as we had to wait at times. 
Le Bistro French Restaurant: Located on Deck 6; accommodates 90. Menu offers modern classical and contemporary French food. 
Salsa Tapas Bar: Located on Deck 8; accommodates 112. Offers Tex-Mex cuisine in a changing assortment of hot and cold Tapas. 
Cagney's Steak House: Located on Deck 13; accommodates 132. This is an upscale, traditional steak house. 
Blue Lagoon: Located on Deck 7; accommodates 92. This is a 24-Hour food court serving burger and other fast-food. 
Garden Cafe: Located on Deck 12; accommodates 426. Offers a menu of omelets, pasta, soups, salads, and ethnic specialties. There's a special kid-sized section. 
Aqua: Main Dining Room: Located on Deck 6; accommodates 312. You can order for healthy light choices. 
Bamboo: Located on Deck 7; accommodates 114. Offers Asian cuisine like Japanese, Thai and Chinese with sushi and sashimi bar. 
Teppanyaki: Located on Deck 7 inside Bamboo. You can sit at tables of 10 and have Asian food. 
Venetian Main Dining Room: Located on Deck 6; accommodates 468. It's like a grand Italian restaurant with crystal chandeliers, a sweeping staircase. Offers an award-winning five-course menu. The master chefs are members of the international gourmet society Chaine des Rotisseurs. 
Sushi and Sashimi Bar: Located on Deck 7. The Ginza Japanese Restaurant also has a Sushi and Sashimi Bar. The menu is priced a la carte.  
Bimini Bar and Grill: Located on Deck 14 by the Oasis Pool. You get burger, pizza and other grilled items. Close by there is Sprinkles Ice Cream Bar. 
Impressions: An Italian Restaurant: Located on Deck 6; accommodates 198. It serves pasta with a choice of seven types of sauces. You also get crispy fresh salads, pizza, Italian desserts, a fine wine list and espresso drinks. 
Onboard Entertainment and Public Rooms
Decks 6 and 7 are where most of the indoor activities take place. The Grand Atrium, having a glass-dome ceiling, is the main center. Here you'll find passenger-service counters, a boutique with great glassware items, and the Java Cafe.  
If you go around the balcony, you will find La Salsa one deck above. In between, on the landing of a curved stairway, is a performance platform where bands play music in the evenings. On deck 7 you will find Dazzles Lounge and Nightclub. 
There are series of shops (Galleria) in deck 6. This area is laid out like an elegant duty-free shopping complex. There are shops for jewelry, cosmetics, perfumes, casual-wear and souvenirs.  
The Dawn Club Casino, located along the corridor that leads to the Stardust theater, has all the usual slot machines and games. The Stardust Theater, spanning across decks 5 through 7, is designed in a European opera house style. The main events are held here. 
There are more indoor activity rooms located on Deck 12. Here you'll find the library, a game room with lots of card tables, a cinema, and a nice writing room with couches that overlook the sea.  
Norwegian Dawn's all the nine bars are all known for their own unique offers: 
For example Salsa Bar for margaritas, the Pearly Kings Pub for offbeat British beers, and the Bimini Bar on Deck 14 for gorgeous views and wonderful tropical frozen drinks. 
Activities
Pools and Spas: There's a plunge pool and a regular pool (Oasis), plus two whirlpools. There is also an indoor lap pool. 
El Dorado Spa and Fitness Center offers stretching, aerobics, yoga and Pilates classes. The Spa is operated by Hawaii-based Mandara.  
Sports: There is a 360 yard (quite narrow though) Jogging / walking track, Basketball/Volleyball courts on deck 14, two golf driving nets on deck 13, shuffleboard and chess boards.  
For Kids: The main center is the T-Rex. It includes a play gym, movie theater and a computer center. There's a T-Rex kids' pool having smaller size lounge chairs, a water slide, and a whirlpool. 
Others: 24-hour Internet service (there is wireless access), Library and writing room, and an on board Wedding Chapel.  
Cost that are outside the cruise deal
Watch out for these extra charges which are not covered in your basic cruise deal package: 
As part of gratuity, the Dawn adds $10 per person per night. 
Yoga and Pilates at the fitness center costs $5 per-class 
Dining cost - Salsa $10, LeBistro $15, Bamboo $15, Teppanyaki $25, Cagneys $25, Impressions $10, Sushi Bar $10.  
Tap water, juice, coffee, iced and hot tea are the only free drinks. A beer costs $4.50. A bottle of wine can be $25-$100+. Most cocktails are $7-$12. Sodas are $2. The price is the same everywhere on the ship. 
You can not bring your own liquor on board other than limited quantity of wine in bottles. If you bring wine, there is a corkage fee. 
You have access to two restaurants, one cafeteria and one buffet lounge at no extra charge. 
There are no Laundromats on the ship, however they do offer dry cleaning services for a fee ($24.95 - you fill up the laundry bag). The Norwegian Dawn has a free self service laundry on deck 9.  
You can bring your own laptop or you can also rent one on board ($35). It can come free with some internet access plans. You have to pay for internet service whether you use your own laptop or a rental. Internet usage charge is 75 cents per minute or $55 for 100 minutes. There are various other packages too. 
For a child, only group sitting is available; evenings from 10 p.m. - 1 a.m.; in port from 9 a.m. - 5 p.m. Cost is $5 per child per hour. 
Our overall review and opinion
Although it's a freestyle cruise where you can wear casuals, there is one formal night when you won't be allowed to wear jeans in dining rooms. However the concept of Freestyle does offer you a lot of flexibility. You have all the freedom of having your food anytime or enjoy your entertainment in your own time. That I think is a big plus. 
Norwegian Dawn looks gorgeous with its bright colors and impressions all over, including the strong primary colors inside the cabins. This I think sets the theme of the voyage - easygoing and relaxing. This style is preferred by many cruise passengers these days compared to the traditional way of cruising which at times can become a drag. Over all a good cruise. 
Related Articles
Visitors' Reviews and Comments
Don Domingo (October 2013) 
My wife and I did a lot of research concerning cruise lines. I looked at things such as safety, freebies, food, shore excursions etc. Norwegian offered what we were looking for at a reasonable price. The Norwegian Dawn was a beautiful ship. Many activities to keep one busy and many choices for dining. The entire crew was very friendly and helpful. And the shore excursions were fun and informative and well organized. Since this was our very first cruise my wife and I did not know what to expect. After spending a seven day cruise to Bermuda from Boston aboard the Norwegian Dawn we hated to leave the ship when we arrived back in Boston. Thank you to Norwegian Cruise Lines for giving as wonderful memories that will last a lifetime! 
Richard Sprinthall (July 2012) 
The cruise from Boston to Bermuda on the Norwegian Dawn was one of the best cruises I have ever been on, and I have been on many. The ship is beautiful - clean and well maintained. The crew was very helpful, and extremely courteous.  The food was fabulous. We ate at the Venetian room at night and the 12th deck at all other meals. The ship handles the sea very well - even in bad weather. Bermuda was great, but the Norwegian Dawn was a destination of its own.  
Geraldine Corrigan (August 2011) 
We just returned yesterday and I would say it was a Wal-Mart style cruise. Very disappointed. The food was equal to school lunch-cafeteria food. It was primarily the same food every night. I will pass out if I see sliced banana bread or sliced yellow pound cake for dessert again. We paid approx. 7K for a family of five; 5500 for the trip and 1500 on the ship because everything was an additional cost. Not impressed at all with NCL, low grade, low quality, the sheets were stained and so was the carpet in our room. Black mold, there was a ring around the base of the shower. I love BERMUDA but never again on NCL.