NCL Norwegian Spirit
This is the cruise that we used to take so regularly for Bermuda while we lived in Boston. We know so much about it. Whenever we get back to Boston, we often take this 7-days Boston to Bermuda roundtrip cruise. Norwegian Spirit has been last upgrade in 2008 and there has been some changes. The ship has a total capacity of 1996 passengers with 920 crew. It started its operation in 1998, initially as a Malaysian ship, and later transferred to NCL. 
It leaves from Boston and docks at
Kings Wharf
. There are total of 13 decks in the Norwegian Spirit. Since it was a Malaysian ship originally, much of the Asian theme has been retained. Unlike Norwegian Dawn, you won't see much bright lighting. This is to give an upscale look. NCL upgraded the ship in fall 2008 and now it looks brand new. 
NCL Norwegian Spirit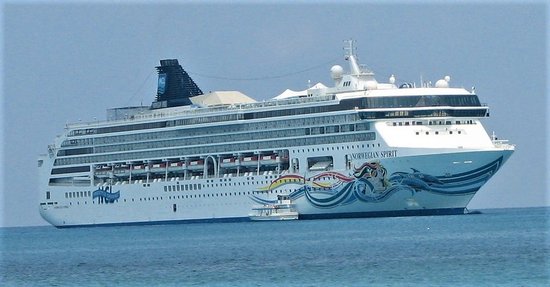 Photo: Purple Slog, flickr, cc by 2.0 
This ship, like the Dawn, has been designed for free style cruising. So there is no fixed time for dining, there is no formal dress code, you can enjoy the early musical performance or the late show. There is a lot of casual flexibility. 
The Cabins or Staterooms
There are Owner's suites and Penthouses. These suites include a living room, private balconies, dining room, separate bedroom with mini bar, CD/DVD library and luxury bath with whirlpool tub and shower. Double balcony cabins have twin beds, sitting area, floor-to-ceiling glass door opening to the private balcony. There are double ocean view cabins and inside cabins with twin beds, balcony, refrigerator, TV, closet and bathroom with shower. The fridge is generally empty and you can fill it with your own stuff. 
Restaurants and Dining Options
There are 11 restaurants to choose from. Dining is mostly free style, which means anytime between 5 p.m. to 11 p.m. Reserve in advance as there could be some waiting time. 
Cagney's Steak House: Located on Deck 7; accommodates 52. This is an upscale, traditional steak house. Charges $20. 
Garden: A main dining room on deck 6, accommodates 324. You can order healthy light food here and watch nice view of the sea. 
Bier Garten Grill: An open terrace restaurant serving German items like bratwurst, sauerkraut and such. 
Sushi and Sashimi Bar: Located on Deck 8 serving nice Sushi. Charges $15. 
Shogun Asian Restaurant: Located on Deck 8; accommodates 142. Offers Asian cuisine like Japanese, Thai and Chinese. Charges $15. 
Teppanyaki: Located inside Shogun Asian Restaurant on deck 8. You can sit at tables of 10 and have Asian food. Charges $25. 
Le Bistro French Restaurant: Located on Deck 7 and accommodates 102. Menu offers modern classical and contemporary French food. Surcharge $15. 
Raffles Court and Terrace: Located on Deck 12; accommodates 452. You get a selection of omelets, waffles, fruits, soups, ethnic specialties and pasta in this buffet-style indoor as well as outdoor restaurant. 
Blue Lagoon Cafe: Located on Deck 7; accommodates 36. This is a 23-hour Food Court serving burgers and other fast food. Wings prepared here are excellent. 
La Trattoria: Located on Deck 12; accommodates 74. You get pasta, pizza and other traditional items in this casual Italian restaurant. Charges $10. 
Windows: This is one of the main dining rooms at the end of deck 6. It accommodates 556 persons. You get a marvelous panoramic view from here. This is a classic and one of our favorites. 
There is 24 hours room service available. But we didn't much like the cold items. Instead the grilled sandwiches (from kids menu :-)) were nice and fresh.  
Onboard Entertainment and Public Rooms
The main atrium called the Grand Centrum is the main hub and spans across several decks. As you go up the staircase, you will find all the shops. There are not many of them though. There is a new Colombian Emeralds store and another jewelry store with the usual baubles. There is a sundry and duty-free shop and a logo/apparel shop.  
There is a wide spread sitting arrangements at the Grand Centrum for casual chats and conversations ... this is the main lobby area. The Cafe on deck 7 serves coffee and nice pastries. 
A lounge is located on deck 8 called The Champagne Charlie's where bands play live music in the evenings. Some of the other major entertainment options include: 
Maharini's Lounge and Nightclub: Located on Deck 7. The interior has been themed on Indian architecture. It has a real grand decor with a dance floor - the party here continues till wee hours. They call it 'Dance the Bollywood way'. Indian movie hub is in Bombay (now called Mumbai) and hence the name Bollywood given after Hollywood. A dance sequence is almost inevitable in any Indian movie with its own unique style. 
Galaxy of the stars: This is an observation lounge located on deck 12. You get a breathtaking view through floor-to-ceiling glasses almost in all sides. The interior is made of dark wood and looks awesome. There is a bar, a performance platform for bands and a dance area. There is live musical entertainment here every evening. 
Charlie's Childcare Center and Buccaneer's Wet and Wild: Excellent places for the kids... probably the best that you can expect in a cruise ship. It's got mini amusement parks with tunnels and hideout, kids' pool having smaller size lounge chairs, water slides, whirlpool, and other things the kids love. 
There is a photo gallery and art auction on deck 8. The Stardust Theater, spanning across decks 8 through 9 is wonderfully designed. The main events are held here. 
The casino, Maharaja's has a huge array of slots and table games and it includes a full bar.  
There are a number of other bars on the ship like, Henry's Pub - a typical English style pub, Shanghai Bar having Asian theme, Champagne Charlie's bar where you can taste a wide range of champagne, and so on. 
One of my favorites is to take a beer in Raffles Terrace. It has a great view. There is a smoking room on deck 12. 
Celebrity Teen Disco: Located on Deck 13; accommodates 100. This is the spot on the ship for the teen crowd. It's complete with video, jukebox, foosball and air hockey. 
On-Board Activities
Pools and Spas: The Tivoli Pool is the main swimming pool on deck 12 and quite large and has 4 hot tubs. There is another pool Aquaswim on the same deck. The Roman Spa and Fitness Center offers stretching, aerobics, yoga and Pilates classes. The Spa is operated by Hawaii-based Mandara.  
Sports: There is a Jogging / walking track, Basketball/Volleyball courts, golf driving nets, all on deck 13. 
Others: Internet Center, Library, card room and writing room are all on deck 12.  
Cost that are outside the cruise deal
Watch out for these extra costs: 
As part of gratuity, the Spirit adds $10 per person per night. 
Yoga and Pilates at the fitness center costs extra. A mid range Spa massage will be around $100. 
There are cover charges for dining at the specialty restaurants and I have mentioned those earlier.  
You can not bring your own liquor on board other than limited quantity of wine in bottles. There is a corkage fee if you bring wine bottles (close to $10). 
Tap water, juice, coffee, iced and hot tea are the only free drinks. A beer costs $4.50. A bottle of wine can be $25-$100+. Most cocktails are $7-$12. Sodas are $2. 
There are no Laundromats on the ship, however they do offer dry cleaning services for a fee. 
Internet usage charge is 75 cents per minute or $55 for 100 minutes. There are other packages too. 
There is extra charge for the kids to use the arcade machines - they are run with quarters. There is no chare for WII. 
Our overall review and opinion
Although it's a freestyle cruise where you can wear casuals, there are two optional formal nights in a 7-night cruise. Shorts and exercise wears are not allowed in any specialty restaurants anytime. 
However the concept of Freestyle does offer you  a lot of flexibility in most of the times. You have all the freedom of having your food anytime or enjoy your entertainment's in your own time. That I think is a big plus. The cruise is easygoing and relaxing. 
This style of cruise is preferred by many cruise passengers these days compared to the traditional way of cruising, which may not be as much fun as this. Hundreds of families travel in the ship with children. Many family groups prefer this ship as most of the rooms have connecting doors to the adjacent ones.  
The restaurant and bar services can slow down considerably during the peak hours. However, the room stewards have been doing a wonderful job. 
When it's docked at Bermuda Kings Wharf, the Spirit offers a number of good excursions including biking and catamaran tours. Over all we like the Norwegian Spirit and we love the Asian theme that gives an upscale look to the ship. 
Related Articles
1) Check out
Bermuda Cruises
to know all about cruises calling ports in Bermuda.