Bermuda Glass Bottom Boat Tours
Glass Bottom boat tours are offered by several operators in Bermuda. All these boats have a part of their bottom (i.e. the hull) made of glass so that you can see through it and watch the fascinating coral reefs, fish and other marine life in the water. 
You will sit or stand around the edge of the glass bottom area and watch the amazing underwater world. Depending on the place where you start the tour, the captain would take you to a nearby water area which is full of marine life and some such tours also let you feed fish. 
Glass Bottom View of corals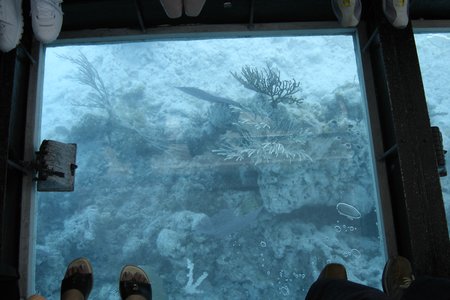 The tour is usually combined with some sightseeing. For example if you take the tour from Royal Naval Dockyard (Kings Wharf) area, then the usual water area where the boat goes is near the Western Blue Cut at the western waters. 
Glass Bottom View of fish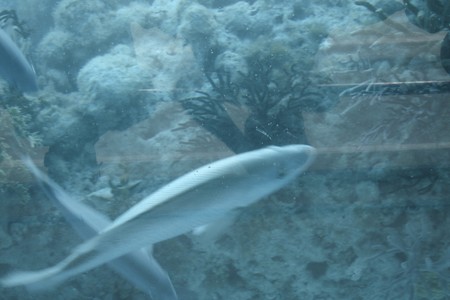 It shows you the partially submerged shipwreck of HMS Vixen where you also feed the fish. This is followed by glass bottom view in a place like Sea Garden which is famous for its crystal clear water and lovely view of colorful corals looking like a tropical garden, and marine life. 
View of Shipwreck HMS Vixen 
A typical glass bottom boat tour along with sightseeing lasts for about 90 - 120 minutes. 
Short Video on Boat Tours
Operators and Offerings
Here are the top operators offering glass bottom boat tours in Bermuda: 
This is a large 70-ft boat with two open decks taking up to 150 passengers. The lower deck has the glass bottom while the upper deck has Bimini top cover to relax and watch views. 
Turtle Cove Glass Bottom Snorkel Adventure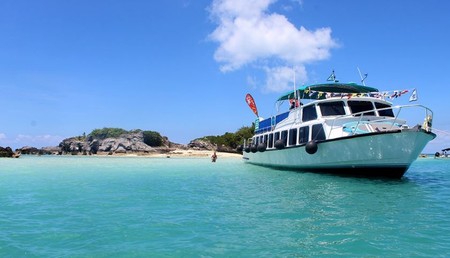 Photo: Reef Explorer Bermuda 
The large glass bottom is great for underwater views. They take you to the reefs in the western water and show you an 18th century shipwreck of HMS Vixen. You can also participate in fish feeding. The tour then moves on to Turtle cove to show you green turtles. They also offer a combo tour including Glass Bottom, Turtle Cove, Swimming and Snorkeling. 
Rates by Viator 
One option with this operator is the large 65-ft boat 'Coral Princess' with two decks. The tour leaves from the dockyard, takes you to the shipwreck site of HMS Vixen. Here you also see a large variety of marine life including fish through glass bottom views. 
Coral Princess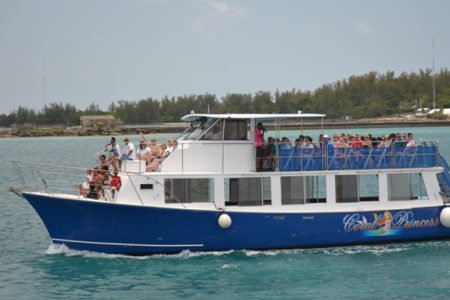 Photo: Captain Kirk's Coral Reef Adventure 
The boat then anchors very close to the shore in the shallows where you can swim and snorkel, or wade ashore. Complimentary rum swizzle is provided. 
Another 40-ft boat 'Reef Comber' is offered for glass bottom and snorkel charter or group tours. It has a capacity of 40. It has marine head (toilet), swim platform and glass bottom. Water sports like jet ski, kayak, water ski etc can also be arranged. 
The operator also offers 'Bermuda Triangle Night Glass Bottom Tour'. It's a tour after dark and you watch the underwater marine life and corals as the ocean floor gets lit up with powerful lights under the boat. Complimentary rum swizzles are served. 
Rates by Viator 
X No longer in operation 
They have a 78-ft boat with air conditioned cabin and offer several types of Glass Bottom boat tours. First one is a Glass Bottom tour which usually takes you to western waters showing colorful coral reefs and the partially submerged shipwreck of HMS Vixen. 
The second type of tour is a Glass Bottom and Sightseeing combo where other than reefs and shipwreck, you get to experience feeding fish, see famous celebrity homes along the shoreline and picturesque scenes, pass by several lovely secluded islands known locally as 'The Straights of Paradise'. On your return you see a part of the shore known as 'Fairylands Creek' where the richest of the island live - purchase of a house here below $3 million is considered a steal. You also enjoy drinks from the on-board bar. All along a commentary is given so that you learn a lot about the island and its people. 
They also offer night glass bottom tour on the same boat. During the night time the glass bottom is lit up so that you can clearly see the corals and marine life underneath. Cocktails are available on board. 
Related Articles
Visitors' Reviews and Comments
Vin (August 2019) 
Regarding those glass boat tours, is it possible if I can book it while I was docked at Kings wharf? Will the fees be same? 
Raj (bermuda-attractions.com) August 2019 
Hi, you can book the tours through Island Tour Center while docked at the cruise port... they have a kiosk right next to the cruise pier at Dockyard. They take an additional booking fee which is non-refundable. However, in high season availability of tours is not guaranteed unless booked in advance. 
Jane (July 2019) 
Excellent trip on the Reef Explorer glass bottom boat. Very informative crew with tons of information about Bermuda and the reefs throughout the 2 hour trip.  Our family of 5 had a great time, even the 3 year old who loved feeding the fish! 
Nancy (June 2017) 
While on a cruise to Bermuda we took an excursion on the glass bottom sunset cruise by reef explorer. We had a wonderful time. Saw lots of fish and turtles and a beautiful sunset. Our captain was very knowledgeable and his crew was very friendly. I would highly recommend this tour.