Bermuda Island Specials
This 21 square mile tiny island Bermuda has a lot of unique offerings that make it so special. Here are some of them: 
1) Bermuda is not a single island. It is a string of 181 islands and islets. Only six of them are inhabited and are joined by bridges or causeways. So you can imagine how many islands are there for you to explore. Some of them are so tiny that they are suitable only for birds to make their nests. 
View of an island from boat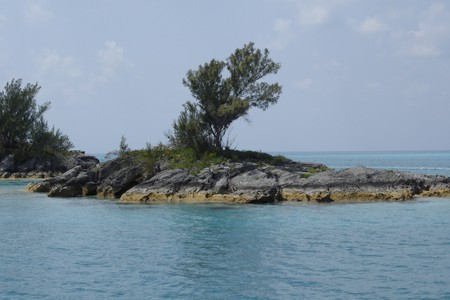 2) There are more than 25,000 couples who honeymoon in Bermuda every year. 
3) Bermuda is one of the corners of the mysterious Bermuda Triangle. It has over 300 shipwrecks very close to it in the waters of Atlantic. Many of them have been wrecked off the Bermuda island itself. 
4) This mysterious island had inspired Shakespeare to write his play The Tempest in 1610. 
5) World's some of the most beautiful and pink sandy beaches are here in Bermuda. So if you love to swim, or snorkel, there is probably no better place in the world than Bermuda. The book '
1000 places to see before you die'
, prominently mentions Bermuda's
South Shore Beaches
as one of such destinations. 
6) Bermuda is a paradise for those who love the underwater world. Bermuda's Atlantic offers breathtaking views of coral reefs, shipwrecks, underwater caves, a variety of coral and marine life, and finally clear and warm water. By the way, Bermuda has won three diving and snorkeling awards from Scuba Diving Magazine's Readers Choice awards in 2010. 
7) Bermuda Moongate: Centuries ago, Bermudians imported the idea of moongates from China. These were large rings of stones used as garden ornaments. Walking through a moon gate is supposed to bring good luck. Almost all the newly married couples in Bermuda walk through the moon gates to bring in good luck in their lives. 
Bermuda Moongate at Somers Garden, St. George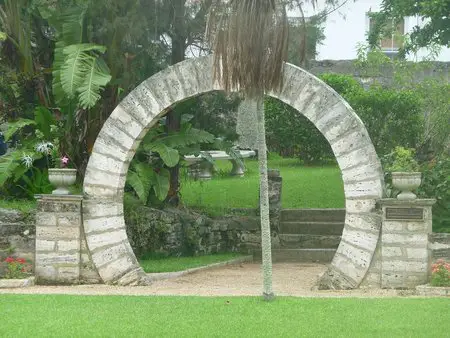 Photo: Clyde Adams III, flickr, cc by 2.0 
8)
Somerset bridge
, at the Somerset island in western Sandy's parish is the world's smallest draw bridge. The opening between the two half-spans of the bridge is just wide enough to let the mast of a ship pass though. 
9) Bermuda's Easter lilies blossom during the spring time. These were first brought to the island from Japan in the 18th century. 
10) Bermuda has more golf courses per square mile than any other place in the world, and that too with stunning settings and spectacular ocean views. 
11) There are no billboards or neon signs in Bermuda. There is a ban on outdoor advertising and neon signs. 
Here are some real survey opinions that was published by Royal Gazette in 2010. The poll results came out of Bermuda Department of Tourism's visitor exit poll survey. Here is what the Bermuda visitors said: 
70 percent of those polled said they would definitely be coming back to Bermuda. 
And of those visitors who had been to another island destination, 85 percent said they preferred Bermuda. 

By Raj Bhattacharya 
Raj, a seasoned travel writer and Bermuda destination expert, has extensive global travel experience. This website reflects his profound insights, garnered over nearly two decades of dedicated findings and research on the island. Raj has assisted countless Bermuda-bound visitors by providing direct, personalized responses to their queries and imparting his wealth of knowledge through this platform. This site serves as an indispensable guide for those seeking informed and reliable insights into Bermuda's treasures. 
Related Articles
1)
Why Visit Bermuda
: Know about what is it that makes Bermuda a place for must visit.