Surf Side Beach Club Bermuda
Category: $$$  Location: Warwick Parish 

 

Perched on a cliff side, Surf Side Beach Club is a secluded hotel overlooking the south shore beaches in Bermuda. The hotel has an intimate atmosphere and provides good privacy. All 37 rooms and the cottages are designed to have great view of the ocean. 

 

At the same time, the hotel is quite centrally located on the south shore and is on the main bus route. So reaching any point in the island is quite easy. 

There are 1-bed room apartments near the terrace pool. Other accommodations (like deluxe rooms and suites) are in the hill side buildings. The rooms are quite spacious, simple, clean and all have full or partial kitchens. You can hear waves breaking against the rocky coast below. If you want, you can hike along the rocks and reach beautiful secluded coves and small beaches along the south shore. There is a local grocery store which delivers the order to your room. Surf Side is a pet friendly hotel. 

 

Surf Side Bermuda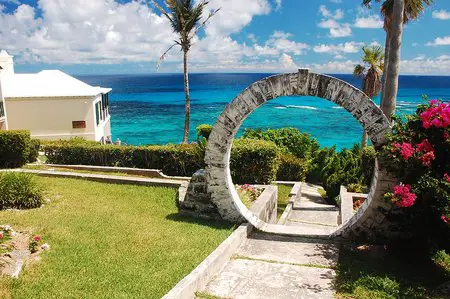 All rooms have a balcony or a patio and offer great views of the ocean. Room amenities include hair dryer, coffee maker, cable TV, Ironing board, safe etc. The kitchens include fridge, microwave or a gas oven. Rooms are all air conditioned. 
There is no in-house restaurant in Surf Side now. Earlier it had couple of nice restaurants & bars - The
Palms
which had a bar and the
Aqua
which was great for a romantic dinner from its cliff side terrace. But both have closed down. So does that say something?  Well yes. 
They closed down because they were not running well enough. The hotel has been showing signs of its age and weathering. Although rooms and bathrooms are still clean, but when you look at the details like the bed linens, room decor & interiors etc, you get a feel it's probably not what you expected. 
So how do you dine here? Well you will need to stock your groceries. There is a grocery store within some 5-minutes walk. If you let the staff know in advance, they will stock your provisions in the refrigerator. 
Alternatively you can walk down to a full service restaurant which is located within 5-6 minutes walking distance. But watch out, there is no side walk along the road. So you will need to walk carefully. 
Amenities in the hotel 
1) The hotel has free wifi internet access but only in and around its lobby. You won't usually get wifi in the rooms unless you are in the main building. There is also an internet terminal at the lobby for free use by the hotel's guests. 
2) There is a Salon and mini Spa in the hotel. It specializes in manicures, pedicures, massages, facials, hair care, reflexology, electrolysis etc. 
3) A fresh water swimming pool which is usually quite clean and nice. 
4) There is an ocean access from the premises. The hotel has a small private beach, but during high tide the beach is often not accessible. 
5) Hotel has a coin operated laundry. 
My overall opinion 
The hotel is located at a close distance from Hamilton City (about 3 miles) and it takes about 10 minutes to reach by bus. So the location is quite convenient at the same time secluded giving you enough privacy. And the views are awesome. The staffs are very friendly and courteous. 
So if you can ignore the shortcomings like signs of aging, not such classy rooms etc, then the hotel can still offer some good value for money. 
Location 
Surf Side Beach Club is located in Warwick parish. The bus stop (Route #7) on South Road is close to the entrance of the hotel. So going to places like Hamilton City is easy and takes about 10 minutes by bus. Address: 90 South Road, Warwick, Bermuda. 
UPDATE: The hotel has closed down. 
Contact Info 
Related Articles