LV's Piano and Jazz Lounge Bermuda
UPDATE: LV's Piano and Jazz Lounge closed down and became Ferrari Bar, that too has closed down.
---
The former Splash Nightclub on Bermudian Road in Hamilton has been reopened as the LV's Piano Jazz lounge. LV stands for the Little Venice group that owns a series of other establishments in the island including restaurants and bars. LV's Piano Jazz bar offers Jazz and other live music performed on stage in the evenings.  
Every night has a theme of its own: Monday night is 'Wines of the week', Tuesday 'Mojito Night', Wednesday 'Ladies Night', Thursday is 'Martini Night' and Friday 'Champagne Night'. The old and popular Splash Nightclub was closed down in January 2008 when Little Venice Group took it over. You won't any longer see the wild parties that used to take place here with drunk partygoers and many more on the sidewalk trying to get in late at night. 
Gone are those days. The dance floor has been removed as there is no dancing now. It has been replaced with lounge type seating for some 175 persons. The place where the DJ booth was located is now a stage area with a piano, microphones and a drum set. 
There is live music every night though. The overall goal of the lounge is to create a sophisticated upscale environment for patrons and guests who can behave themselves. There is a dress code and one needs to be 25 year or above to get an entry. The overall interior decor has also been completely revamped with cream color scheme, crystal pebble images on the walls and mood lighting. 
LV's Piano Jazz Lounge, Bermuda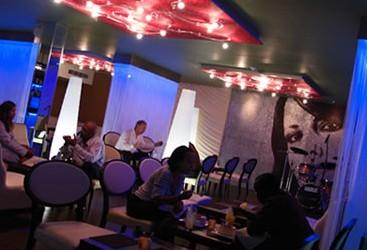 Food is mostly snack items or bites for the drinks. Here are some of the nice menu items prepared at the LV's Piano Jazz Lounge: Filo wrapped fish cake Patties with cucumber mint slaw, or Green Tea Soba Roll Filled With Crabmeat. Five spice infused seared tuna with pineapple and chili paste, or Fresh Tuna Tartar with Ankimo Monk Fish Liver. Scallop ceviche with XO sauce and minced shallot, or Spicy Yellow fin tuna chunk with seaweed salad. 
Want more? Roasted Duck Rice Paper Rolls with Lemon Soya Dipping Sauce, or Seared Beef "Miso Glaze". Lobster and mango skewer with sweet vanilla chili dressing. LV's Piano and Jazz Lounge also offers a wide choice of wine and other alcoholic beverages. 
Open Hours
The lounge is open from Monday to Thursday (noon to 1am), Friday (noon to 3am), and Saturday (8pm to 1am). It's closed on Sundays. There is a cover charge for entry after 8pm. However, for club members the entry is always free. 
Dress code is Smart. Reservation is preferred. 
Location and Contact
12 Bermudiana Road, Hamilton, Bermuda. Phone: 441/ 296 3330 
Related Articles
1)
Bermuda Nightlife
: Bars, Pubs, Night Clubs, Night Festivals and Celebrations, jazz bars etc.