Woody's Sports Bar, Bermuda
$, Seafood, Bermudian 
The Restaurant and Ambience
If you are looking for a locals' spot in Bermuda to eat then this is one of the great favorites. It doesn't get too crowded, that's mainly because not many tourists know about this restaurant and bar. 
However if you do go there, you can find many locals either queuing up at the outdoor counter for takeout food or relaxing at one of the picnic tables with fish sandwich and beer. 
Woody's is a budget restaurant and prices here are surely less compared to the island standards. It's located at Boaz Island in Somerset (Sandys Parish) which means that it would be quite convenient even for the cruise ship passengers docked at the Royal Naval Dockyard to easily get there by bus or taxi (it's only about 2 miles from the dockyard). You won't miss out the blue colored bungalow style building with few garden umbrellas in front. 
Woody's Sports Bar and Restaurant Imagery 
While you can sit inside, most prefer either the open yet roof covered veranda or the open grassy patch in front where several colorful picnic tables are laid out. When you sit outside at the patio or at the veranda, you get lovely view of the ocean (Boaz Island Bay) across the street. 
Woody's Patio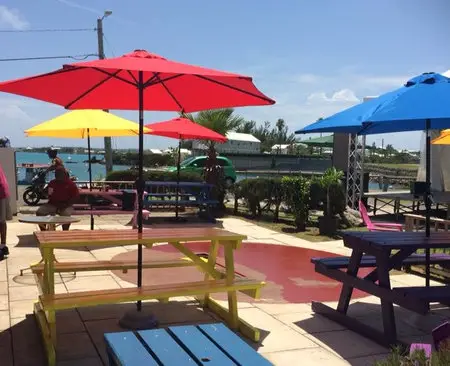 Photo: Woody's Bermuda 
Food and Drinks
Great fish sandwiches, fish n' chips, fish fritters, grilled fish etc are what most come here for. However there are several other nicely prepared items offered including fresh salad, jerk chicken (really good), shrimp dishes, French fries and more. 
The menu is written on a blackboard and changes depending on what is available. In fact, they themselves catch the fresh fish. Rock fish fry is another favorite. They usually use Wahoo in the fish sandwiches as well as grouper. The fish is perfectly battered and fried with not too many toppings, just enough to not get the bread soggy with a nice balance of savory, sweet, tangy, salty, spicy from both the hot sauce and the nutmeg/cinnamon in the bread. 
Fish Sandwich with raisn bread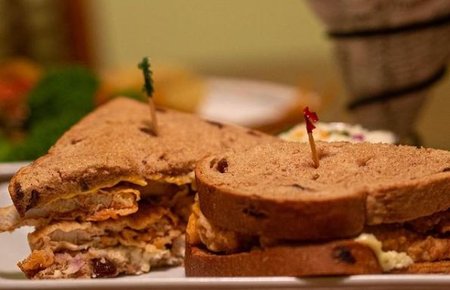 Photo: Woody's Bermuda 
The fish sandwich is served with coleslaw and tartar sauce. You can ask for the bread you want and also tell them if you want that toasted. Raisin bread is one of the favorites for fish sandwich. The food tastes very homemade and come in huge filling portions. 
We also loved the other local dish of brown stew fish served with rice and peas and vegetables which was delicious. Apart from the fish sandwich they serve nice fried shrimps, the pan fried grouper with peas rice and coleslaw, fish salad and conch fritters. We also enjoyed a good dinner here of chicken wings with a mango chilli glaze, mac and cheese, a fish wrap along with beer.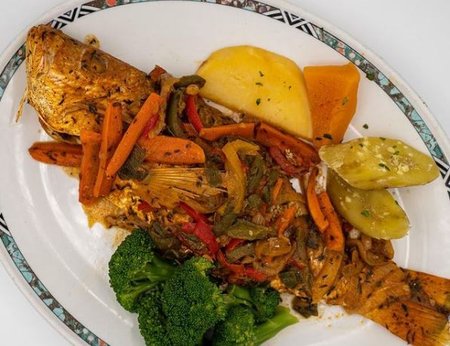 Photo: Woody's Bermuda 
They serve nice traditional Bermudian breakfast of codfish and potatoes. It is deliciously simple and unpretentious and feels like home instantly. It is also filling, earthy, rich and great to start a long day of island hopping. 
Note that in 2015 in an island-wide competition held by Bermuda Tourism Authority, Woody's was selected as one of the top five restaurants in Bermuda for fish sandwich. 
There is a small outdoor bar that is is nicely stocked and you get good varieties of beer, cocktails and spirits. They also keep imported spirits including Johny Walker Scotch whiskey. On some days they also organize DJs. 
Service
The staff is very well behaved and friendly. Although this is no way near an upscale spot, but you will feel at home and can enjoy. 
Trivia
There is enough car parking available and they have clean restrooms. During the lunch rush hour, the wait could be long as the staff also get busy tending to take-away orders. It could also get loud in the evenings, especially the bar area. Although the official hours on Sunday start early, most of the time, it isn't until about 1pm that you can expect a meal. However, the bar is open for service. 
Conclusion
All in all, a small unassuming local spot for a decent meal with clean outdoor seating and views of the bay, Woody's emanates an excellent vibe with friendly folks around that gives you an authentic taste of how the locals on the island eat and hang out. Enjoy the taste of fresh fish which varies by the day and is uniquely Bermudian along with a perfectly crafted Rum Swizzle or a bottle of ginger beer on the side. Stop by if you are looking for a taste of the island ! 
Indicative Prices
Fish sandwich costs $12.75 and the portions are great. 
Open Hours
The restaurants is open for breakfast, lunch and dinner. There is an outdoor counter for take out. 
Open: Monday, 11:00am - 9:00pm; Tuesday, 11:00am - 7:00pm  
Wednesday, Thursday and Saturday, 11:00am - 10:00pm  
Friday, 11:30am - 10.30pm; Sunday, 8:00am - 9:00pm  
Location and Contact
1 Boaz Island, Somerset, Sandy's, Bermuda. 
Phone (Bar): +1 441-234-2082, Phone (Restaurant): +1 (441) 234-6526 
Road Map 
Woody's is located in Somerset on the bus route and about 2 miles from Royal Naval Dockyard. Bus #7 as well as #8 that operate between Hamilton and dockyard pass by the restaurant. 
Related Articles
1) Check out
Top Cheap Restaurants
to know about the inexpensive dining choices in Bermuda that serve great dishes and are quite popular in the island. 
Visitors' Reviews
George Ellis (March 2022) 
We had walked over from Cambridge Beaches for the famous fish sandwich and it was amazing, we also had the wahoo chicken sandwich to complete the experience. Staff and clientele were really friendly and atmosphere was laid back, good food and a nice experience, we will be back!!