Summit
A Celebrity Cruise to Bermuda
With a capacity of 2034 passengers and a length of 965 feet, it's a fairly large cruise ship. The ship was launched in October 2001. It can cruise at a speed of 24 miles per hour. There are 11 passenger decks and over 1000 cabins. For its voyage to Bermuda, Summit usually departs from several ports in the US (depending on the year's schedule) and docks at
Royal Naval Dockyard
in Bermuda. 
Cabins or Staterooms
You have many stateroom or cabin choices in Summit. There are suites of four categories. The Sky Suit is 251 sq. ft. along with a 57 sq. ft. Veranda. The highest category is the Penthouse Suit which is 1432 sq. ft. in size and has 1098 sq. ft veranda. The suites offer butler service, welcome champagne, personalized stationery, priority check-in etc. There are Deluxe Ocean-view cabins of 170 sq. ft. size with 38 square ft. verandahs. They include two convertible beds, floor-to-ceiling sliding glass doors at the balcony and a sitting area. 
Other cheaper categories include the Ocean-view and Inside cabins of 170 sq. ft. with sitting areas. Some of the cabins have sofa beds. All cabins have TV, safe, phone, hair dryer, mini-bar, and attached bath with showers. 
Celebrity Summit at Dockyard, Bermuda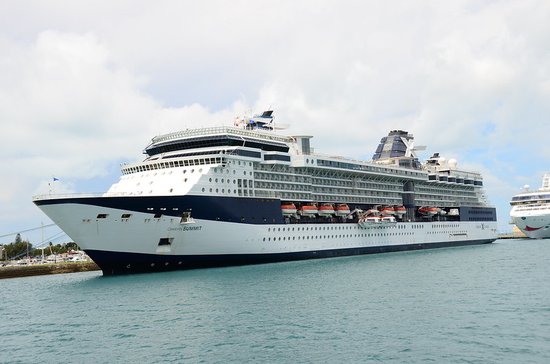 Photo: slgckgc, flickr, cc by 2.0 
Restaurants and Dining Options
There are several types of dining choices available on board the cruise. 
Cosmopolitan Restaurant is the main 2-level dining room. The dining room has a marvelous bronze statue, a grand staircase and glass walls with panoramic views. 
It's open-seating for breakfast and lunch. Presently there are two evening seating times. However, from February 2010, You can also choose a flexible time dining between 6:30pm to 9pm. You can also decide whether your want to dine in your own group or on a table with others. You can also make a table reservations. 
Normandie Restaurant: This is a specialty restaurant and has a capacity of 134. It features great memorabilia from the legendary French cruise SS Normandie. There is a cover charge applicable here. Food is usually prepared or finished on the tableside.  
Waterfall Cafe and Grill: Offers buffet-style breakfast, lunch and tea at no extra charge. 
There is 24 hours complimentary room service available on the cruise. 
Onboard Entertainment
Celebrity Theatre: a 5 deck theatre shows variety of programs in broadway style, musical reviews and shows of acrobats. 
Cinematic Features: Cinema / conference for Enrichment Series Lectures, Interactive Game Shows and Informational Seminars. 
Fortunes Casino: Features One Single Deck Blackjack, Two Roulette, One Caribbean Stud Poker, One Three Card Poker, One Poker Mate, One Craps and 197 Slot machines. 
Other onboard entertainment at Celebrity Summit includes: 
Grand Foyer: It features a spectacular onyx staircase and glass elevators with ocean view. 
Michael's Club: This is a Cocktail/piano bar. 
Rendez-Vous Lounge: Live musical entertainment held here. 
Revelations: A nightclub. 
Words: a 2-level library. 
Mast Bar. 
Martini Bar: Offers 26 varieties of Martini. 
Champagne Bar: Nice selection of Champagnes. 
Conservatory: A floating botanical garden. 
Cova Café: For coffee and pastries. There is live classical music held here in the evenings.  
Online@Celebrity: This is a 24-hour internet café with 18 workstations. 
There is a musical library with 19,000 selections of mp3 music. There is also a card room with great ocean view. 
Pools and Spas: The 25,000-sq. ft. AquaSpa is one of the largest in cruise ships. There is a free thalassotherapy pool. There is an oceanview beauty salon and a sea-view gym with plenty of fitness equipment. There is a pool with reverse current, Jacuzzi and waterfall pool. 
Sports: A jogging track (5 times equals about a mile), a full-size basketball court and paddle tennis court  
For Kids and Teens: Children and teens have their own places to hang out. There is a supervised area and activities for children of different age groups. A Slumber Party ($6 per hour per child) is offered every evening from 10 p.m. to 1 a.m. An Afternoon Party is available for the children during the port days ($6 per hour per child). Towers is a night club for teens. There is also a video arcade. 
Cost that are outside the cruise deal
Watch out for these extra charges which are not covered in your basic cruise deal package: 
As gratuity, Summit adds $10.5 per person per night. 
Some Yoga classes cost $10, others are free 
A 15% gratuity is added to the bar bills. 
There is $35 per person cover charge at the Normandie Restaurant. 
Internet: $0.95 per minute at the Internet Cafe. Summit also offers 24 hrs internet in rooms for $25 a day or $100 for 7 days. 
There is limited private babysitting. Charge is $8 per hour per family (maximum two children). 
Laundry service is available for a charge. There is no self-service launderette. 
Our overall review and opinion
Celebrity Summit has many positives and unique features. It has exterior glass elevators, a great specialty restaurant themed on famous cruise liner, a super spa, an environment friendly smokeless engine, a botanical garden, Internet access at all the cabins, and a superb music library. 
However, there is one technical problem that the cruise ship has. It has a defective technology for which it suffers frequent breakdown. While this has no safety implications, there has been several occasions when the Celebrity cruise line had to cancel the cruise. 
However they have been giving handsome compensations to the passengers every time this has happened. So until the time you sail, keep your fingers crossed. 

By Raj Bhattacharya 
Raj, a seasoned travel writer and Bermuda destination expert, has extensive global travel experience. This website reflects his profound insights, garnered over nearly two decades of dedicated findings and research on the island. Raj has assisted countless Bermuda-bound visitors by providing direct, personalized responses to their queries and imparting his wealth of knowledge through this platform. This site serves as an indispensable guide for those seeking informed and reliable insights into Bermuda's treasures. 
Related Articles
Visitors' Reviews and Comments
Lydia Ruediger (May 2013) 
Hi, just registered with Cruise Critic for the Summit cruise May 19, 1013. Your information is wonderful. Thanks!