Bermuda Weather in August
August is usually the hottest month in Bermuda when the air temperature varies between an average high of 86 degree Fahrenheit to a low of 78 degree. The average water temperature also rises to about 85 degree. Although the water visibility reduces to 60-80 feet, August in Bermuda is great for swimming, snorkeling and other water activities like scuba diving. 
However, the humidity also rises and can be well over 76% on certain days. So it can be unpleasantly warm at times. August continues to be a peak tourist month in Bermuda and island population with visitors swells almost to its maximum during this time. If you plan to hike, carry water bottles and wear a hat to beat the heat. 
August falls in hurricane season of Bermuda. But don't worry. Bermuda is generally well prepared to handle hurricanes compared to many of the Caribbean islands. Big hits are quite rare, besides, the island gives out plenty of alarms and advance notice of any approaching storm. Their emergency services too are well versed and equipped to handle upcoming inclemency in weather. To know when and how hurricane strikes Bermuda and its impacts, check out
Hurricanes in Bermuda
. 
Here is a picture of how a typical day in August looks in Bermuda. 
Typical Bermuda Weather in August 
A chart showing average high and low temperatures (°F) in Bermuda in August. 
| | | |
| --- | --- | --- |
| Air Temp High | Air Temp Low | Sea Temp Avg. |
| 86.1 | 78.1 | 85.7 |
Note that the above temperatures are average over the whole month of August. A particular day may have highs or lows that may be slightly different from the above. See the chart below for an average day-wise high and low temperatures. Move the pointer on the graph (or tap if using a mobile device) to see the values. If you rotate your device, refresh/reload the page to see the graph properly. 
Bermuda In August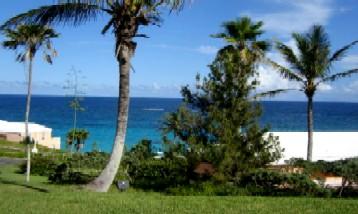 The following chart shows typical temperature in August by time as the day progresses. As you can see in the chart below, the typical early morning temperature is at 81.5 degrees and then it rises during afternoon to 84.4 degrees, and drops in the evening to 80.7 degrees. The night temperature is the lowest. 
A typical August day temperatures (°F) in Bermuda by time: 
| | | |
| --- | --- | --- |
| Early Morning | Afternoon | Early Evening |
| 79.5 | 86.0 | 79.1 |
Other important Bermuda weather information in August: 
| | |
| --- | --- |
| Avg. Humidity: | 76% |
| Avg. Rainfall: | 5.1 inches (Rains about 16 days in the month, but in short spans) |
| Avg. Sunshine: | On an average you will get 8 hours of clear sky and sunshine in a day which is 1 hour more than the annual average in Bermuda. |
| Avg. water visibility: | 60 - 80 feet (20 - 25 meters) |
You are likely to receive the rains towards the end of the month with an occasional thunderstorm. These rains however come in short and intermittent spurts giving way to bright sunshine soon thereafter. 
Is Bermuda safe in August
Bermuda is quite safe as a tourist destination though like any other place, you must be vigilant of your belongings and careful about your personal safety when going around. Follow the regular safety norms like keeping your valuables locked as much as possible, travel in groups when venturing out in the dark etc. 
August is not much different from other months in terms of safety from burglaries and other petty crime. From the perspective of the weather, this is a good time to try out all the water sports and activities that are on offer. Water temperatures are quite ideal for going snorkeling, scuba diving or even beach bathing. 
Recommended Resource
If you are visiting Bermuda, take a look into the
Bermuda eBooks
to make a great vacation plan in Bermuda and know about the best attractions, guided & self-guided tours, water sport & other activities, great dining & shopping options, vacation tips and lot more. 
Raj Bhattacharya
Raj is an avid traveler and a full-time travel blogger. He has traveled to numerous countries across the world and loves to keep travelling. His mission here is to help viewers like you visiting Bermuda or seeking insights into related matters with the most comprehensive content. Since years now he has been helping countless viewers by posting quality articles on this website, answering questions and sharing experiences. Launched in 2008, this website is Bermuda's leading source of online information since many years. 
Related Articles