Hurricanes in Bermuda
Hurricanes are strong swirling storms that go in circles. June 1 to November 30 is known to be the hurricane season in Bermuda when strong storms or hurricanes are likely to strike the island. However except in few occasions in the past, the hurricanes have not made direct landfall in Bermuda. 
Unlike in the Caribbean, the hurricanes in Bermuda are seldom catastrophic in nature. They strike the US east coast more than they strike Bermuda. But they are quite unpredictable in nature as they change direction and intensity, and can get dangerous at times when they pass close to or over the island, and cause serious damages to the infrastructure, properties and vegetation of Bermuda. 
If you check the
history or storms and hurricanes in Bermuda
, the hurricanes are more often seen in September and October, and lesser in June, July and August. They are usually born at the south eastern end of North Atlantic and then move west. On reaching the Caribbean or the southeast coast of the US, they usually change direction towards north and then to north east. Therefore in most cases they bypass Bermuda which is located about 640 miles off the nearest point in US east coast. 
Usual Hurricane Route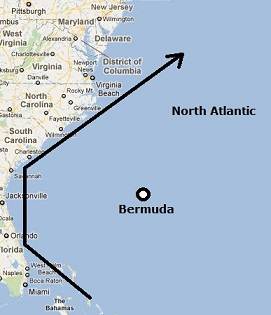 On an average, a forceful or a severe hurricane comes and directly hits the island only once in six to seven years on an average. The other mild hurricanes strike roughly once in 2 years on an average. 
Check out
Hurricane Categories
to know the level of damage a hurricane may cause to an island like Bermuda depending on its scale or category. 
Bermuda has always been well prepared to handle such situations. Here is why: 
The National Hurricane Center of Bermuda uses an advanced technology and forecasts the hurricane well in advance and also determines affected spots with great accuracy. So they send out alerts to all agencies who in turn ensure that residents and tourists do no go towards those areas. 
By Law, all houses and other establishments in Bermuda need to use limestone rocks or concrete blocks to construct the buildings so that they are hurricane proof. 
There is also a natural safeguard in Bermuda against hurricanes. The Coral Reefs surrounding the Bermuda waters act as great barriers and ward off much of the hurricane impacts that come from the ocean. 
Below is an account of hurricanes in Bermuda listed in a reverse chronological order, which means the latest one first. You should get an idea of the timing and frequency of such hurricanes, and the impact they have caused to the island. 
September 23, 2022 
Hurricane Fiona just brushed past Bermuda in the early morning hours before barreling towards Canada. Strong winds started to batter Bermuda since the previous evening and took form of a hurricane in the morning when Fiona (a Category-4 hurricane) came closest to Bermuda. The maximum wind speed recorded in Bermuda was 113mph. However, by 9.00am, Fiona was 120 miles away and moving further away towards Canada. 
There were no casualties. The damages were mostly limited to downing of trees and poles. Nearly 30,000 houses were cut off from electricity. There were major blockages on several streets on the island. Schools and government offices were closed for the day. Several flights were cancelled because Bermuda's LF Wade International Airport had to stop operations. A Norwegian Cruise scheduled to dock in Bermuda was diverted. 
September 14, 2020 
Hurricane Paulette made a direct landfall on Bermuda in the early morning and strengthened into a Category-II hurricane while pounding the island. This massive storm with high winds (gusts with speed of about 100mph) caused heavy rains and exceptional waves throughout the day and night. 
Although there were no lives lost or serious damages, almost 25,000 houses were left without power. This is one of the rare instances where a hurricane made a direct landfall into Bermuda. Since the time National Hurricane Center started tracking hurricanes in the Atlantic in 1850s, only less than 10 hurricanes have so far made direct landfall on this small island. 
September 18, 2019 
Bermuda got stirred as the Hurricane Humberto swept its fangs over the island on September 18, 2019 leaving it in considerable stress and darkness. This Category 3 hurricane moving at a speed of 120 mph, although did not directly hit Bermuda and toned down to Category 2 at landfall, unleashed much of its fury on it with incessant rains, fierce winds and pounding waves and left the island crippled on many counts, in its wake. The electric power supply was the first to get affected along with several other services taken off the list as a result of the damages incurred. Although restoration works are taking place on full force, a weather event of such severe magnitude is bound to slow down all efforts and they would need time and patience. 
Most public services were closed early on the day ahead of the hurricane and people were informed way in advance to stay off the roads before 17:00 hours. Public schools and government offices were closed by noon and schools were kept closed the next day as well. The Causeway that connects the main island and St. George's was closed at 6pm and the airport also was closed in the afternoon having cancelled all the subsequent flights. 
The governor had taken additional measures by keeping more than a hundred members of the Regiment on standby on both ends of the island in preparation for the storm and to help residents get back on their feet, if necessary. Besides, Bermuda has a very strict 'building code' for homes and shelters that make them resilient enough to stand against a Category 2 hurricane. Hotels like the Hamilton Princess prepared themselves for the hurricane by closing its restaurants and facilities to general public and limiting them to in-house guests only as this would allow them maximum efficiency ensuring safety for their workers, guests and the public. 
Bus services had to be stalled due to the amount of debris that got collected on the roads. Island infrastructure that includes mobile phones, internet, wi-fi and TV services also got affected. Fire and Rescue services reported a few minor incidents of gas leaks, medical conditions that structural fires none of which were very serious. Rescue crews especially those from BELCO (Bermuda Electric Light Company) are working relentlessly on restoration work so as to bring things back to normalcy at the earliest. 
July 13, 2018 
Hurricane Beryl passes about 290 miles north of Bermuda but its effects could be felt in the island. It resulted into a subtropical cyclone in Bermuda, but no damages. 
August 3-4, 2017 
The tropical storm Emily brings in thunderstorm and showers in the island. 
October 13, 2016 
Nicole is now a category-2 hurricane and is set to lash on the island. Several cruise lines and airlines have cancelled their trips to the island. Large swells have already been seen in waters around Bermuda. The hurricane is likely to have a speed of 108mph with gusts of 126mph. Schools, shops and establishments, causeway to St. George, buses and ferries etc will remain closed. 
Update: Nicole became a Category-3 hurricane as it unleashed its force on the island. Many houses have been flooded and are without power, roofs and walls of several houses damaged, many trees have been uprooted, anchored boats smashed and damaged. Hurricane warning has been dropped at 6pm. 
October 18, 2014 Hurricane Gonzalo 
The eye of Gonzalo passed over Bermuda. It came and lashed on the island as a Category-3 hurricane with initial sustained wind speed of about 125kmph. However it gradually transitioned to a Category-2 hurricane with sustained wind speed of 112kmph. It came from South West and have later moved out towards North East. About 30,700 houses and consumers are out of power which is about 85% of the island. Large number of trees have fallen down on the streets, many houses have their roofs and walls damaged, a section of the main hospital has been flooded and damaged, several boats have drowned, however there is no casualty in the island. 
October 12, 2014: Tropical Storm Fay 
Tropical storm Fay hit the island early in the morning. It was accompanied by heavy rains. Many trees have fallen on the roads and about 27,000 houses went out of power. However no casualties have been reported. The sustained maximum speed of Fay was 70mph which is shade below the threshold of a hurricane. However short gusts of up to 82mph speed has also been recorded. Bus and ferry services had to be suspended 
September 8, 2011: Hurricane Katia 
Initially thought to be a tropical storm, Hurricane Katia was later rated as Category-1 hurricane which however passed between the US East Coast and Bermuda. The closest point of approach from Bermuda was 270 miles to its west. 
It passed with a maximum wind speed of 90 miles per hour causing major ocean swells, thunder storm and gutsy winds in the island. There has been no damage caused though.  
There were repeated warnings given regarding the dangerous ocean swells and rip currents along the south shore of Bermuda. There were also two other tropical storms Maria and Nate that were formed in the Atlantic just behind Katia at the same time. But none caused much problems to the island or to the passing ocean traffic. 
September 18-20, 2010: Hurricane Igor 
I am writing this on Sept 20, 2010 when the Hurricane Igor is just about subsiding and has been moving towards north-east. Initially anticipated to be as destructive as Fabian, rating of Hurricane Igor was later reduced to Category-1 instead of earlier anticipated Category-3. This is because the eye of the storm has not gone directly over Bermuda. Igor picked up the highest speed of about 93km (58 miles) per hour during Sunday night. 
BELCO, Bermuda's power company reported that there has been wide scale power line damages all across the island. Thousands of homes had remained without power. Many residents have taken shelters in CedarBridge Gymnasium where food and beds were provided. However, there has been no major casualty or death. Lots of trees, poles and transformers have fallen on the streets. Check out the link above for details of hurricane Igor and its impact on Bermuda. 
February 9-11, 2010: A Winter Storm 
The Island's first serious winter storm of the year brought power outages, rough seas and left St. George completely cut off for a day from rest of the island as the
causeway
connecting the main island with St. George had to be closed. Windy conditions blew across the Island with gusts up to 70 knots. There were some boats that ran aground in the Hamilton harbor. 
September, 2006: Hurricane Florence 
Although it was highlighted extensively in several media in the US and Canada, it hardly caused any damage to Bermuda. 23,000 out of 68,500 homes had electricity outages, many of which recovered quickly. Only one hotel and a beach of another were damaged. 
September 5, 2003: Hurricane Fabian 
This was the worst hurricane over the last four decades. It created havoc and caused extensive damage in Bermuda. It started as a mild wind from the south west moving towards north. By the time a wind speed of 150 mph was recorded, four people died at the causeway that connects St George with Hamilton parish. They were swept away. 
Electricity power failed in over 25000 houses. The roof of Sonesta Bay Beach Hotel was blown away and that of
Fairmont Southampton Hotel
was badly damaged. There were vast damages to vegetation and beaches as well. Schools remained closed for days even after the hurricane had long gone. The overall estimated damage was to the tune of $300 Million. 
September 30, 2002: Hurricane Kyle 
The hurricane came within 100 miles to the south. Caused virtually no damage. 
September 9, 2001.: Hurricane Erin 
90 miles to East. It had forceful winds and caused some coastal erosion. 
September 16, 2000: Hurricane Florence 
Went 60 miles away. Wind speed of up to 50 knots. 
September 21, 1999: Hurricane Gert 
It passed 120 miles east of Bermuda. Wind gusts of 75 mph. It damaged many beaches in Bermuda. 
In 1998 there were three Hurricanes 
November 6, 1998 Hurricane Mitch 
Heavy rain and wind gusts in Bermuda with wind speed of 69 mph. 
September 21-22, 1998: Hurricane Karl 
Wind speed was up to 44 mph. There was heavy rains and thundershowers. 
September 2-3, 1998: Hurricane Danielle  
200 miles NW. There were rains and thunderstorms. Wind speed was 46 mph. 
October 8-9, 1997: Hurricane Erika 
300 miles away. Caused no damage. 
October 20, 1996: Hurricane Lily 
In Bermuda it had wind speed of 42-knot and caused rains. No damages as such. 
August 14, 1995: Hurricane Felix 
Came within 50 miles with a wind speed of 75 mph. Caused large waves pounding for 3 days on South Shore. 
October 27-29, 1991: Hurricane Grace 
It hovered around Bermuda and caused very large ocean swellings. No damages. 
August 4, 1989: Tropical Storm Dean 
Veered 23 miles away with 90 mph wind speed. 
September 25, 1987: Hurricane Emily 
Emily caused a wide scale damage to houses, cars and boats. It moved at a speed of over 125 miles per hour. It caught the Bermudians by surprise as they expected the hurricane would veer away from the island and won't directly hit.
Hotel Fairmont Hamilton Princess
was badly damaged. There was no one killed although many had to be treated at King Edward VII Memorial Hospital for injuries. St. George was worst affected. The total loss was estimated at $35 Million. This was the strongest hurricane that hit Bermuda since 1948. 
September 7, 1981: Hurricane Emily 
It passed over Bermuda with a wind speed of only 35 mph. 
September 27, 1977: Hurricane Dorothy 
It again veered away 60 miles South East of Bermuda. There was only heavy rains. 
September 26, 1975: Hurricane Faye  
It went 40 miles away from the island. There was strong winds and heavy rain. 
July 3-4, 1973: Hurricane Alice 
It came close within 26 miles. There was heavy rain, and virtually no damage. 
August 31, 1966: Fringe of Hurricane Faith 
wind speed was 62 mph and there were heavy rains, but no damages. 
August 9, 1963: Hurricane Arlene  
After a decade, a hurricane had come and directly hit Bermuda. The wind speed was about 90 miles per hour. It was threatening for over a week before it lashed on the island. It left behind many boats, houses and large areas of vegetation badly damaged. 
Here is a
Hurricane Help and Checklist
for islanders so that one can best prepare for any forecasted hurricane. I have seen wide scale damages of two and four wheelers caused by hurricanes in Bermuda. However with some easy proactive measures, you can save your vehicles from hurricane damages. Check out
Protect vehicles in hurricane
Related Articles
Viewers' Reviews and Comments
Nicole (February 2020) 
Hi Raj, What a great website you have! Thank you! I am hoping to take a mother-daughter trip in mid-late June to Bermuda, but my mother and I are worried about hurricanes... I know that hurricane season is June 1-Nov. 30th, but is there a time during the season when they are more or less prevalent? Ex. are there more hurricanes towards the beginning, middle, or end of the season? Thanks so much! 
Raj (bermuda-attractions.com) February 2020 
Hi Nicole, thanks for your comments on my website. As per the recorded list of hurricanes and tropical storms since the year 2000, most have struck or passed by Bermuda in the late summers, i.e., in the months of September and October, although there have been a few that had struck in the other months as well (i.e. June, July and August). Hope this helps.